When I was in college, my mom would mix up the dry ingredients to her healthy pancakes and send it to me in a big zip lock bag with the rest of the recipe written on the bag.  All I had to do was add a cup of the mix to the wet ingredients, cook them up and I'd have a taste of home.
As a kid, my mom always sent us off to school after a hot breakfast.  While I always wanted to do the same, I am not a morning person, so I've never done very well at hot breakfasts during the week.  My younger two love pancakes and would gladly live on them, especially Grammy's pancakes.
In my constant mission to make mornings run more smoothly, I've found having my pancake mix ready to go essential.  By keeping several batches of the dry ingredients in a plastic cereal container
in the pantry, I can easily whip up a batch while the griddle
heats up.  My version is a bit different from my mom's but it's wildly popular in my house.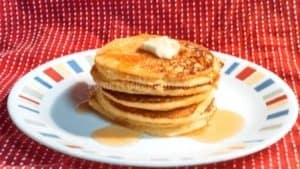 Here's my basic recipe:
1/2 C Oat Flour or Gluten Free Flour (I grind up oatmeal)
1/2 C Ground Corn Meal
1 Tsp Baking Powder
1 C Milk
2 Eggs
1/4 C Applesauce (Mom uses oil, I try to slip fruits and veggies in where I can)
Optional 1 tsp of vanilla (We started doing this at Tasha's suggestion)
If you mix up multiple batches of the dry ingredients,  add 1 Cup of the mix to the eggs, milk, and applesauce.  Mix it all together, adding a bit more dry mix or flour if you like the batter to be really thick.  I use an ice cream scoop to drop the batter onto the griddle, flip when bubbles are forming around the edge of the pancakes.  Makes about 12 pancakes.
Tip: 
Make up a double or triple batch and freeze the extra to be popped in the toaster on super busy mornings or use instead of bread for lunch sandwiches!  They freeze just as great as my waffles do.
How do you like to top your pancakes?