I recently told someone I try to adhere to "clean eating practices." Her response: "I don't usually eat food covered in mud personally."
I've been know to make snarky comments, so I appreciate them!
Some other responses I've heard:
So, you wash your food first?
You mean, you don't eat something that fell on the floor?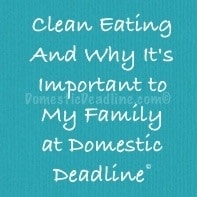 What exactly is "Clean Eating" and why is it important to me?  When my kids were very little, I was happy with getting 3 fruits or vegetables into them a day, bonus points if it was a whole 5 servings! I was also happy if I got us all to the table for dinner with a protein, veggie and grain.
Time was my biggest enemy, so I had to be able to get things together fast. Cheap helped and bonus points if it earned me box tops for the elementary school! Then I just had to stay on top of all that recycling…..
Then I started hearing, and reading, about hormones in dairy effecting girls. I know the FDA says there is no link. I'm not looking to get into a debate about it. But, it made me think about what we do to our food and what we are putting in our bodies.
I have always believed "you are what you eat," how could I not, my mother said it regularly! So, when I first heard the term "clean eating" I was intrigued to learn more. "Whole foods" (and not the grocery store), was another cooking term I really took to.
There are lots of great source out there that really explain what these terms mean. Here are a few of my favorite:
Ultimately, when cook my guidelines are as follows:
I aim for organic fruits and veggies whenever possible
Non-GMO foods (if it's not organic I'm on the lookout)
Meats, dairy and proteins are organic, grass fed, whenever possible
If I buy it in a bag, box or can it needs to be as minimally processed as possible
No refined sugars or grains
No artificial food colors or unnatural flavors (we have recently realized JuneBug has an adverse reaction to artificial food coloring anyways)
Gluten free if possible (no one needs to be gluten free, I just feel better when I don't have a lot of gluten, so I'm subtlety encouraging the family by not having it)
Packaged foods need to have 5 ingredients or less, all of which I need to recognize and be able to pronounce!
Exceptions? While, I am actively trying to reduce them, there are still a few non "clean" items in our house. I try to cook and bake gluten free. While I have moved to using homemade pancakes or tortillas in place of bread, some flour still gets used. In this case, I am doing my best to find a gluten free alternative and even though I pulverize oats and brown rice in my blender for many things, I still seem to need an all purpose gluten free flour and I don't know how "clean" the ones I've tried are.  When we have bread, I make it at home, it only takes a few ingredients (instead of all the ones listed on a package of store bought bread).
Plus, IronFish drinks his coffee black out of the house, but loves flavored creamer on the weekends, if I don't buy it, he will. And I can't seem to eliminate Nutella from our family's diet….. And I have to admit, I'm not sure I want to!
Aside from the artificial food coloring, I don't make the kids not eat at friends houses or not eat out occasionally because of my commitment to clean eating.
Life does occasionally get in the way and I pick up a loaf of store bought bread and a box of cereal, but overall, I feel the majority of the food that gets consumed at home is the healthiest I can offer them.
If you enjoyed this post, please leave a comment or subscribe to my
RSS feed
. You can also follow me on
Facebook,
Twitter
, or
Instagram
. Most sleepless nights I can be found on
Pinterest
. Since I'm always up for a good party, I link up
here!
Affiliate links may be included in this post.