Update: As part of relaunching this blog in 2016, I am attempting to update and edit several of my old posts. My photography skills have only slightly improved. Unfortunately, I can't go back in time and re-take the pictures. Bear with me, I'm a constant work in progress!
DIY Painted Dresser: Stripes
A few weeks ago I shared my Distressed Dresser Makeover. After a bit of pestering, I finally got my sister to send me the pictures of the dresser we made over for her.
We totally lucked out when we found a $30 dresser at the thrift store that was the exact dimensions of what Baby Sister was looking for. Solid wood with lots of drawers to organize her stuff. Double bonus, we found it on our first trip, there was no searching involved!
Here's the before: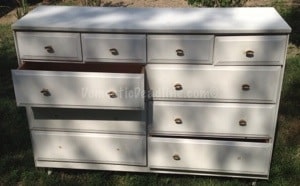 It had been painted once, was missing some knobs, and needed some attention all over.
We gave it a nice sanding with a power sander and wiped it down with a tack cloth before cracking open a can of leftover white paint. Unfortunately, I don't have a picture of the next step, but, using the width of our painter's tape as a guide, we taped off alternating stripes where we wanted the stripe to stay white.
Drawers
Because Baby Sister wanted crisp clean stripes, we painted the drawer fronts again in white now that they had been taped off. Once dry, we, painted our peach color. If we were going for more of a rustic look, we would have skipped this step.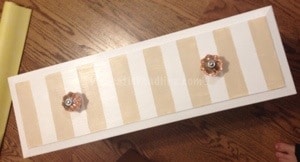 I love the sparkly peach glass knobs we found.  We found one set in Home Goods and then called around until we found another set.  They work perfectly!
Music Notes
Next, we addressed the top.  We found a cheap roll of wrapping paper that looked like old music notes.  Randomly tearing off pieces, we decoupaged it to the top.  The most expensive part of the project was having a piece of glass cut for the top, my mom wanted the glass top after all the work we put into it.  Overall, though, the glass was under $40, so still a good deal.

Finally, we rubbed the whole piece down with Minwax Finishing Wax
the same way I did for my Distressed Dresser.
Here's the finished piece: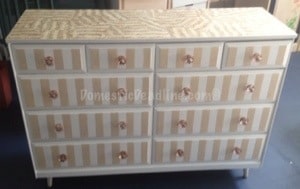 And, because it's so much fun to compare, here's a before and after: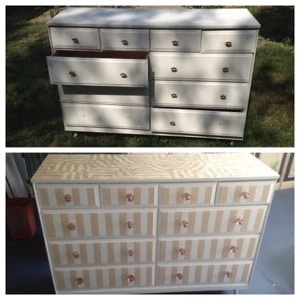 Tip:
If your drawers are a bit difficult, rub the drawer and the track with a bar of soap. Now they glide in and out easily!
 Have you ever refinished furniture?  What are your tips and tricks?
Save
Newer posts you may enjoy:
I'm working on redoing my mudroom, giving it a farmhouse feel and great function. Check it out here.
As a constant work in progress, I believe in editing. Blog Along with Me and see why
Paint and tape can be used on canvas to give a theme to a whole bedroom, see O-Man's Minecraft room.