One day I was cleaning my powder room.  After everything fell out of my medicine cabinet, I started to look around the room and decided something needed to be done.  This little tiny powder room seems to need to fit a ton in it.  Above the toilet was a little cabinet I was constantly trying to stuff more things into.  When sunscreen, lotion and hand soap go on sale, I grab a few to hang on to until they are needed.  Not to mention clean hand towels, nail polish remover and a few other things I crammed in there.
This post may contain affiliate links. Which means, if you click the link and buy something, I may receive a percentage of sales at no additional cost to you. Thank you for supporting Domestic Deadline.

Originally I hung this cabinet to display my grandmother's glass perfume bottles. Eventually, they were pushed into the lower left corner of the cabinet, becoming dust collectors.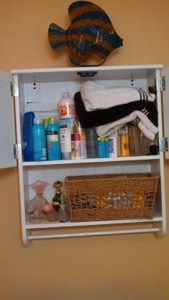 This tiny room has been painted 3 times since we've lived here.  All three colors were left over from other rooms in the house.  And for some reason, I've wanted the room to be gray, for a long time…… With white shelves….. and more storage…..
Considering I knew I can paint the whole room in an afternoon, I wasn't quite sure why I continually put it off.
So I quit putting it off
And went to work…..
Yep, one afternoon and I had two coats of Hearthstone (Benjamin Moore #1601), otherwise known as the perfect gray (in my mind at least!).  I've used the color in my Distressed Dresser Makeover, I already knew I loved it.  Once everything was painted, I got to work on installing floating shelves and using all the space above the toilet.

Supplies:
Pre-primed quarter round
1×8 pre-primed boards
Lattice strips
Nail gun with 2-inch nails and finishing nails
Chop saw
White wood filler
White paint
Measuring tape, pencil, level, stud finder, etc
Getting Started:
First up, pre-painting the wood and measuring out where to put my shelves.  I decided on four shelves, equally placed between the top of the toilet and the ceiling.  The previous cabinet was only 8 inches deep, a good depth for my new shelves causing little interference in the room.  They also need to be the whole width of the wall to maximize the space.
I marked on the wall where the shelves would go.  Using the chop saw, I cut 4 strips of quarter round 42 inches, the measurement from one corner to the other.  After checking for level, I nail gunned each piece into the studs.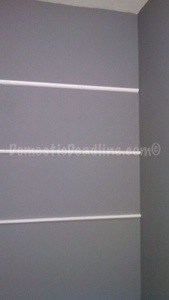 Next, I cut (8) 6-inch strips of the quarter round, two per shelf.  I also leveled them and nail gunned them on the side walls, see the picture below.
Install Shelves:
Cut the shelves to fit the width of the space.  I measured each shelf individually.  If you have an older home, you may want to check the width at the back of the shelf and the front.  My house is a bit wonky, so each shelf is a bit different.
Now the hard part…. lay the shelves on top of the quarter round.  I mean, super easy part!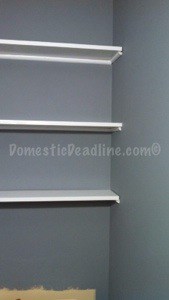 The room is so small, it's hard to really get a good picture of the whole space.
Finishing Touches:
Now it's time to trim out the shelves to give them a heavier, chunkier look.
Again, measuring each shelf if necessary, chop strips of lattice the length of the front of each shelf.  Using finishing nails, tack the strips to the front of the shelves to give the illusion of thick shelves, mostly obscuring the quarter round from view.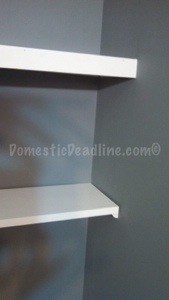 Fill the holes with wood filler and touch up with paint.  Arrange you shelves and enjoy!
Before and After: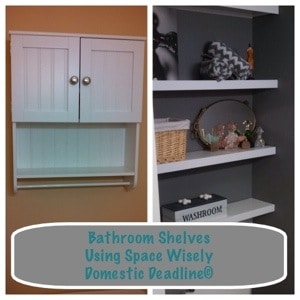 I use baskets to stash the things I don't want visible like the extra sunscreen and hand soap.  A few new hand towels rolled up and they can be displayed instead of stashed out of view.
Now my grandmother's glass perfume bottle have their own space and the mirrored tray they were displayed on at her house acts as an accent behind them.
Tip:
Using pre-primed wood is not only less expensive, it usually only needs one coat of white paint, saving time and money!
What home projects have you put off?  Got any space saving tips of your own?
Update:
These DIY floating shelves are still one of my favorite solution to a small space. If it wasn't for a window, my new powder room would have the same shelves! It does, however, have the same color! Thankfully, I don't need the powder room in our new house to hold as much storage. Instead, I gave it a lot of pizazz with a unique tile floor. You can check it out HERE.
Save