I shared my excitement with buying a new home with the hopes of sharing lots of home improvement projects with all of you.  Wondering where they are?
Well, I have a lot of pictures taken, a lot of posts written in my head and a lot of things on my plate keeping me from getting to posts!
So, what have I been up to?
Kids, they seem to think I'm their personal chauffeur and chef!  OK, so I guess technically I am since none of them drive and two of them are scary in the kitchen.
Home Improvements, but not all my own!  Since we moved into our new house, I've renovated three bathrooms and one kitchen (not bad for 5 months).  The problem, only one of those was my own!  I've been working for a few years now for a contractor primarily doing kitchen and bathroom remodels.  It's a great experience and I have the flexibility to work around my kid's schedules.  I really love it, but it does keep me busy.
Then, of course, I became a Rodan+Fields Consultant!  I actually said "yes" to the opportunity over a year ago at this point, but I've been duplicating the business model and growing my business.  I was recently asked by my team leaders to answer one simple question, Why did I say "yes" to Rodan+Fields?  I thought I'd share it with you.
Did you know that 8,500 American's start a business every single day?  There are endless opportunities out there, I actually minored in Small Business Entrepreneurship in college.  I always wanted to be my own boss, but for many years I was the primary "breadwinner" while IronFish was in grad school.  We all have a choice; here is why I said "YES" to partnering with two of the world's most reputable dermatologists: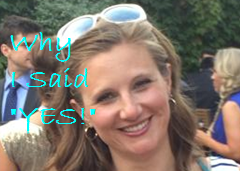 The opportunity to work around my family, on MY time
Because I work virtually, I can work in the "nooks and crannies" of my day.  My customers and teammates don't have to live near me.  I don't have to have a physical store front that keeps me away from my family.  Typically, I sit down at the computer while the kids are getting ready for school or when they are doing their homework.  But, I can also work from my smartphone (how smart is that my smartphone makes me money!)
NO inventory or home parties
This isn't the first direct marketing business venture I've been a part of.  In fact, it's my fourth!  What didn't work about the others, I either had to be constantly carting my display into others' homes and looking for new hostesses.  If IronFish wasn't home, I then had to pay a babysitter, which obviously eats into the profits.  When home parties weren't the problem, keeping inventory on hand and then delivering it to my customers was.  While a consumable product is great for residual income, dedicating the space to inventory and the time to deliveries can be very stressful.
Best of Both!
Rodan+Fields is a consumable product but they do all the legwork for me!  Products are sent directly to the customer, only rarely do I ever deliver something.  Since the products WORK, my customers see the improvements in their skin and want to keep looking their best.
Getting my own share
Currently, the anti-aging skincare market is valued at $3.9 BILLION.  That's no chump change.  By 2019, just 3 years from now, the projected market value is $191.7 BILLION. (If that doesn't make you want to jump on board with me, I don't know what will!)
The trajectory
Not only is the industry booming, but so is Rodan+Fields.  We are the FASTEST-GROWING premium skincare company in the United States.  Plus, I'm a part of the fastest-growing team in the company!
Building confidence
I know how physically painful acne can be.  I also know how self-conscious one can feel when there is something about your skin you don't like when you look in the mirror.  It's not fun feeling like everyone is looking at you for all the wrong reasons.  In the past year, I've discovered how great it can feel to look in the mirror and not see dark marks, scars or acne.  Since I frequently look like I've just been painting, tiling or drywalling (which I probably have), I'm often running around without makeup.  Now, I am so much more confident in my appearance with just a bit of mineral peptides and mascara.  I really love sharing and boosting the confidence of my friends.
Being spoiled
Seriously, is there anyone out there that say, "no, I don't want a great gift, bonus money or even a new car?"  The rewards from the company and my team leaders are so much fun!  There are tons of bonuses in addition to the commission.  Since I could really use a new car in the next year or so, I won't be turning down a free Lexus of my choice when I hit Premier Level V!
At the end of the day, it may have been crazy busy, but I know I'm blessed and I'm right where I belong.  It's a crazy busy life, but it's my life and I wouldn't change it for the world.  My family is what is most important to me and I'm cobbling together a life that makes me happy.
So, I ask you, why wouldn't YOU say "yes" too?
Save
Save
Save