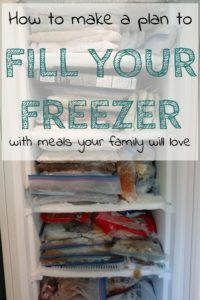 Filling my freezer typically happens a few times a year.  I make 50 meals or so, freeze everything and don't think about it again for months. This is part 2 in a series of posts designed to help you plan and prepare a freezer full of meals your whole family can agree upon. Read part 1 to help you decide what meals to make.
I've got my recipes, what's next?
In part 1 we went over deciding what meals to make.  I explain how I break the meals down into a few categories.  There are a few reasons I do this.
First, I find it easier to think about the recipes. What do they have in common other than the meat? What other ingredients do I need to purchase and prep? Can a few tweaks make it a completely different meal?
Second, I find on my prep/cook day it's much easier to make all the meals by working in categories.  Sometimes the categories change and overlap, and that's okay too. It just helps me to think about it all easier.
Now think bigger
I quadruple every recipe.  If I'm going to take the time to make the meal, making 4 of everything only takes a few minutes longer. If I have 10 recipes and 4 of each of them, that's 40 meals. Now if I plan on working from my freezer 5 out of 7 nights a week, these meals will last me 8 weeks!
Part of the reason I went about developing with my own list of recipes after figuring out what my family wants to eat was so there is little complaint.  If I make 10 recipes and my family only likes 7 of them, I have to listen to complaining 12 times over the next 2 months. Wasting food isn't really an option in my house, you have to at least eat a small portion of whatever you are served. Three kids complaining their way through something they really don't like, multiple times is enough to make one never want to cook again.
Time to make a grocery list
I list out everything I need, grouping ingredients together based on the layout of the store or stores I plan to shop at. Personally, I love Costco for meats. Large bags of frozen peas and corn are also priced really well at Costco as are canned beans and tomatoes.  I also love Aldi. It pays to figure out where your money is best spent.  I could have gotten a 10lb bag of carrots from Costco, but I only needed 4lbs which was more per pound, but less overall. Beans are less expensive dry from Aldi than cans at Costco. Sometimes I cook a large quantity of dry beans up in the crock pot overnight.
Make your shopping list and then multiply the quantity you need by 4. If you know your family loves the recipes, maybe multiply by 5 or 6. Stock up on freezer bags also.  Foodsavers interest me but I haven't taken the plunge into that world yet. Aluminum pans can be used for casseroles. Freezable container options are pretty endless nowadays, so take your pick.  Just make sure you have enough before you get started.
Take inventory
Double check your pantry for seasonings and other ingredients.  What do you have on hand that you can use? Yes, you've got oregano, but is it enough for everything you've planned? There is nothing worse than getting in a groove than to have it come to a screeching halt because you don't have enough butter.
Time to shop
I don't really have much advice for this area, it's just next in the progression. JuneBug is usually my assistant. A second pair of hands and a list double checker makes the process easier for me.  My eldest isn't much for cooking but I still like involving her in the process. She's organized and knows what her siblings like and don't like, so we hash out in-store recipe changes (which I don't recommend if it's your first time freezer cooking).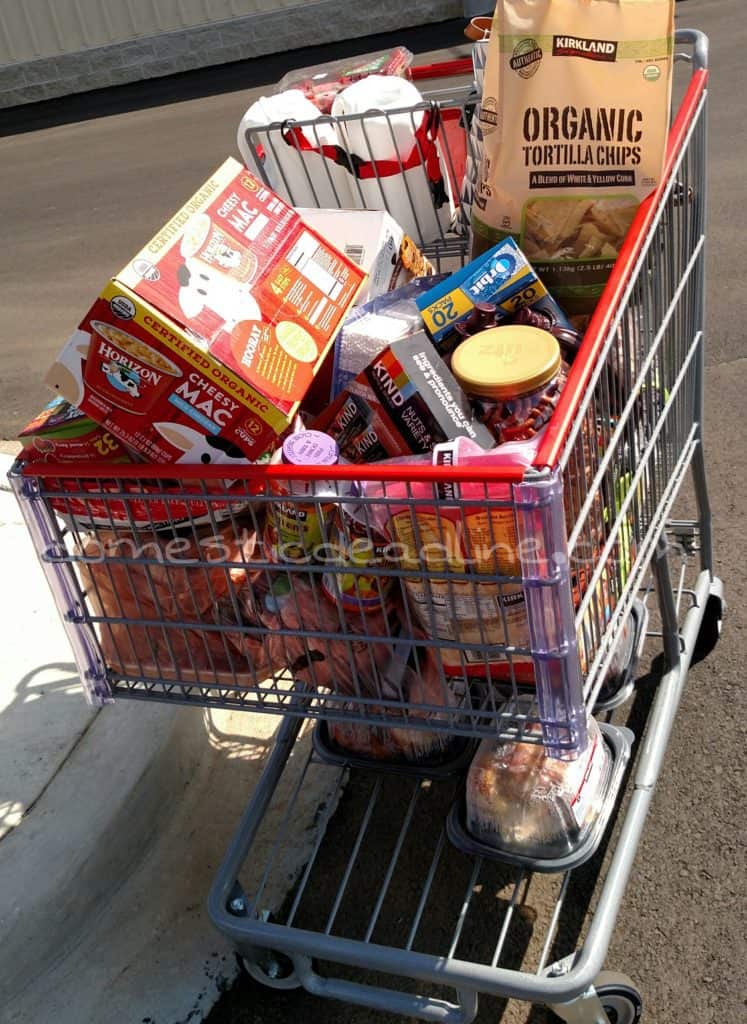 Yeah, my Costco trip usually has more than just our freezer meal shopping in it! We stock up on snacks and other household needs..
Slice and dice
In my first post I talked about how I always buy 4 rotisserie chickens.  This provides us with dinner on my shopping day. After dinner Tasha helps me shred the chicken. Together we chop onions, carrots, potatoes, peppers and celery. Store peeled and cut potatoes in water so they don't brown.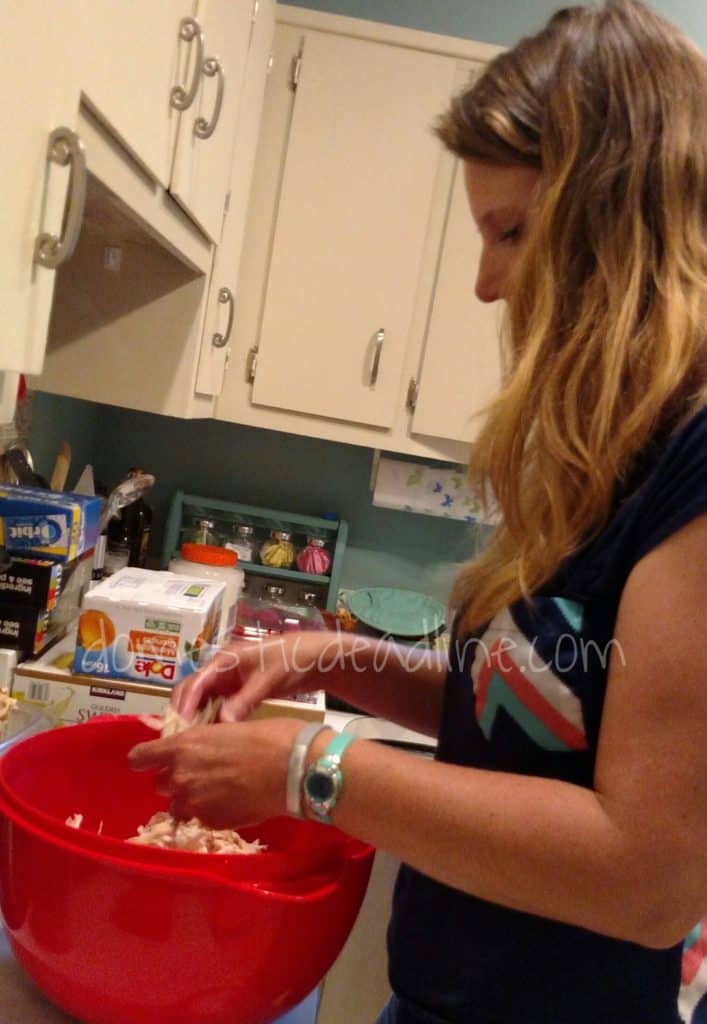 Label the bags the night before your cooking day so they are ready to go. Include the thawing and cooking directions on each bag that way anyone can get dinner from the freezer to the table.
Mix seasonings and other shelf stable ingredients ahead of time. We make our own onion soup mix and taco seasoning. O-man helps with this. Put the crock pot to use overnight too if you want to save some money… beans or chicken stock can be ready and waiting for you in the morning.
Bonus prep: dump recipes.  Anything where I just throw a few ingredients in with the raw meat before tossing in the freezer falls into this category. Getting these out of the way always makes me feel like I've accomplished something.
It's freezer cooking day!
Lay your day out to best utilize your time. If you're making meatballs, get them all rolled so they can bake while you work on other things.  Or cook up your ground beef so it can cool before mixing the rest of the recipe together. My local dollar store has sets of measuring cups and spoons, I found having multiple on hand for days like this helpful.
We use a lot of rice. While I'm working on other things, I bake rice in the oven all day long. In a large casserole dish (9×13) mix 3 cups of rice and 7 cups of liquid (water, chicken broth, or a combo), butter and salt to taste. Cover it with foil and bake for 1 hour at 350 degrees. When it's ready, I pull it out, add it to recipes or simply bag it up. Then I throw another pan in the oven and get back to work.


Tips for filling bags
Put your meats on the bottom then add the additional ingredients.  If you need to mix to coat the meat, seal the bag and mush it around. Add other ingredients on top. Get as much air out as possible when sealing.
Recipe calls for a topping or adding cheese at the end? Put this in a separate bag.  Be sure to label the main bag so you don't forget there is a topping bag.
Don't freeze water! It's a waste of freezer space. If your recipe calls for 2 cups of water, mark this on the bag. Add it the day of. If I'm not using homemade chicken stock, I'll use a concentrated stock and add the water when I'm ready to fix it.
Work in categories. Make all your dump recipes if you didn't the night before and get them out of the way. Then move on to all the rotisserie chicken meals, occasionally stirring the ground beef you're cooking for the next category.
Lay all your bags flat to freeze. You can stand them up or shift them around once they are frozen. If you've removed as much air as possible this is pretty easy.
Involve the family
Tasha acts as my sous chef.  She enjoys cooking and since I don't cook on a nightly basis, it will never hurt her to learn to freezer cook. We make our own BBQ sauce and cream of chicken soup for recipes instead of processed alternatives. It definitely adds time to our cooking day, but it's what we prefer. Cream soups often have wheat in them and the gluten free alternatives are pricey, I can make the equivalent of 12 cans in my stock pot and divide it as needed.
Periodically I yell for my cleanup crew (IronFish and JuneBug). They come in, clean out my stock pots, fill the dishwasher with bowls I'm done with and wipe up counters. It helps the process and clears my mind without me needing to stop. Just keep going is my motto and when I stop to clean up, I tend to loose steam and the whole process takes longer.
When I'm all done, they come back and make the kitchen spotless.  Back in the day when IronFish and I were only making meals for ourselves (or us plus baby) and were both working, we would make and freeze meals together. I'd lead and he would assist and clean up behind me. Three kids later and even busier schedules, freezer cooking became a necessity.  IronFish kept the kids out of my hair and then cleaned up after me. As the kids have gotten older, we've involved them in the process more.
Relax
Your freezer is full! Rotate through the meals to meet your family's needs. Got a crazy night when no one will be able to sit down together? Perfect night for beef stew! Serve yourself but clean up after yourself too. Have an hour to get homework done? Toss a casserole in the oven while you oversee. Getting home late and starving? Taco bowls or fried rice heats up quicker in the skillet than going to the drive thru or ordering pizza.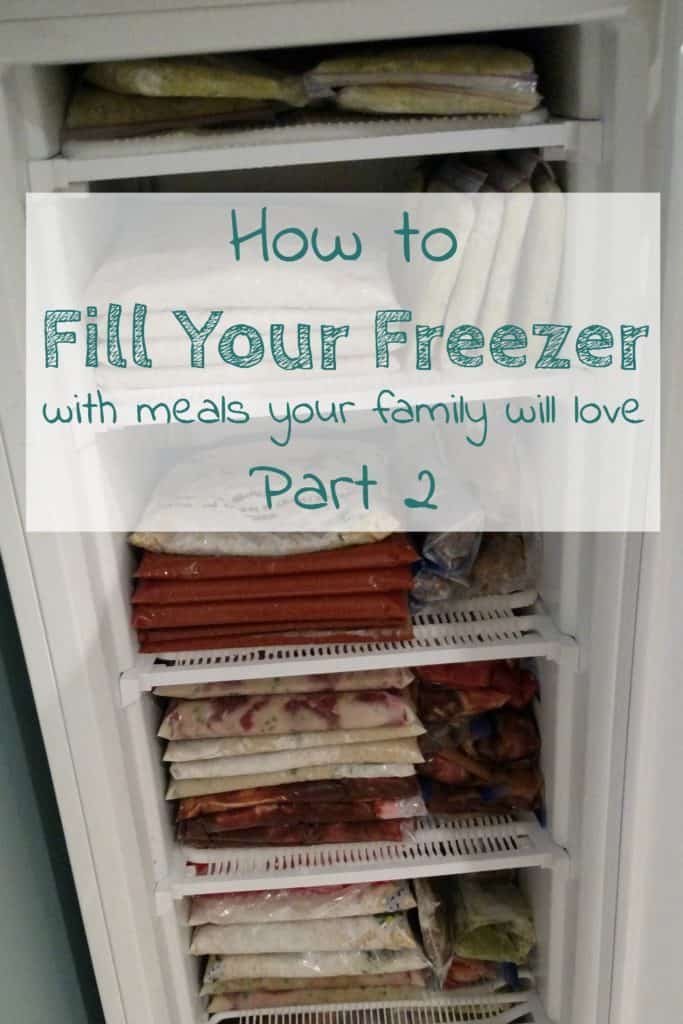 Final notes
I keep some notes on changes that need to be made for the next time. Increased veggies and stretching the meat is a great idea, except when I forget to compensate for growing appetites (like when your teen can out eat you!). IronFish loves left overs, so extra never gets wasted in our house.
Tastes change as well. Tasha and O-man used to think anything I put black pepper in was "spicy!" Now they add it to their meals so I cook with it again.
The process can seem daunting. Selecting tried and true recipes the whole family can agree upon is the key. Elaborate is for special occasions. Nutritious and filling are my weeknight goals. With the prep and planning out of the way our nights are so much smoother.
What meals does your family love? Any tips you've found to share with others? Don't think you can spare a weekend to prep tons of meals? I've got suggestions and solutions for time constraints in Part 3