The other week I shared how I made decorative vent covers for my new house.  While I was measuring and planning for these I noticed the old, yellowed doorbell wired into the wall in IronFish's office.  Since I had changed out many of the outlets in our house, I looked into changing out the doorbell or door chimes also.  Much to my surprise, they can be kinda pricey, or at least more than I thought they would be.
Spray paint was going to be my solution. The wiring of the door chimes looked a bit more complicated than the electrical outlets and I didn't really know how they were electrically being fed.  Circuits were switched off and on but I never figured it out.  Truth be told, we still have a few circuits that we don't know what is on them… as well as a few switches that don't seem to go to anything either!
Disclaimer – don't play with electricity, unless you know what you are doing… I'm not a reliable source for how to do electrical work since I'm not a licensed electrician…. just certifiable…. insane that is!
But, the cover was easily removable for spray painting.
And that had been the plan, until suddenly, in the middle of making all my vent covers, I had another idea… Why not make a new cover that matches the vent covers?
All the materials were already in front of me
A few measurements later and this turned out to be a very easy fix.  Did I mention that it looks sooooooo much better than the cover that used to be there?  Yep, it really does.
I measured my Union Jack punched sheet metal to be a large enough rectangle to cover the front of the bell chimes.  Two extra inches were added to both sides of my rectangle.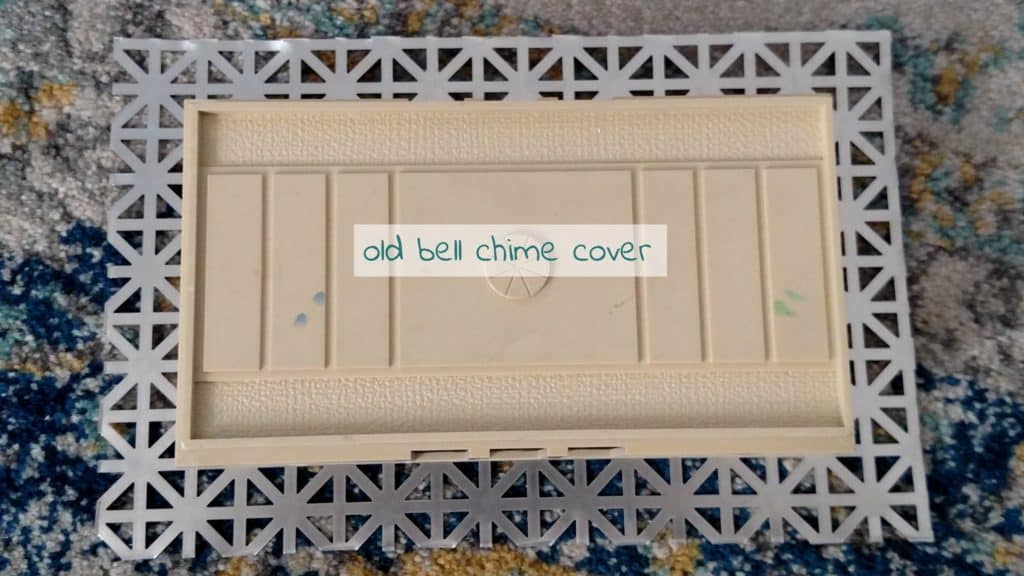 These extra two inches gave me an additional inch on each side to fold over and create my box. Cut the corners on a diagonal.
Fold the sides up to create a box. Be sure to fold all four side, overlapping the corners, don't worry, they won't be visible later.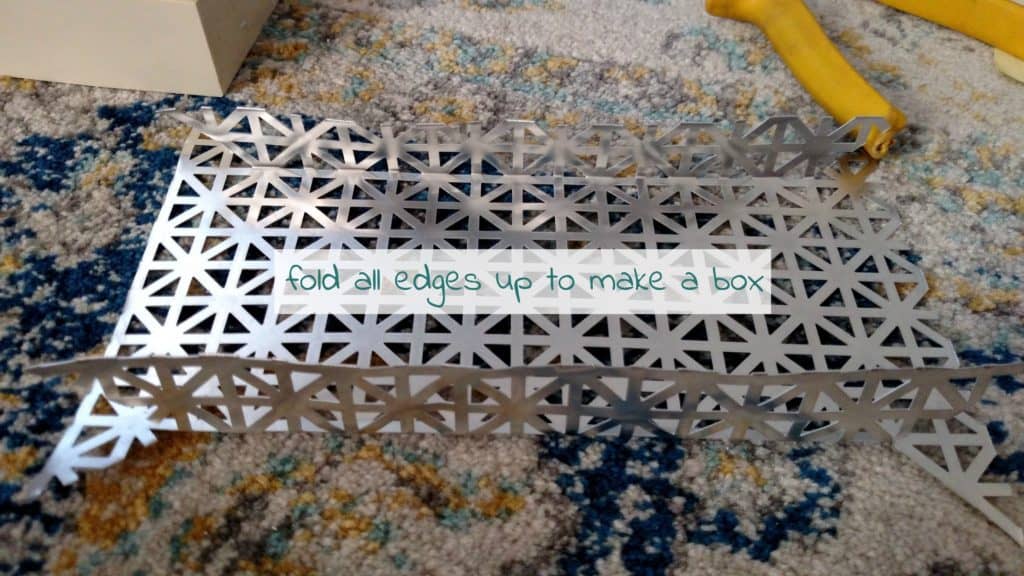 Using lattice trim, cut four sides to length. Gorilla glue the edges together and then around the Union Jack box. Cover the edges of the Union Jack where it meets with the inside of the lattice trim with duck tape. This keeps the gorilla glue from expanding too much and holds it all in place while it dries. This is the best picture I was able to get of the inside of the box: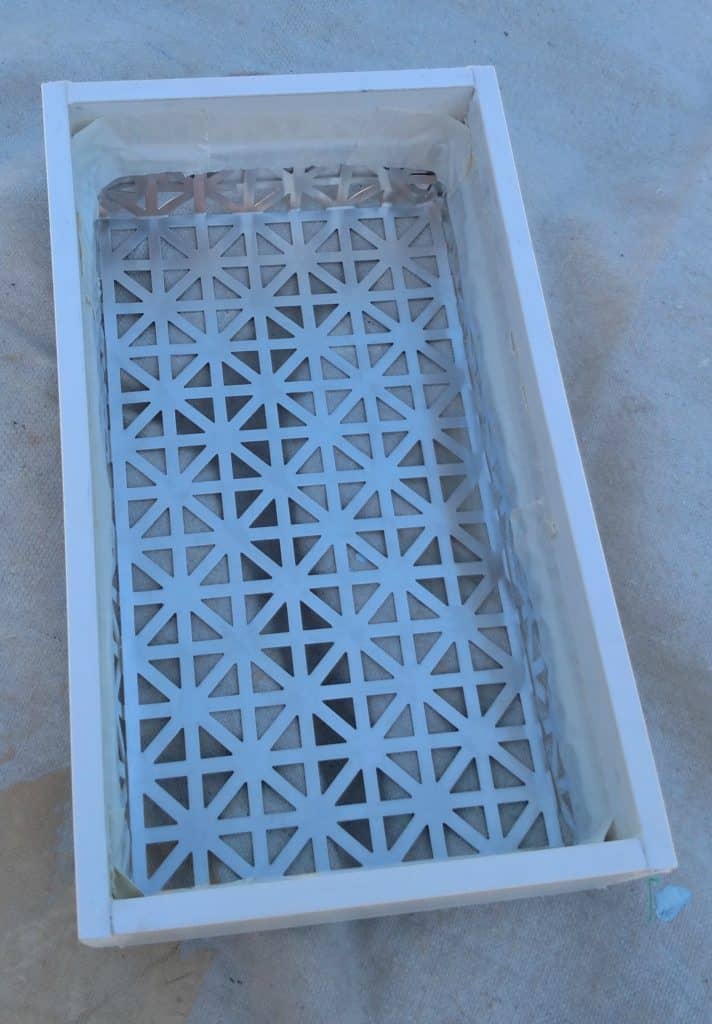 Spray Paint!
Because it's fun and dries quickly!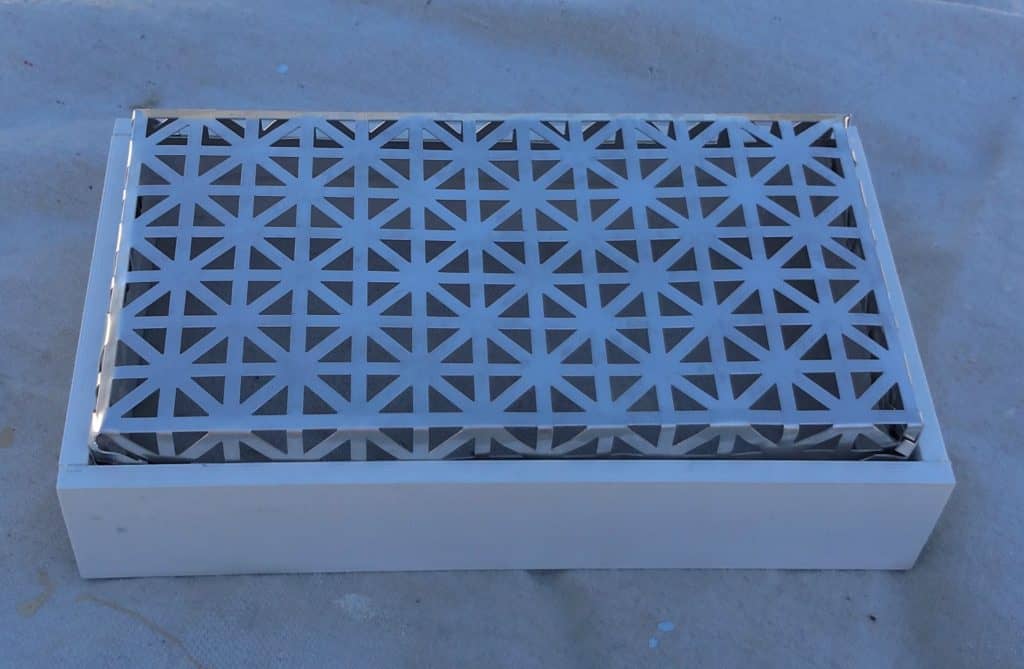 I used two coats of a glossy white. As you can see, I made mine slightly larger than the old doorbell chimes cover. This was slightly intentional… the Union Jack pattern easily folds at certain areas.  I didn't want it to be too snug, so I decided to make it snuggly fit over the old cover to be sure it fit instead of being too small.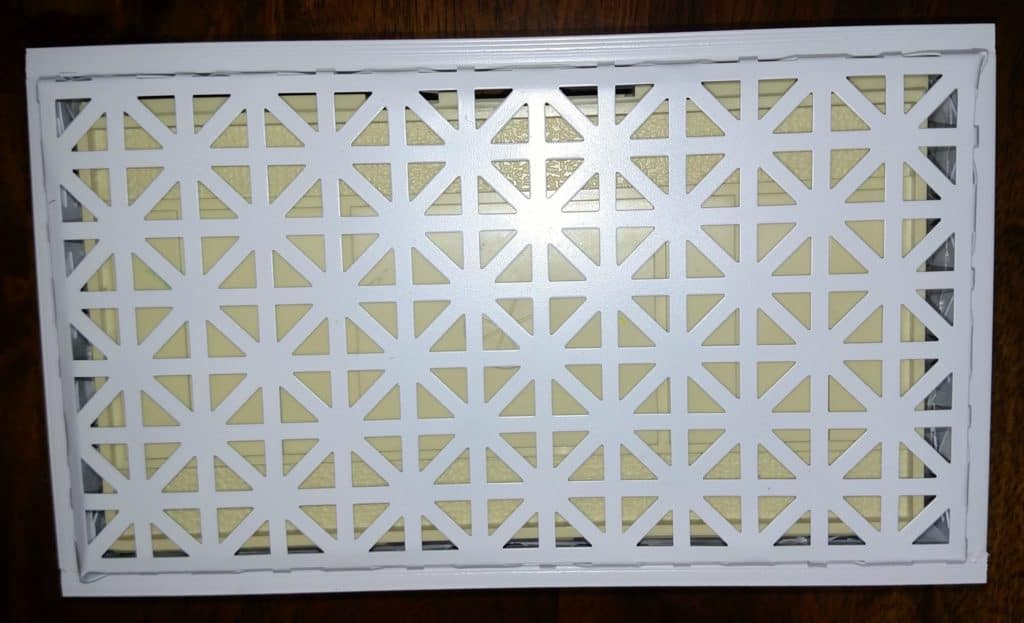 Ok, I'll admit, I really didn't know how I was going to attach this to the wall mounted, hard wired bell chimes. Worst case scenario, I was going to spray paint the old box black so that the new one would pop and you'd see the detail of the Union Jack.  Then just put the new one over the old one. But, I simply placed the finished new cover over the chimes on the wall and it just stays there!
Before and After
Because it's always fun to see side by side!