When we moved into our first house, I cleaned all the electrical outlets and light switches. Then when we painted we put new white outlet and switch covers on. It may not seem like much, but to me, it was a finishing touch on a fresh paint job. Updating outlets for today's technology needs and safety has made a big impact on our house
This post may contain affiliate links. Which means, if you click the link and buy something, I may receive a percentage of sales at no additional cost to you. Thank you for supporting Domestic Deadline.

Upon moving to our new house, I noticed when we first looked at it there were ivory, black and painted switches and outlets. Fixing this went on the priority list. I also knew the house originally had aluminum wiring. I needed to verify for myself that they had all been addressed properly.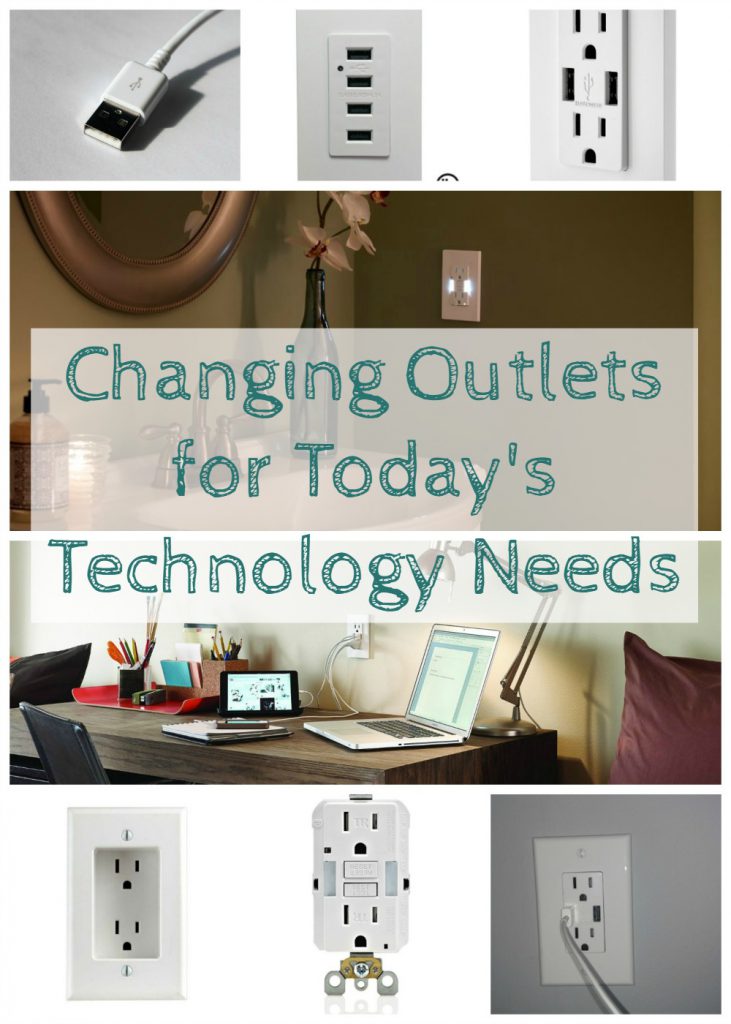 New Outlets
Rewiring an outlet is not very hard. I am not going to tell you how to do it because I am not an electrician. If you do change outlets, please take precautions such as turning off the breaker and using an electrical tester. Please don't take any of this as advice (there is your disclaimer, I was advised and checked by a professional).
Aside from not liking the colors of our outlets, they were all pretty loose. Over time outlets can become weak and not hold the plug in very well. While the house was still empty, it was a good time to make these changes.
USB
But I didn't just want any regular outlets… with all the USB plug technology today, it seemed a waste to still need adapters everywhere. In every room of the house, we put at least one of these outlets in.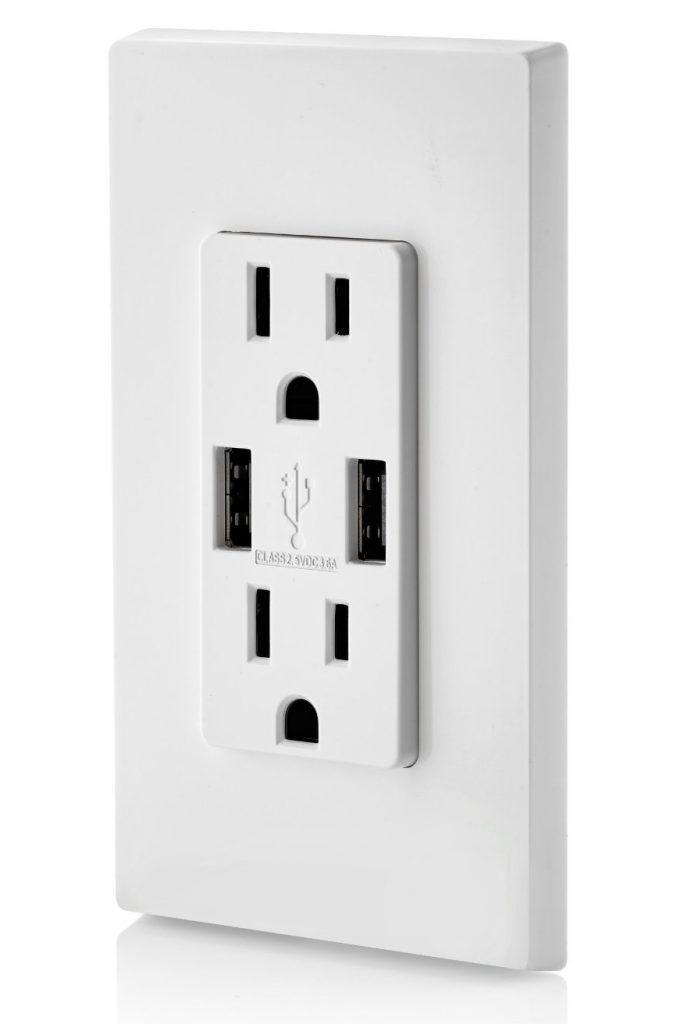 There are a variety of options on the market, but I didn't want to lose the ability to plug a traditional three-prong (oh, I found two outlets that were only two-prong in the house too, especially strange because I didn't think two prong outlets were still being used when my house was built).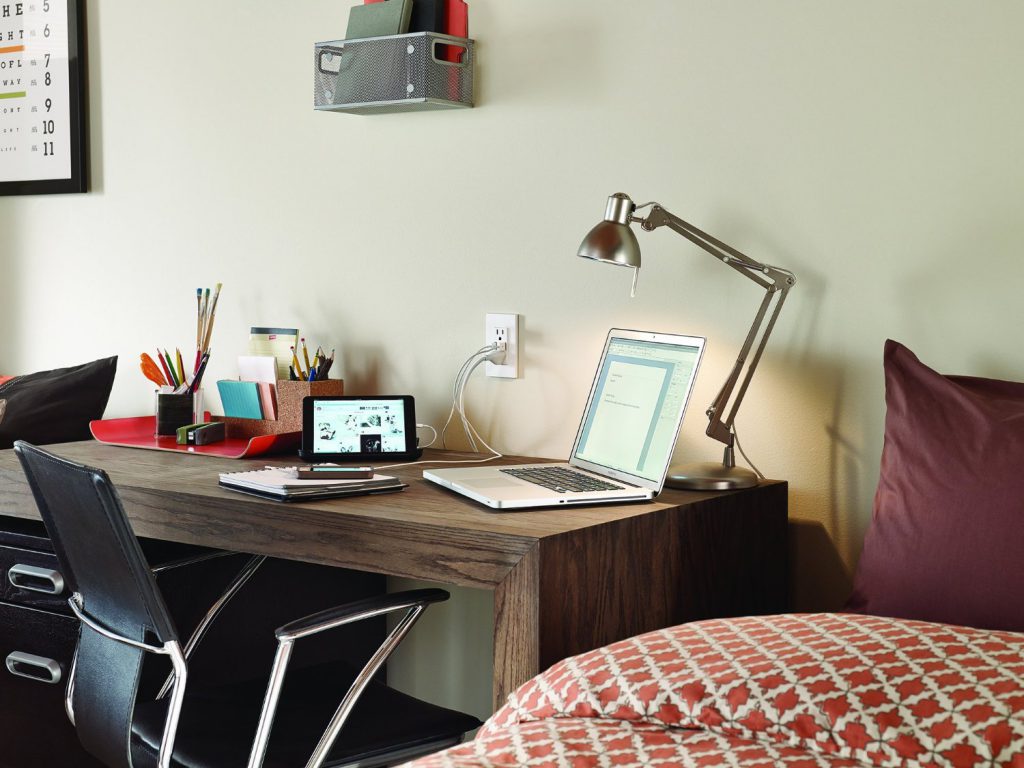 While there are plenty of adapters that can be added over top of the existing outlet, I like having them incorporated with the outlet and available where they are most likely to be used.  The girls each have a phone and a kindle, so they get used.

LED Lights
GFCI outlets should be used near water. No, not if you live near water, the C doesn't stand for coastal (I crack myself up). Bathrooms and kitchens should have GFCI outlets. They trip so that you don't get shocked. I was really excited to find them with LED lights in them! No more night lights!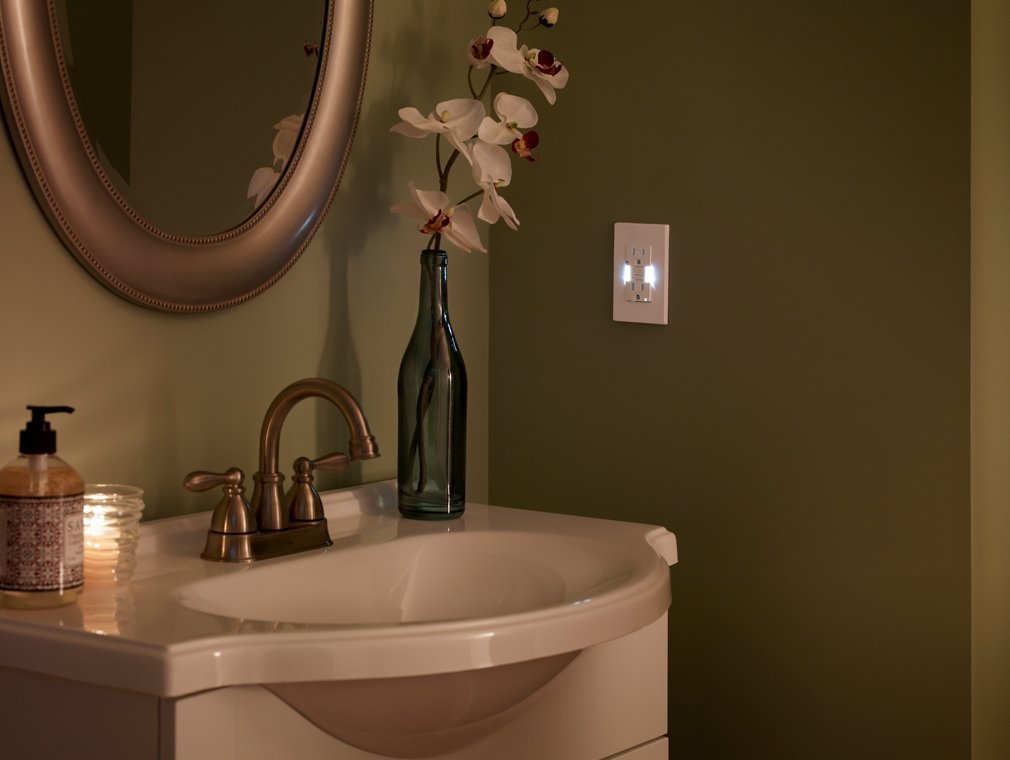 Even though the kids are bigger now, I still like to have a little light on in the bathroom for anyone that wakes up in the middle of the night. It's especially nice when we have company who aren't as familiar with our house. No one likes to be half asleep and trip going to the bathroom!
I also put one of these in the hallway outside the bathroom. It's great to light the hallway just enough. Since they have a sensor in them, the lights turn on and off automatically. LED means barely pull any power and I shouldn't ever need to replace them.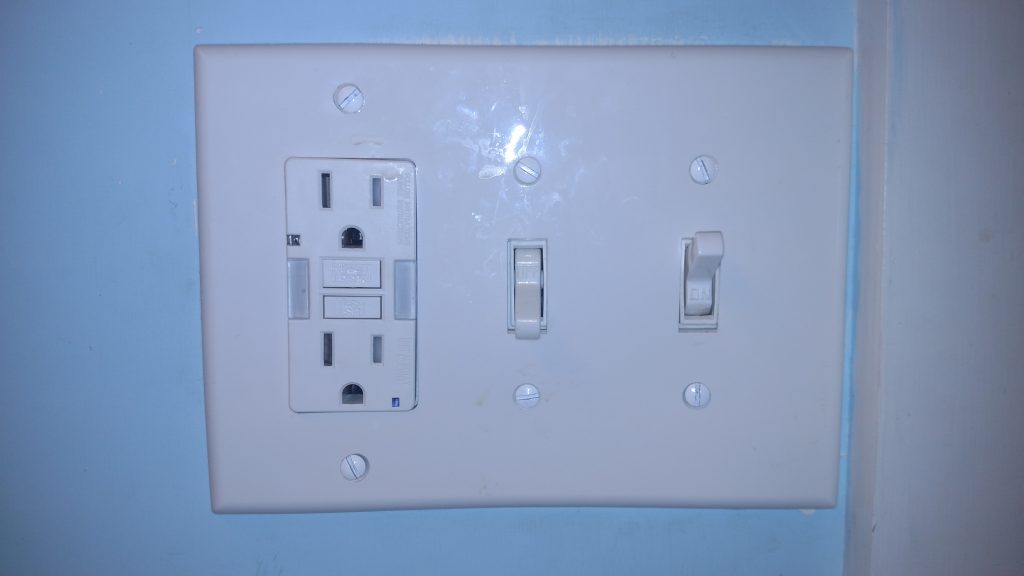 Recessed Outlets
Another advantage of changing outlets was being able to use a recessed outlet in places where we didn't want the furniture to be affected by plugs and cords.  Unfortunately, we added a dresser shortly after getting all moved in, and I now need to go back and put a recessed outlet behind it.  The dresser can't be pushed back against the wall with the plugs sticking out.
Recessed outlets eliminate this problem.  They are also great for mounted televisions or other media.
Tamper Resistant
All the outlets, even the non "fancy" ones are tamper resistant. It's easy to tell if an outlet is by the TR visible on the front. My baby is 8, so it may not really have been necessary to have tamper-resistant outlets. I wasn't big on the little plastic guards that went in outlets or the other baby proofing systems. I was vigilant and taught them not to touch.
When O-Man was little, there was really only one plug that ever really concerned me. It was right next to the vent grate he unscrewed with a penny when he was 2… We did replace that outlet with a kind that had to be turned in order to plug something in.
JuneBug was the queen of anti-baby proofing! If you had something baby proofed in your house, she would figure it out…. and probably teach your child how to get passed it. There wasn't a cabinet locking system she couldn't dismantle by 3 years old. I actually thought we might get kicked out of play group because of it.
Updating Outlets for Today's Technology Needs and Safety
But, my kids are no longer the point of tamper resistant; at least I'd like to think.  My niece is still young, I have friends with little ones, the next homeowners might have babies. In general, tamper-resistant outlets are good in every home.  Just the other day, a friend posted this on Facebook: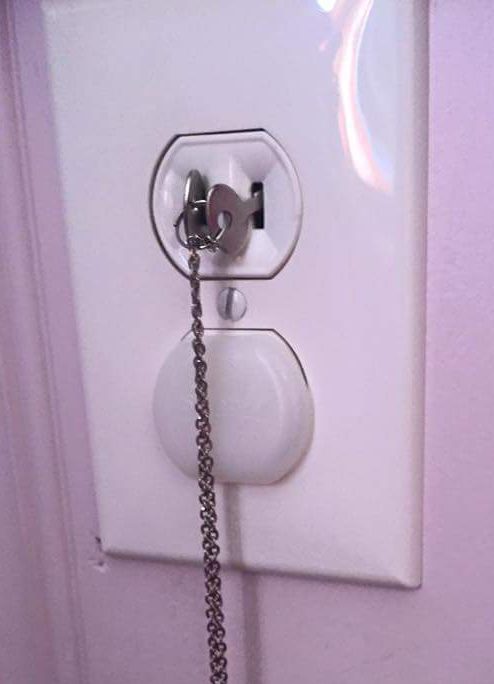 She thought her kids were plenty old enough to know better. Her six and eight-year-old daughters learned a valuable lesson. While there were sparks, thankfully no one was hurt.
It just reinforced my decision to use tamper resistant outlets.
Per my regular course, I got a good portion of the house done. Everything but the kitchen and mudroom actually.  Mudroom makeover is on tap for this winter, so we will get those changed while working on that project.
More Options
When I get to the kitchen, I'm hoping to be able to hide the outlets under the upper cabinets so the tile can run uninterrupted. But, I'm still in the planning phases for the cabinets, so the outlets aren't my priority aside from getting them changed.
While pulling up the links for the products I used (yep, there are some affiliate links. Not only making it easier for you to find what I used but to give credit where some of the pictures came from; pictures from the manufacturers) I found a few other great options.
SnapPower Guidelight Outlets were actually what made me look into LED nightlight outlets. Had I not needed to replace the outlets, I probably would have used a few of those.
Not only did we recess outlets near televisions, we also put twice as many outlets as we thought we would need.  It turned out to be a good thing because once the TV, cable box, DVR and whatever else was in that area was plugged in, there often wasn't an outlet leftover.
Other Options
Have an area where more than two USB plugs are needed? There are outlets that hold 4 USBs, with and without a traditional plug. Extension cords have even come a long way too, better meeting the demands for technology.
Again, always check with a professional for advice, but changing the outlets can not only make your house safer but tech savvy too!