Strange as it may seem, a mudroom was on my must have list for the new house. Nothing drives me crazier than shoes and bags blocking the front door. Toss a few jackets in top of the pile and I'm ready to scream! When I see organized mudrooms, I'm so inspired… inspired to actually organize my whole house even.
In the old house, we had a small coat closet that just didn't hold enough for our family. After trying a few things, I landed on building my own unit for just inside the front door. It was the best system for that house. Still not perfect, but much better. Each person had their own space for jackets, bags, hats, gloves, scarves and shoes.

New House, New Mudroom
Two cars can fit into our new garage. The added beauty is this is where the family enters the house. Now we have a dedicated space just upon entering for all the crap children's belongings.
Makeshift storage solutions have worked for the first year of living in the house. I've been dreaming of making it a nice, neat and organized space. I have toyed around with so many options; designing and redesigning 60 square feet.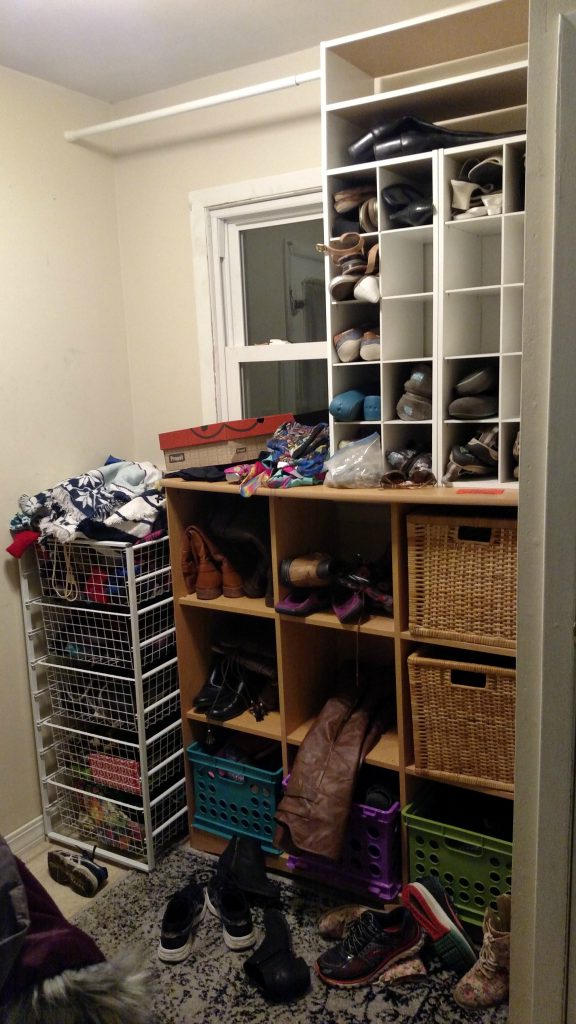 I'm gathering inspiration and figuring out what I require in the space to create the ideal mudroom.
Mudroom Requirements: Hooks
And lots of them.
Ever asked a child to hang something on a hanger? How'd that work out for you? Yeah, that's why hooks are a must for me.
As my girls have gotten older, we have started to share more and more things. JuneBug now not only wears many of my accessories but my jackets and shoes too! Tasha also ends up with more hand me downs, not just from her sister, but her aunt and JuneBug's friends.
Hooks are always necessary. The more, the better. We couldn't wait for lots of hooks, especially with extra kids in the house. Or visitors.
Two rows of hooks were installed not long after we moved in. They are the perfect style to compliment the doors and knobs we used in the whole house. Installing them along this wall is not only easily accessible, but out of site from the kitchen.
I do really love the way The DIY Mommy did her hooks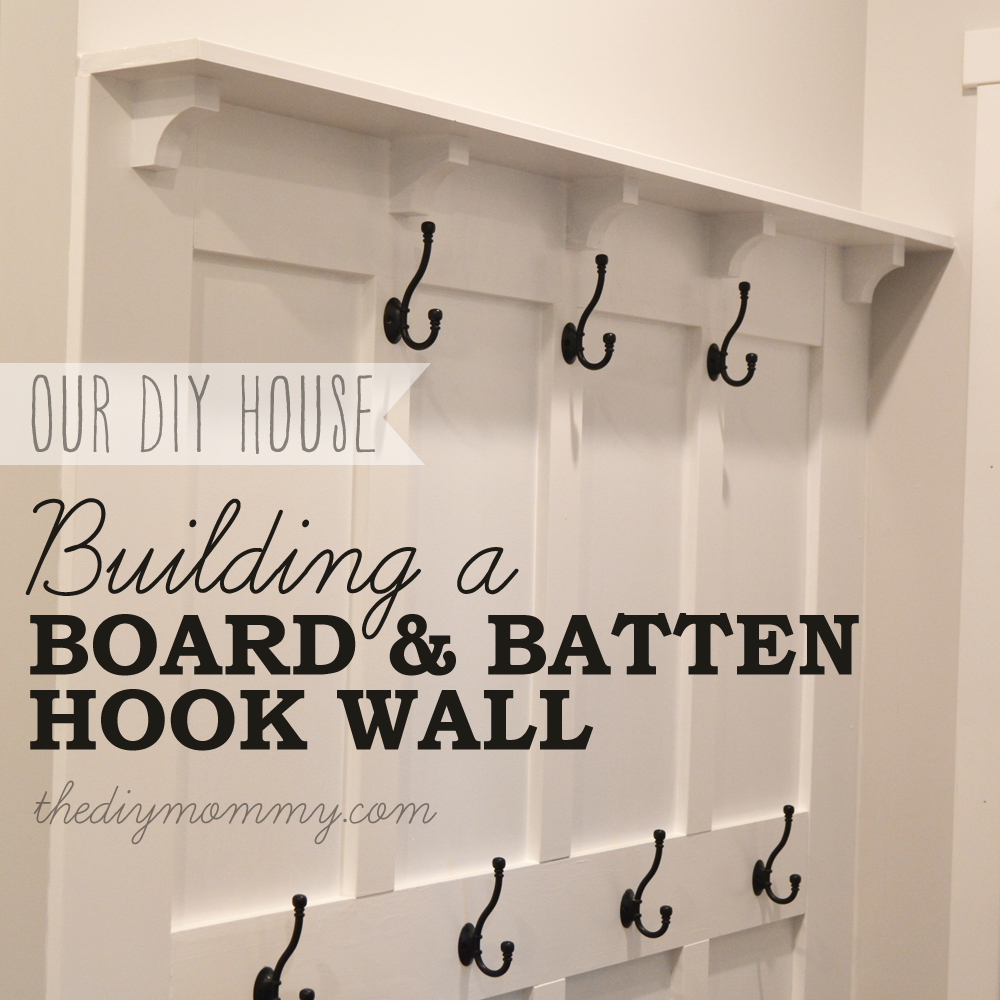 And the use of the narrow space at The Creativity Exchange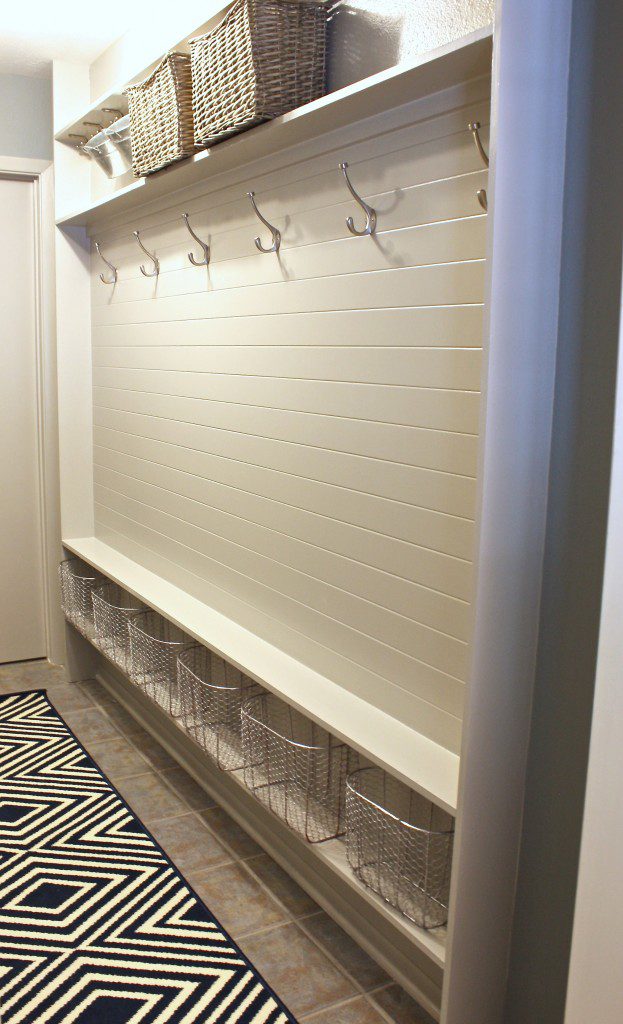 Mudroom Requirements: Shoe Storage
My goal in this house is to not keep any shoes someplace else in the house. I like shoes to be removed when you enter the house. Therefore, keeping shoes in bedroom closets doesn't make much sense.
When the kids were smaller and didn't have as many shoes, they could all go into one bin per child. Now that they are bigger, their shoes are larger. A teen and tween means they also want more shoes than a pair each of sneakers, dress shoes, boots and flip flops. (That does still cut it for O-Man,thankfully).
Lacrosse, school dances and a sense of style, the girls' shoe collections have been growing. Everyday shoes and occasional shoes all need to find their place. Shoes for five people can take up a lot of space.
I love options like these (click on the picture to take you to the source!):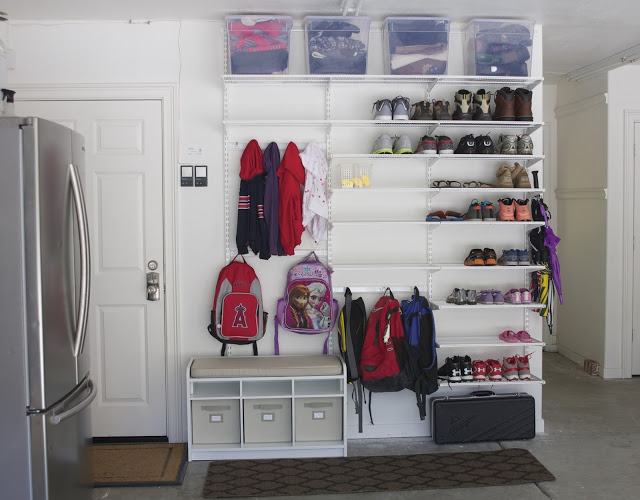 I had considered using the garage as mudroom storage before we decided to move the laundry room to the basement. Shelves for lots of shoes all lined up in rows looks so pretty to me.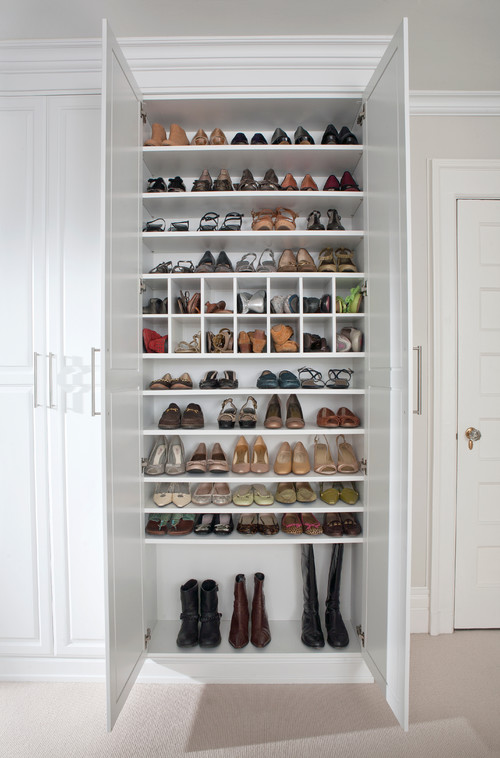 Above may be a shoe closet in a bedroom, but that doesn't make it less drool-worthy, or less desirable in a mudroom.
But, let's get serious now. Despite the organized beauty of shoes all lined up in pairs, there are only two people in this house that are ever going to straighten up the shoes… JuneBug (on a regular basis, because she's organized like that) and me (because I'll be fed up with it and constantly try to reorganize it so that other family members actually put their shoes away). So, maybe this is better saved for the occasional use shoes.
For the everyday shoes, or the 20% of our shoes we wear 80% of the time…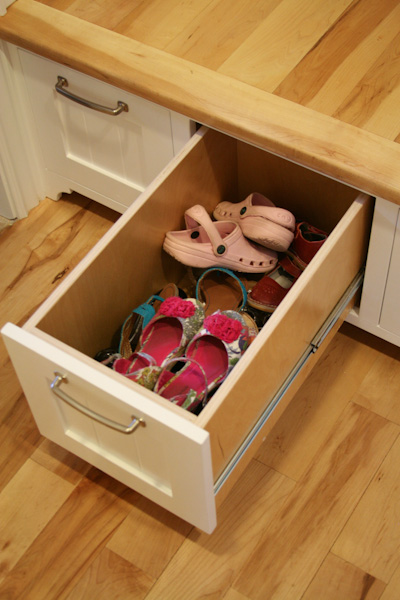 Sawdust girl has the right idea! Drawers the kids can just shove their shoes into.
Mudroom Requirements: Accessory Storage
Hats, gloves, scarves, oh my! Then there umbrellas and purses or pool bags and sports bags. All of these things need to find a home in the mudroom. They need to be easy to find and easy to put away.
Here are a few of my favorite solutions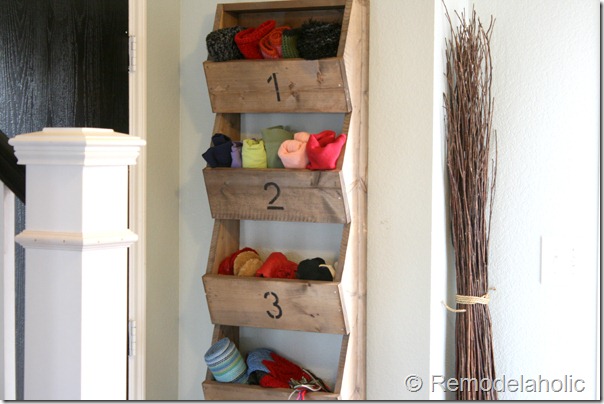 Remodelaholic gives  the plans to build this storage bin. I love the numbers but I think I would actually label the bins with hats, gloves, etc. Or maybe the numbers make sense… I often refer to my kids by number…hehehe.
I love the inexpensive, industrial look Lemons, Lavender and Laundry gave these dollar store bins with spray paint:
Mudroom Requirements: Extras
Other things I'm looking to incorporate are a place to sit for putting your shoes on.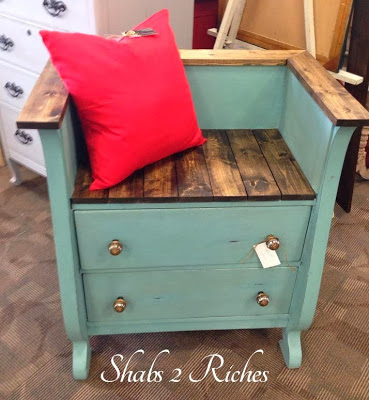 Space may end up being an issue and we may only end up with a chair in the mudroom, but I just love how this little dresser was turned into a seat and still has storage!
Maybe a sink, it is a "mud"room after all. Utility sinks are pretty inexpensive too.
I love how cute this utility sink turned out
Sometimes the kids' backpacks end up there. Most of the time, they keep them in their rooms. But I do also need a place for my purse, and the girls' purses as they use them more often.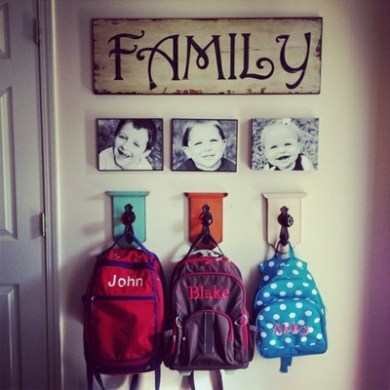 Did I mention hats? I love hats. I'm still looking for inspiration for storing hats.
And sunglasses… we all seem to have several of those.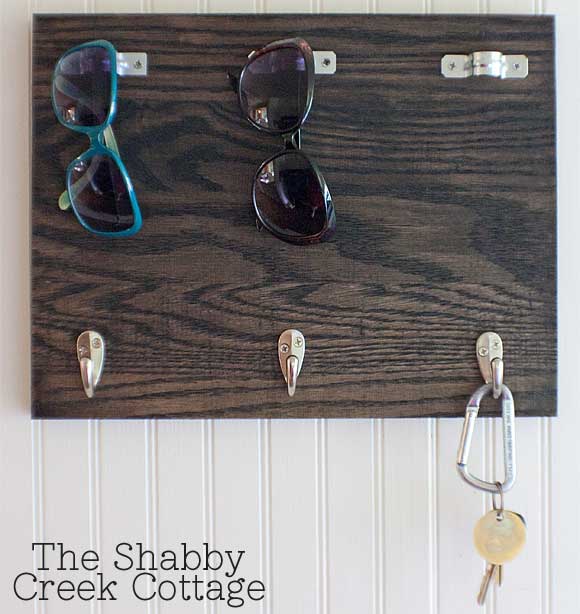 Organized Mudroom Inspiration
There are so many ideas out there. My design is still evolving but I am hoping to begin work on it very soon.  Ultimately, organization of the space is key. I dream of a perfectly organized house. A dream it will probably be for years to come, but at least I have an end goal in mind.
So far my plan includes using the same cabinets as in IronFish's office. I'm looking to bring a cohesive look to the whole house. I think the space could eventually be used more like a butler's pantry, you know, when the kids are grown or by the next home owners.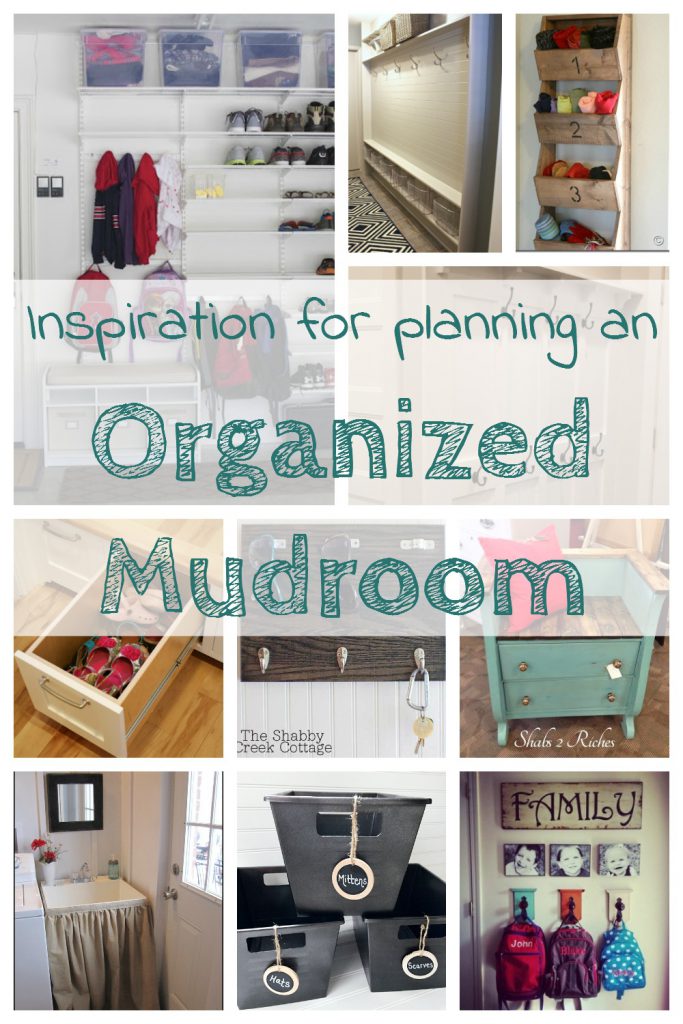 Want to see what the end result? Me too! In the mean time, follow me on Pinterest or subscribe to my mailing list!
Do you have a mudroom? What do you love about it? What do you wish it had?