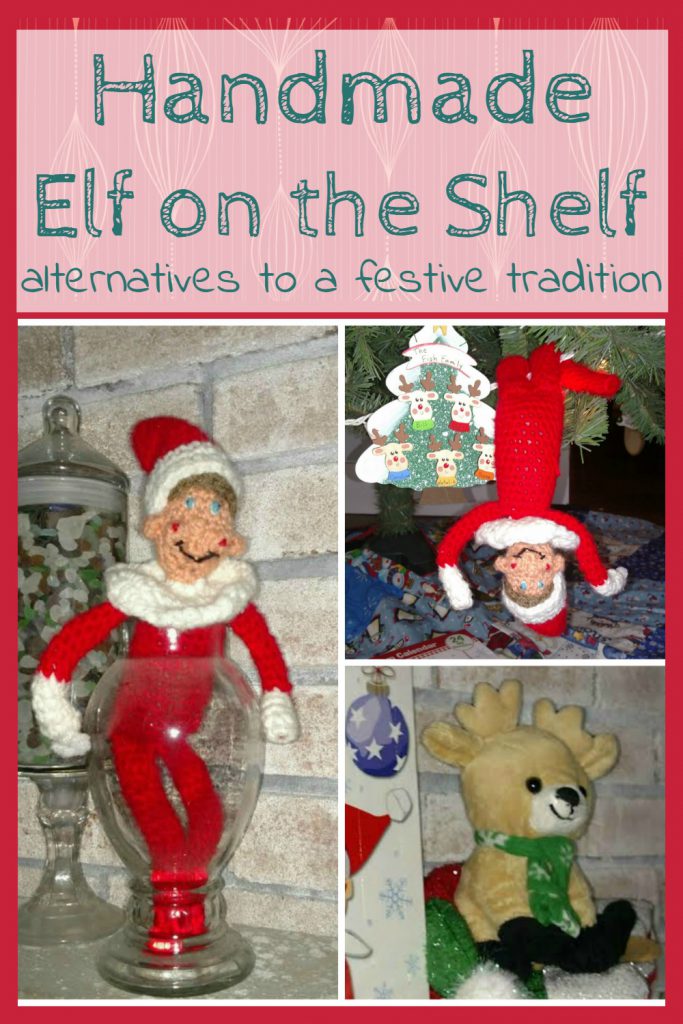 A few years ago, O-Man started asking for an Elf on the Shelf. I was only just hearing of this tradition but it seemed my girls knew of it. Checking elves out in the stores, I liked the concept and was willing to start the tradition. But, I wasn't too keen on the actual elf doll. That and every place I looked locally was out of the boy elf.
Craftiness took over and I decided if we were going to do this, it needs to mean a little bit more to our family. Yarn can always be found in my house, so I got to work and crocheted my own version.
Handmade Elf on the Shelf
When I look on Pinterest now, I find more options. I'm pretty sure I used this free pattern to make our "Elfis." Or, I guess I should say, I basically used the patter. I never seem to be able to follow patterns exact!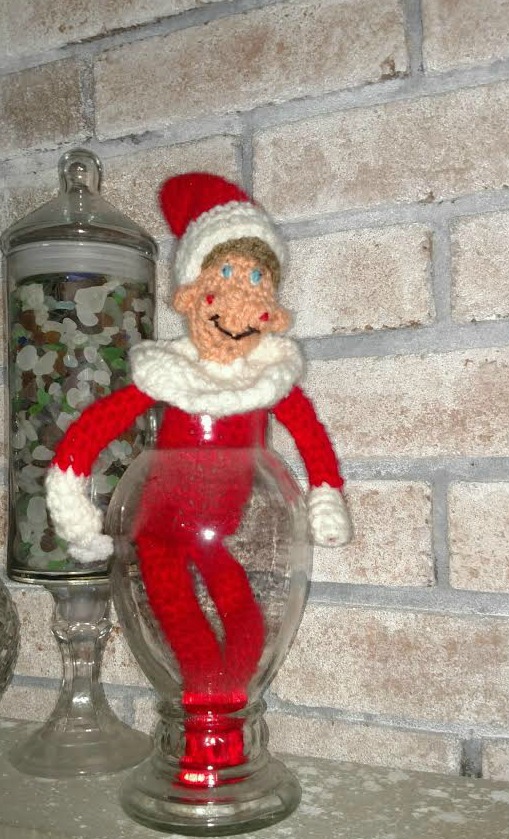 Because our elf was finished only about two weeks before Christmas, we left him in our tree with a note to Santa. Thankfully, the big man had been checking in with his elves. He knew that our special elf was ready for duty! Santa left a note saying he had stopped by to hug our elf.  Elfis was officially keeping an eye on our house for him.
Special Permission
Two years ago, O-Man asked Santa if he could keep Elfis year round as his Christmas present. He wanted to be able to hug and play with him. As we all know, Santa needs his elves in his workshop during the rest of the year.
Luckily, Santa decided to let Elfis stay for a whole week to play with O-Man. He would come back and pick him up on New Years Eve. O also received a movie to watch whenever he misses Elfis (which sometimes Elfis borrows back because he's watched it 700 times in a row!)
Last year, O-Man asked Santa to have me make another elf that he could keep. But he wouldn't be able to be magic if he lived here year round. Santa and Elfis had another plan in store for him. Elfis has a pet baby reindeer named "Presently" who needs lots of hugs to grow into a big strong reindeer. So O-Man is officially in charge of taking care of Presently.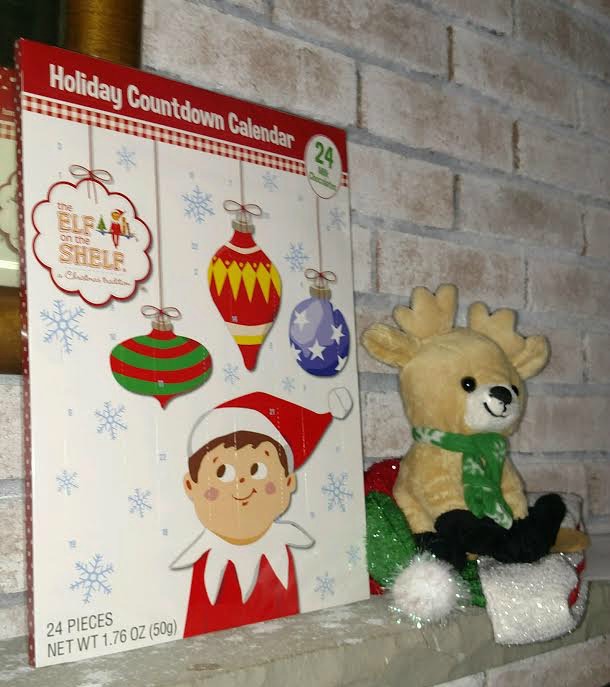 Special Arrivals
O-Man looks forward to Elfis returning every year. Unfortunately, he's already talking about how sad he is going to be when Elfis has to return to the North Pole (or "the bar" as IronFish keeps saying!). Last year when he arrived, he brought with him a new pair of Christmas Elf on the Shelf pajamas. We know the air conditioning is too high when he pulls them out and insists on wearing them in July!
This year Elfis brought with him the Elf on the Shelf countdown calendar. Along with it; a note saying O-Man needs to get better at using his planner at school. It's amazing what this kid will do for his elf! Daily notes are being exchanged between the two. For a kid who can, but doesn't like to, read and write, he's happy to do whatever Elfis asks.
Elf Antics
Elfis is still known for some silly antics. Nothing where he could get wet or dirty, but he definitely likes to have a good time. When I made him, I added pipe cleaners to his arms and legs. I do wish I'd put them in his body and neck, but he's still able to hang from the tree or other silly things.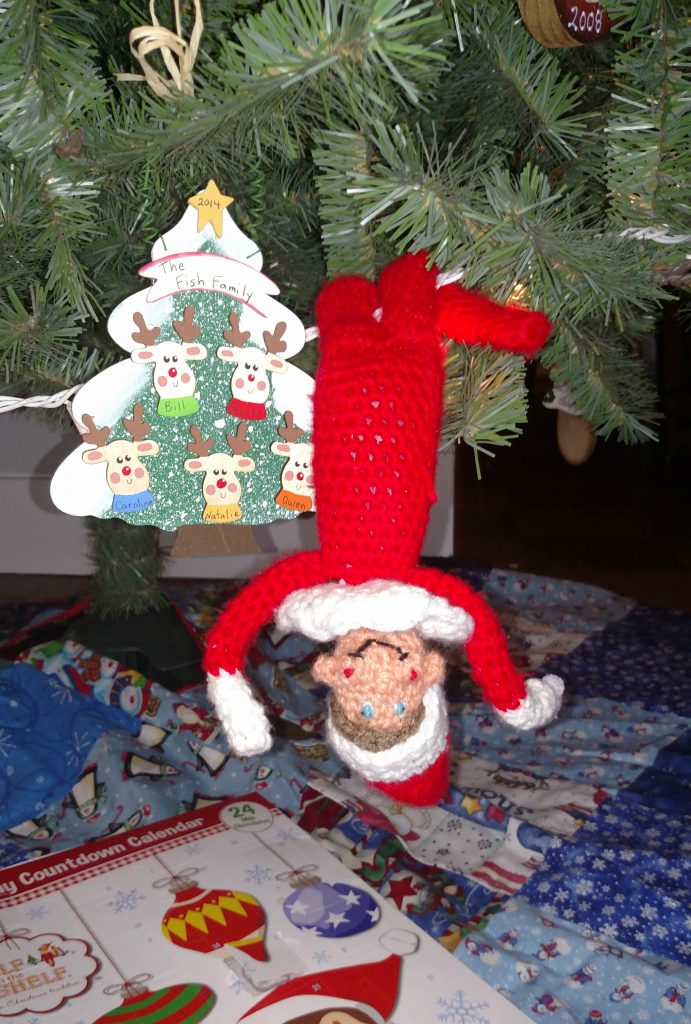 Pinterest is full of ideas of fun things elves are doing at night when the kids. We aren't the only ones with an alternative elf, check out how Mums 'n Chums uses stuffed Disney's Prep and Landing.
If you're interested in having your very own handmade elf, you can use the pattern I shared above. If crocheting isn't in your skill set, check out these awesome handmade elf options on Etsy.
How do you "Elf on the Shelf?"
Please note, affiliate links are included for your convenience. I've done the searching for you, at no additional cost to you should you choose to follow a link that results in a purchase.