Ever feel like you spend your whole life in the kitchen cooking meals for your family? Personal experience has shown me constant take out and store bought meals leaves me sluggish, grumpy, and unhappy. But getting a healthy meal on the table night after night can be daunting! While there are times I enjoy cooking and baking, after a long day, it's usually the last thing I want to do. And, while I've prepared a freezer full of meals my family can agree upon in the past, sometimes the prep, planning and actual day of work can be more overwhelming.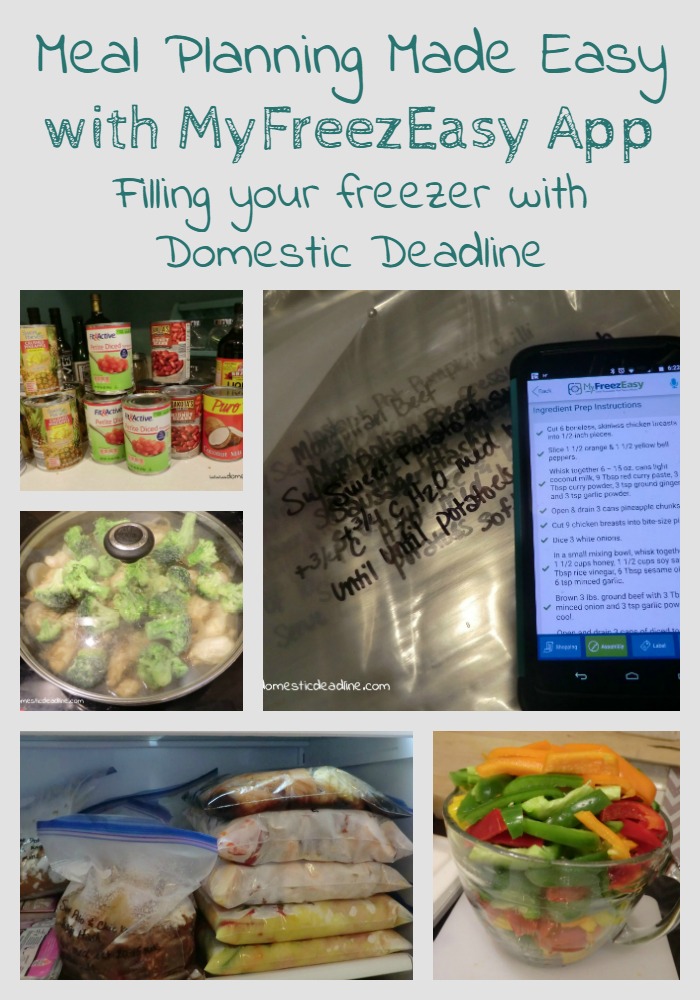 This post may contain affiliate links. Which means, if you click the link and buy something, I may receive a percentage of sales at no additional cost to you. Thank you for supporting Domestic Deadline.

But, night after night, my family seems to want to know the answer to the same question…
What's for Dinner?
Our new house has less counter space than our previous house. I haven't been able to make it flow and function as well as the old kitchen. This has left me dreading the inevitable task of cooking. Not wanting to resort to more processed alternatives too regularly, I needed a solution.
Meal Planning Made Easy with the MyFreezEasy App
I had used a few of the $5 Dollar Dinner's meal plans in the past. Our problem was there was always one or two things my kids wouldn't eat. I'd end up spending time figuring out substitutions and making changes.
Or, I'd spend hours planning out exactly what I was going to make and the best way to do all the prep work. And, while I eventually got in a good rhythm with this, it was still a daunting task. Only made worse when I would try to change up our usuals.
Often, I wished for an app. One that would allow me to select the meals my family would enjoy. An app that would give me a shopping list and tell me exactly what to do to put all the meals together.
And THAT is exactly what MyFreezEasy does!

Selecting Meals
There are tons of recipes to choose from and a multitude of ways to sort them. By protein (beef, chicken, pork, vegetarian) or by cooking method (slow cooker, baked, skillet, grilled) or by dietary preference (gluten free, Paleo, top 8 allergy free), etc. Recently Instant Pot recipes have also been added!

Personally, I like to peruse the recipes and "heart" the ones I think my family will have an interest in. This puts the recipes into "My Favorites" making it much easier for me to find them later
The last two times I've selected recipes, I had the girls pick ones from "My Favorites" and "add" them to my plan. Here's one of the greatest things about the app… the option to select 2,4,6, or 8 servings. Our family of 5 does well with 6 servings. Either someone is extra hungry or there are leftovers for IronFish's lunch.
Shopping
After deciding how recipes I want to make, I save my list. Lately, I've been naming them with the date so I can remember what plans we liked most. The shopping list is generated for me! MyFreezEasy doubles all the meals, so if I select 4 recipes, I make 2 of each and freeze them, resulting in 8 dinners in my freezer.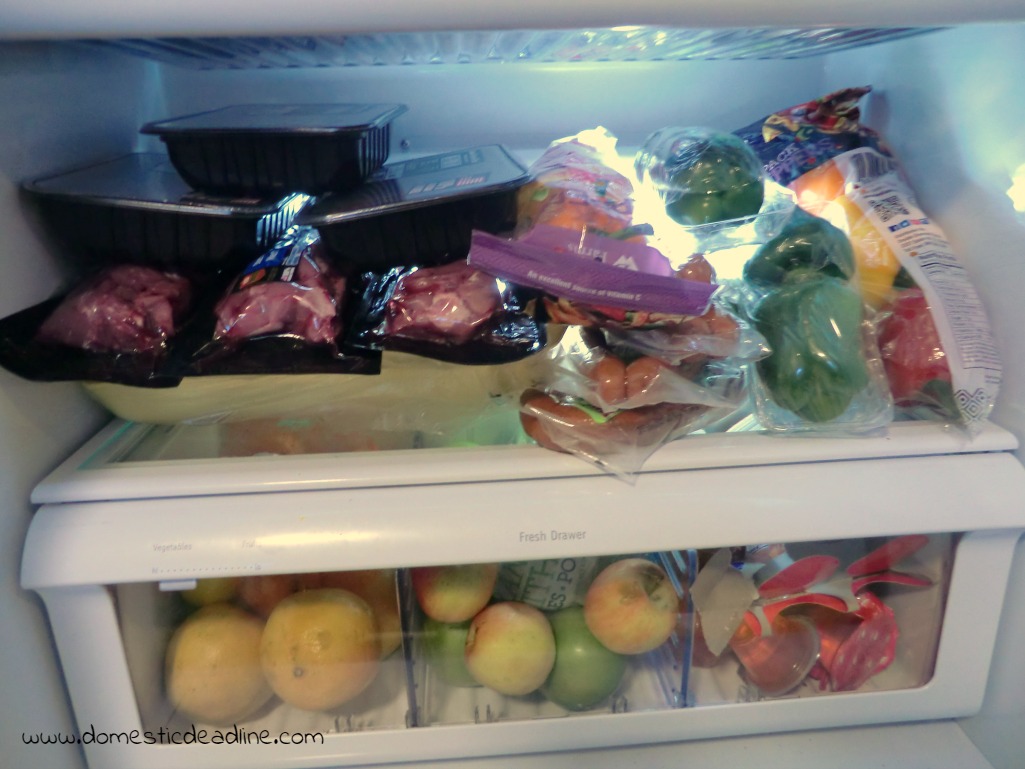 The shopping list can be sorted by recipe or by section of the store. Sorting by store I can quickly scan my pantry and see what I already have on hand. Most of the time I already have the spices and a good portion of the sauces/condiments.
One thing I love about MyFreezEasy recipes is I have yet to come across one calling for canned cream of something soup or other overly processed ingredients. Some freezer meal plans I've used in the past have called for so many processed short-cuts. By the time I make all my own homemade version, I've doubled my time in the kitchen. Don't get me wrong, there are times when this is totally worth it, but I need to be in the mood to spend the extra time.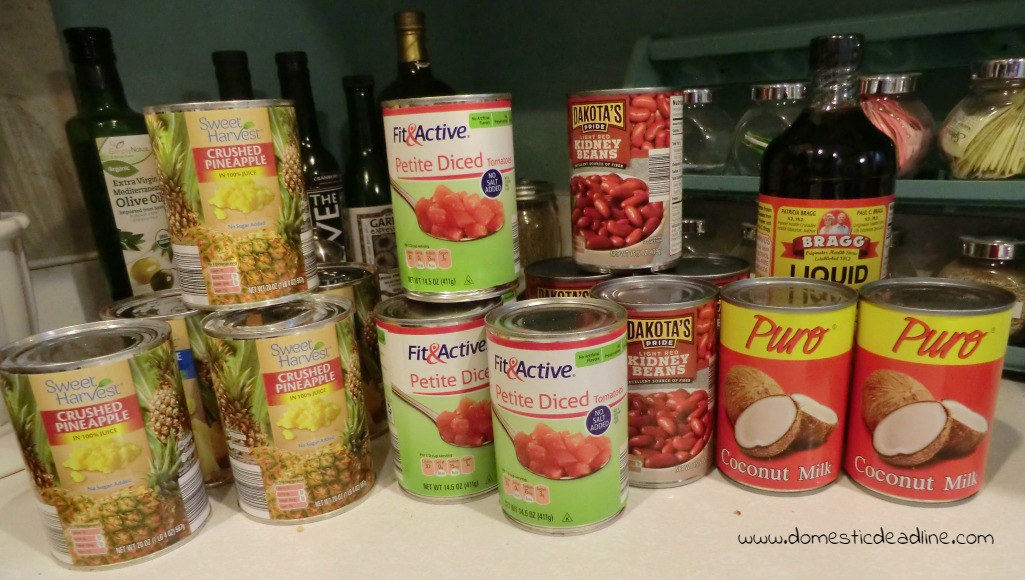 Another thing I love is I can get almost everything I need from Aldi or Costco. Anything that keeps me out of Shoprite is a win in my book.
Label
MyFreezeEasy offers labels with the instructions for each recipe. If you can print from your phone (I can't) you don't even need to go onto the computer. Most of the time, I have no problem jotting the instructions onto a Ziploc bag with my trusty Sharpie marker.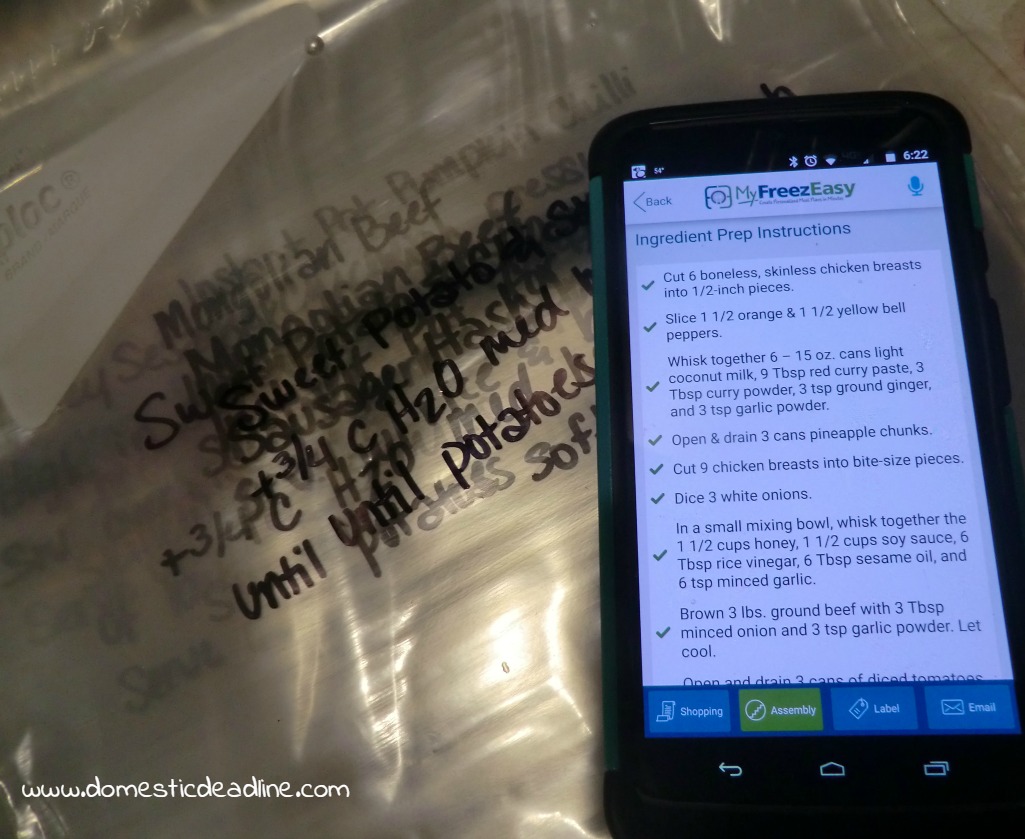 I usually review the assembly instructions before labeling. Sometimes a recipe calls for water or several cans of something and I might just add that when it's time to cook. It's a throwback to my smaller freezer days, I looked for ways to freeze and prep meals but not take up all the space by freezing water or something that could be stored in a cupboard if it didn't affect the marinating process. I don't recommend doing this if you're new to freezer cooking though.
Assembly
The instructions for ingredient prep make the actual assembly of the meals go very quickly. All the chopping and mixing is done at the same time. In the long run, this saves so much time, even though there are times when I feel like chopping 9 onions or a dozen peppers is a little much!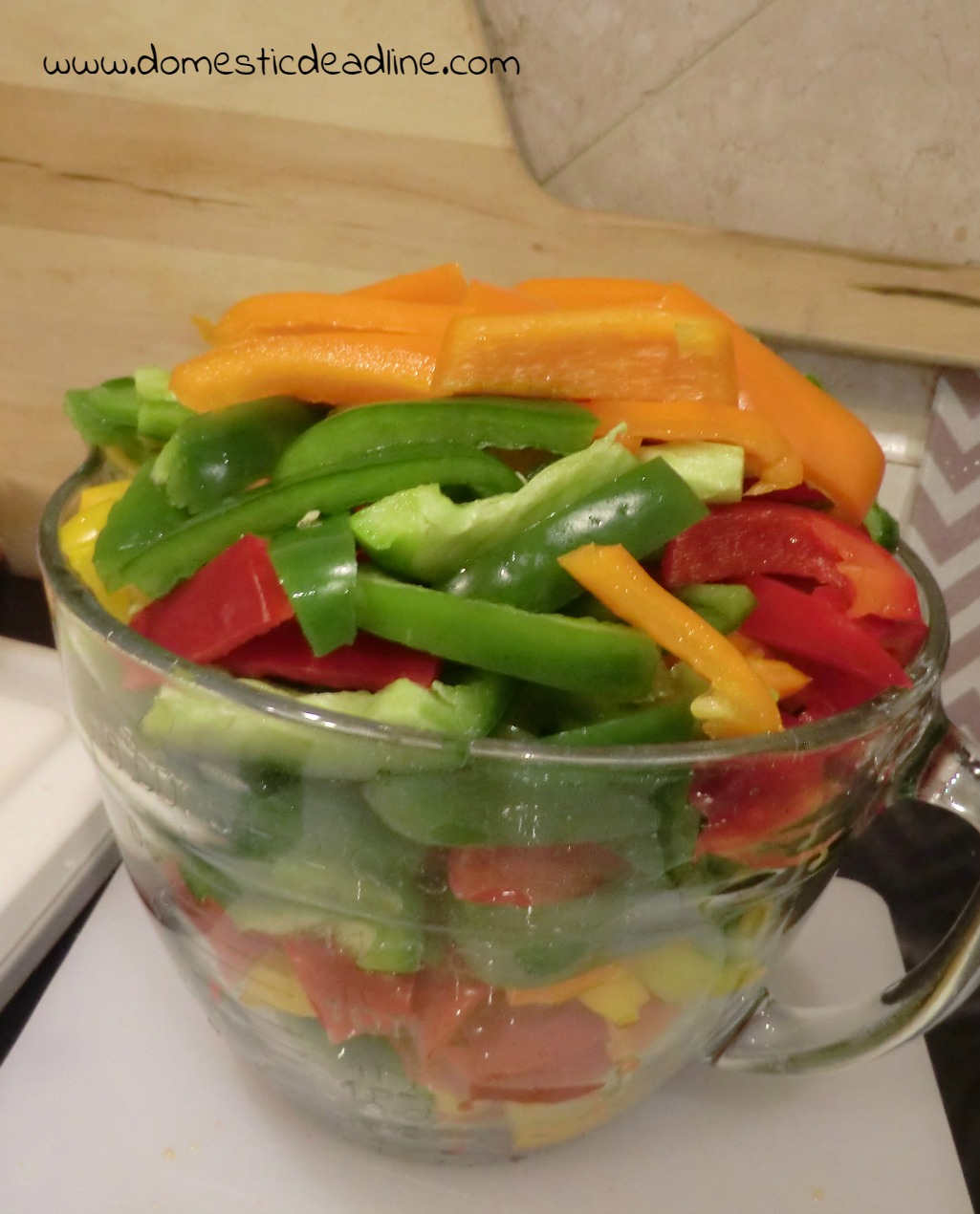 Since the bags are already labeled, it's easy to fill them up quick.
And here's an additional tip if you're really short on time… If I'm making 6 recipes, I might make 3 one night and 3 the next night. When my freezer is down to the bare bones and needs to be refilled I go back to the beginning and select the 3 meals I want to make that night. My prep work gets done and one meal gets cooked for dinner. While it's cooking, I finish assembling the rest. Since each meal is doubled, we eat one that night and 5 more go into the freezer. Then the next night I do the same thing with the other 3 recipes.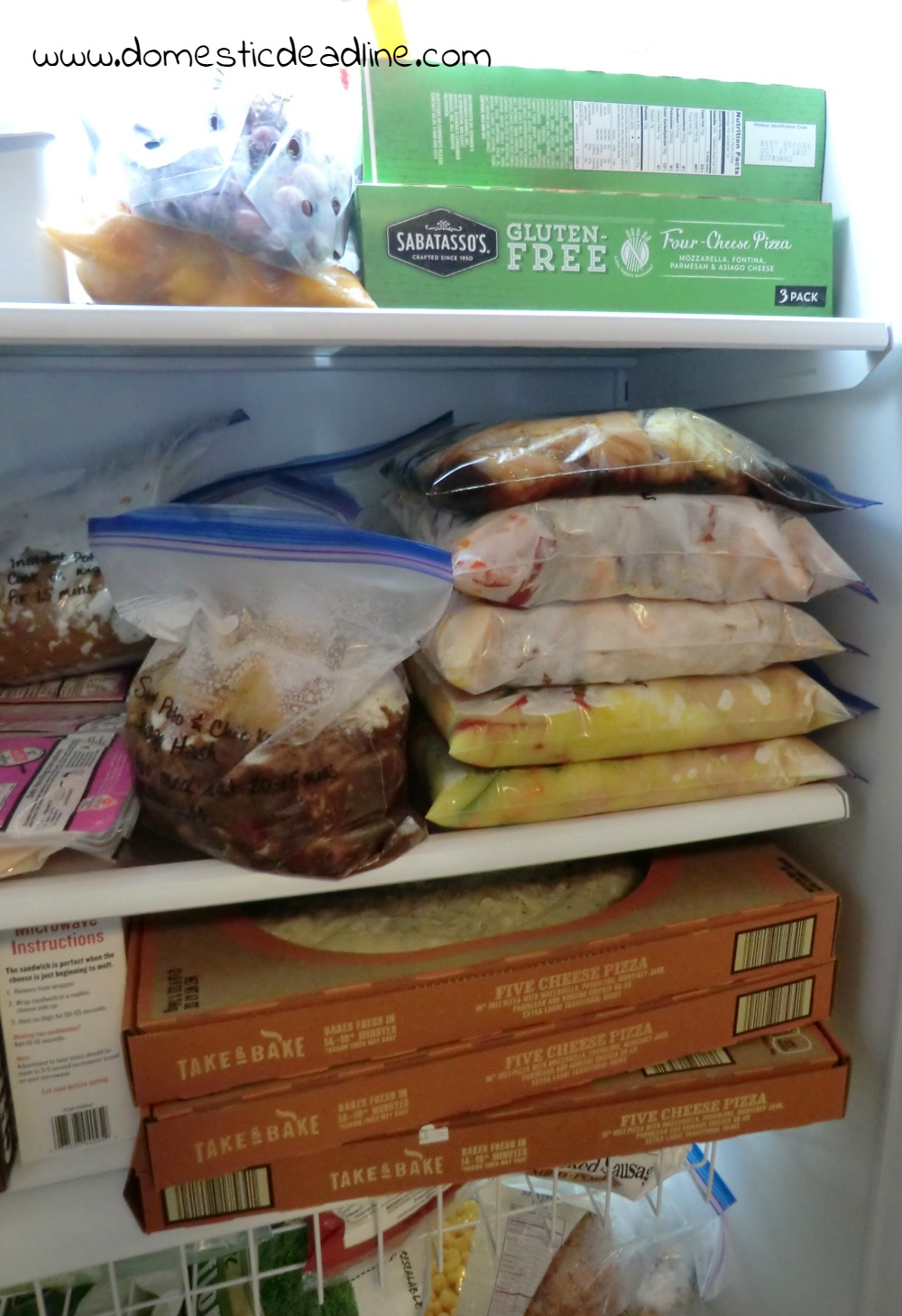 I love having a freezer full of options!
Cooking
Depending on the instructions, I might put tomorrow night's meal in the fridge after dinner tonight. If it's going in my instant pot or crock pot from frozen, I let the bag sit on the counter for a few minutes to soften up.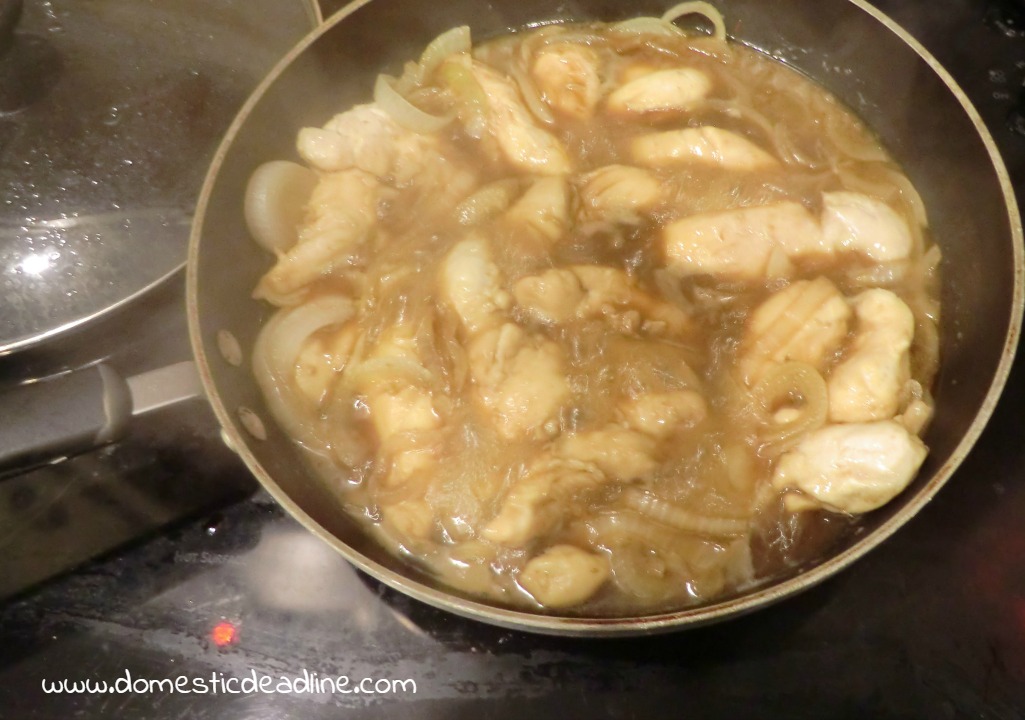 Usually, on Sunday nights, I fill out our menu board with what we'll be having for the week. We almost always have pizza one night a week (I keep gluten free ones in the freezer as well as the take and bake ones from Aldi). Sometimes we have a leftover or chicken nugget or YoYo (you're on your own) night if we all have running around to do. But at least 5 nights a week we sit down to dinner as a family and cooking is so much easier with MyFreezEasy.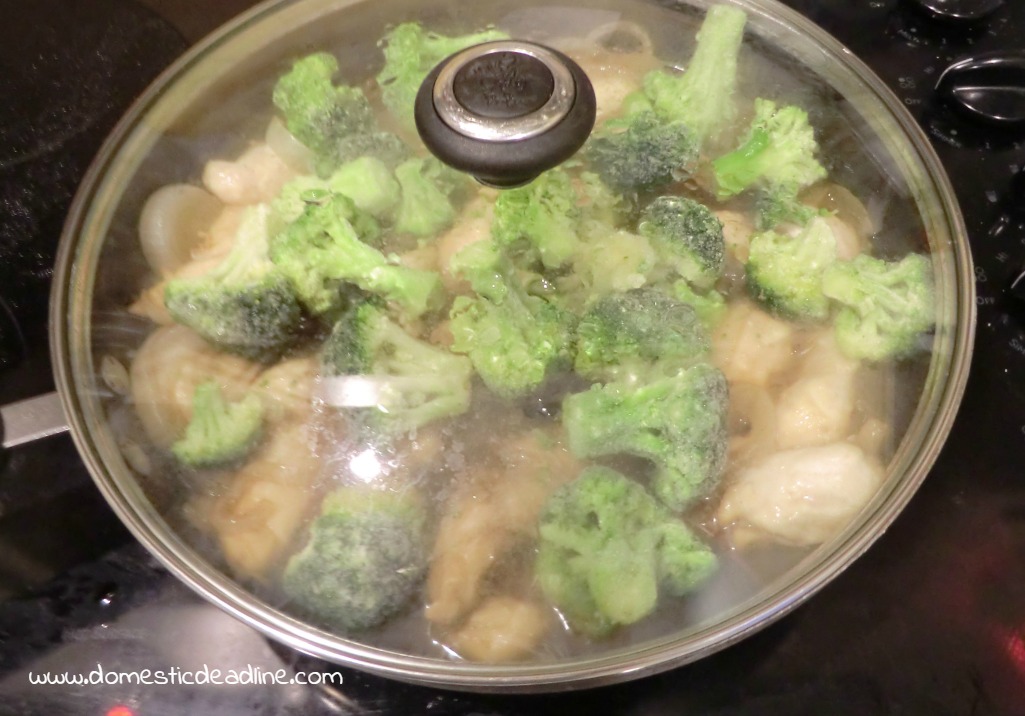 Want to Try?
MyFreezEasy is awesome and you can join at any time. But, this upcoming weekend is Virtual Meal Prep Weekend!
This is a free way to try out a few of the meals. You'll end up with 6 meals in your freezer and an idea of how MyFreezEasy works.
What are you waiting for? Click on the image above (or here) and sign-up. Or, if you're ready to make your life easier with a MyFreezEasy membership, click here.
I can't wait to hear what your family makes!