I'm not a big fan of cleaning. Because of this, I'm kinda surprised to feel the urge to do some spring cleaning. Ok, I'll admit, I really want to get rid of some old things and make space for some new things! But, the timing is perfect for this. My closet is nice and organized. The clothing drive is this weekend and our church yard sale is just a few weeks away. Jewelry is the only thing I sell at the church yard sale. It's my "department," and I sell a ton of it for cheap! All this leads me to want to clean out my collection and organize my jewelry.
This post may contain affiliate links. Which means, if you click the link and buy something, I may receive a percentage of sales at no additional cost to you. Thank you for supporting Domestic Deadline.

Before
This isn't the first time I've shared how to organize jewelry. A few years ago, in our old house, I set out to get everything organized and visible. This way I was wearing the jewelry I loved more frequently. Here are the results:
Sorry, these pictures are small, they are from my old blog and transferred over small. I haven't put the time (or effort) into finding the original photo files.
My Old System
Jewelry that is part of a set or coordinates well and is typically worn together. I attach the bracelet to the necklace before hanging it from the towel bar.  Easily accessible after I put my makeup on in the morning.
If earrings are a part of the set, I attach them to the clasp or someplace on the chain, like this:

The best way to do this is to buy a bag of rubber earring backs
from the beading section at any craft store or online. Use these to keep the fish-hook earrings where they belong.  These backs also tend to reduce the chance of an earring falling off when I'm wearing it. Well worth the $3.
Then We Moved
And because I wasn't taking the shelving unit with towel bar to the new house, all my jewelry ended up in a big bag. It sat on my floor for quite some time until I was ready to organize jewelry again.
Well, more like, I was fed up with not being able to find what I wanted and all my jewelry being in a tangled mess!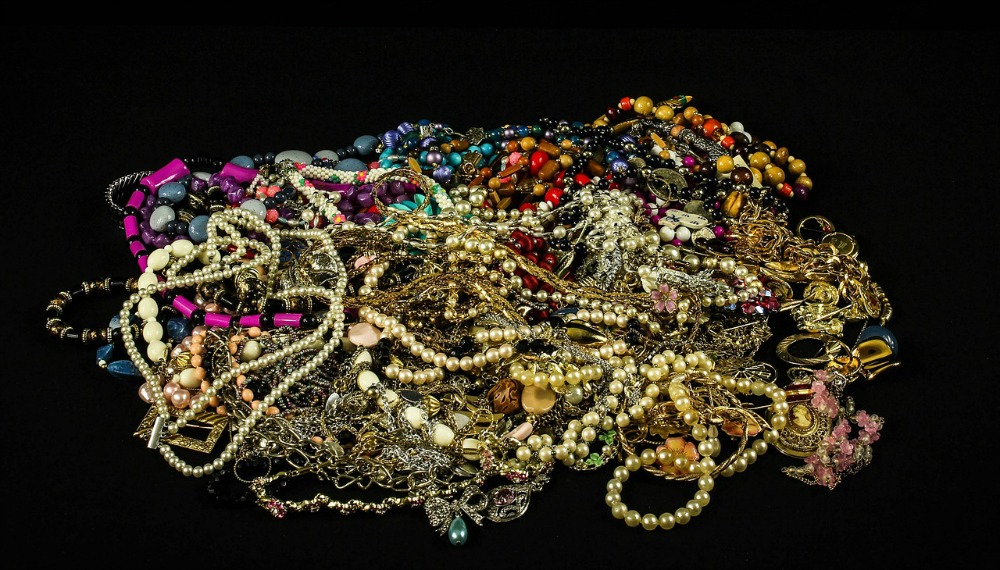 I had a beautiful medicine cabinet and plans to turn it into a wall hanging jewelry organizer. Visions of building my own custom jewelry organizer also filled my head.
But, lots of other ideas filled my head and were more demanding. Thankfully, IronFish is always happy when I have a very specific suggestion for a gift for me. I asked for this wall mounted jewelry cabinet.
There are lots of options out there, but I knew I needed the most space for hanging necklaces. This one fit the bill.
Still linking my jewelry together with what it's most commonly worn with, I quickly filled up the beautiful cabinet.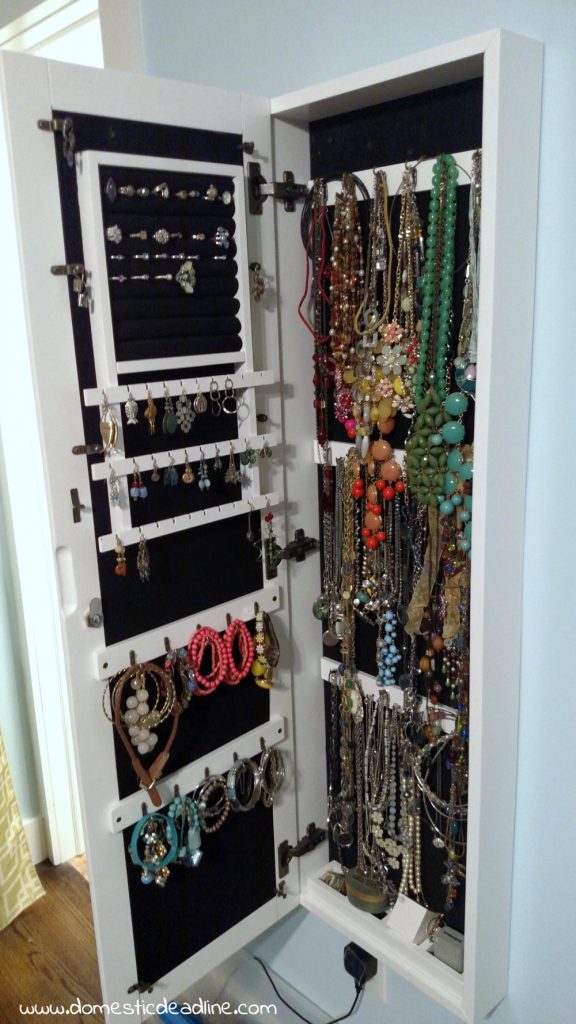 I have lots of space for hanging my jewelry inside.

Miscellaneous pieces or bracelets, rings, and earrings I wear with multiple things have plenty of room on the door.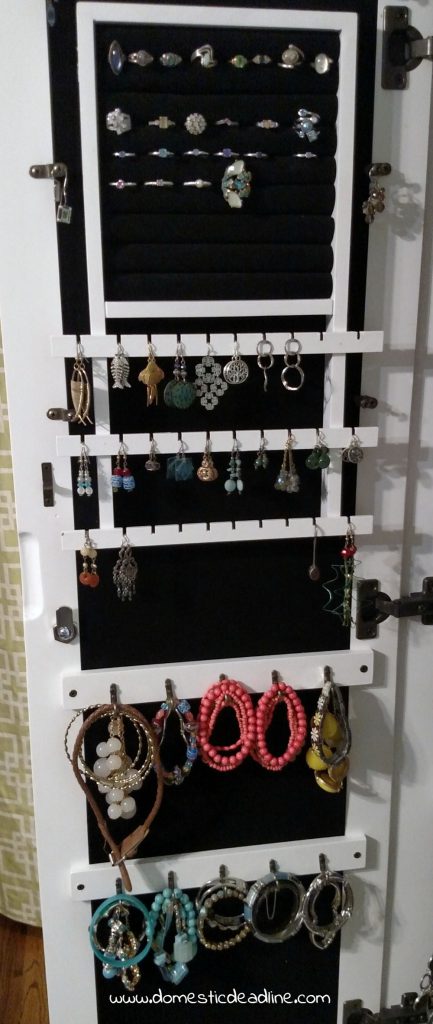 Tip
The great thing about my system is now whenever I travel, it is so easy to pack!  I just put the whole set into a little drawstring cloth bag and my jewelry always coordinates with my outfit.
How to Organize Jewelry
Even though I now have a system that works beautifully for me, I can't help but still be inspired by other ways to organize jewelry. Here are a few other ideas I love!
Of course, I did make an earring display for my JuneBug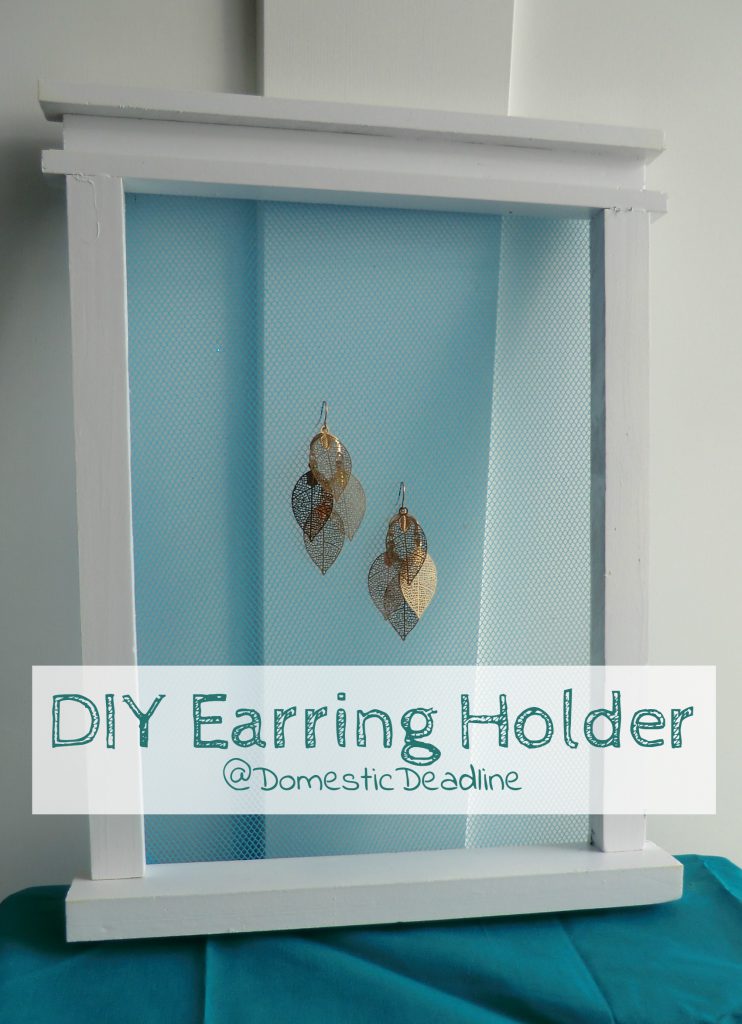 And, in case you need a little Pinspiration for when you're ready to tackle your jewelry collection: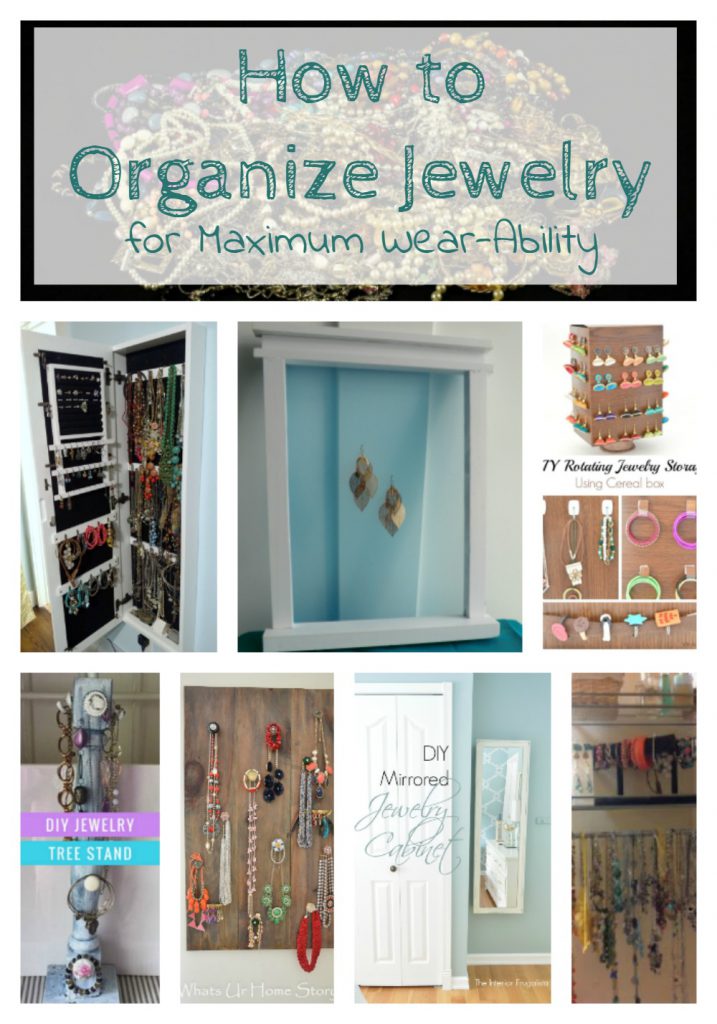 If you're like me, and spring makes you ready for a change, try organizing your jewelry. Then try switching up some different pieces with different outfits. It's a fairly economical way to revive old outfits.