Over time, repairs will have to be made to your home. Unfortunately, there are occasions where you will have to replace certain items or appliances. In this article, there are going to be some repair hacks and advice so that you can make your belongings last longer, and that your wallet will thank you for.
1. Do you have holes in your walls, door frames, or any other surface you may have used to pin something up? Or maybe these holes have occurred by accident? Either way, there's a simple hack that you can use to fill in these holes without having to buy any filler. Simply grab a crayon that's close to the color of the surface and apply pressure over the hole. Color in over it and voila! The wax from the crayon will have filled the hole. If the crayon wasn't quite the same as the color you needed, you can simply paint over that patch. Don't let the kids see you doing this though, as you may end up inadvertently teaching them that it's okay to color the walls in!
2. Appliances like your refrigerator will go wrong over time. Keep an eye out for any changes in performance of your fridge. If you notice that food isn't as cold, or is freezing slightly, then it's likely that your door seal needs replacing. They are widely available from hardware stores and are inexpensive to buy. If that isn't the problem, consider hiring someone to come and repair it before the problem gets worse. Companies like subzerorepairmiami.com will come to your home and do this for you. Plus, it's much cheaper than forking out for an entirely new fridge!
3. Your tables and wooden pieces of furniture may have gathered scuff marks over time and use. Luckily, it's a really simple fix! Grab a walnut and start rubbing the area that has faded, or has lost some of it's outer coating and you will see that the walnut colors in that area, making your table look as good as new!
4.  The doors around your home may be a little battered over time and through those stroppy teenagers. Why not spruce up your doors and repair them rather than spending a small fortune replacing them? Sanding them and repainting them will give them a completely new look. Pair that with a new door knob and you will appear to have brand new doors! When it comes to your kitchen cupboard doors, why not give them a lick of paint too and see how much of a difference it makes?
5.  Has the tiled areas of your home started to look rather dirty because of the grout becoming stained? Don't worry about the cost of replacing them, when you can simply clean them with your regular toilet cleaner! Cover all of the areas that are needed to be cleaned, and let it sit for up to an hour. Then grab a toothbrush and scrub between each tile. Once you've mopped up any residue you will see that your tiles are looking as good as new, and you won't have had to spend a lot of money on new tiles and grouting.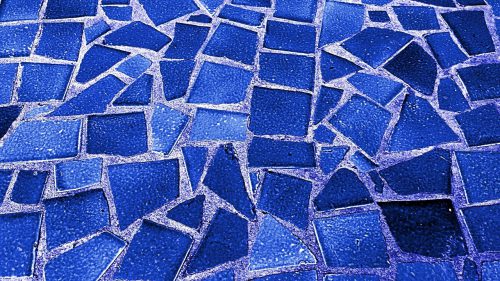 6.  Are your cabinets and chest of drawers giving you trouble when it comes to opening the drawers? Thankfully, if this is the case for you there is an easy fix. Take all of the drawers out completely, and rub a bar of soap on the drawer slider and inside the cabinet too. You will find that when you put the drawers back in, that it is much easier to slide in and out. If you choose a scented soap too, you'll keep your drawers smelling fresh.
7. Give your shower head a whole new look and save yourself some money on buying a new one. Over time, limescale will form on your showerhead which affects water flow and quite frankly, looks unsightly. Get some white vinegar and a sandwich bag and submerge your showerhead in the vinegar over night. When you come back to it in the morning, your shower will be sparkling clean and free of limescale. More importantly, you can appreciate the power that your shower can give once more.
It doesn't stop there either. There are so many home hacks that you can use to save yourself having to buy new. Give your wallet a well-deserved rest and try out these repairs, you won't be disappointed.