This project was a long time coming. O-Man has needed hooks in his bathroom he could reach since we moved in just over 2 years ago. I started and stopped this project several times, doing little bits of it but never finishing it. Until we were about to start the kitchen. Then I realized we needed O-Man's bathroom as part of our makeshift kitchen. These PVC pipe hooks were actually quite simple to make and the perfect accent to a fun industrial find.

The Find and Idea
At 9 1/2, my little guy still loves his monkeys. While I think he will always have an affection for them, I doubt he will still want a monkey themed bathroom for too much longer. Since his bathroom is also the guest bath on the first floor, it's very visible. I would like it to blend with the rest of the house, but still, have a masculine feel for a growing boy.
Then one day, I saw these industrial faucet hooks on Decor Steals. Seriously, if you haven't checked them out yet, do! Just a few items available each day, but I've found some awesome things.
Back to the project…
Notice the upper left-hand corner of the picture? I was staining and making a few more of my menu boards to sell. While working on that, I stained a 1×6 4-foot board.
As soon as I laid them out on the board, I wished I'd ordered two sets!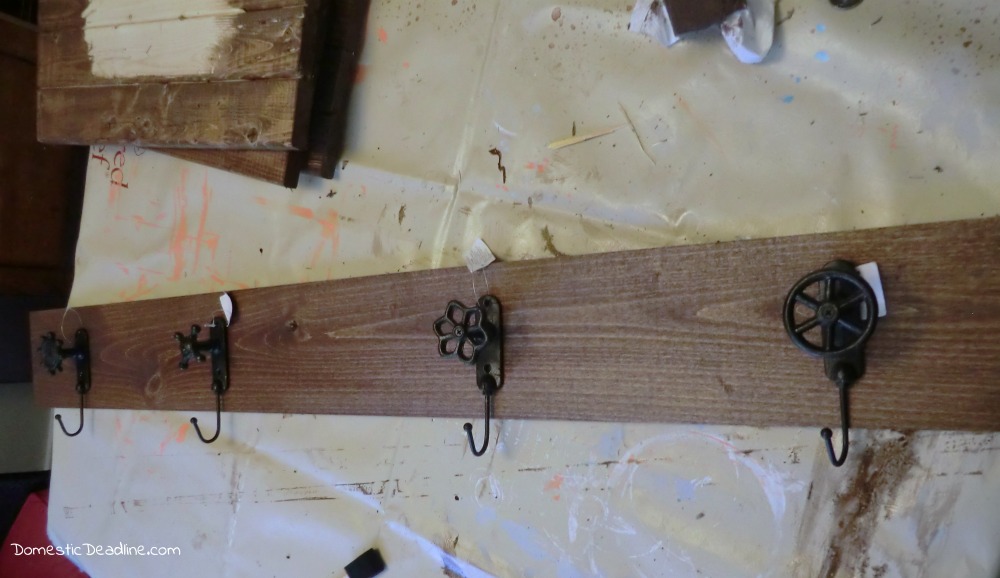 While I did end up finding similar on elsewhere, that was after the fact. But, good for you, if you want to snag some, there's a similar version. Click HERE.
Since I'm often in the plumbing section of the hardware store, I decided to grab some PVC pieces to make my own hooks for in between.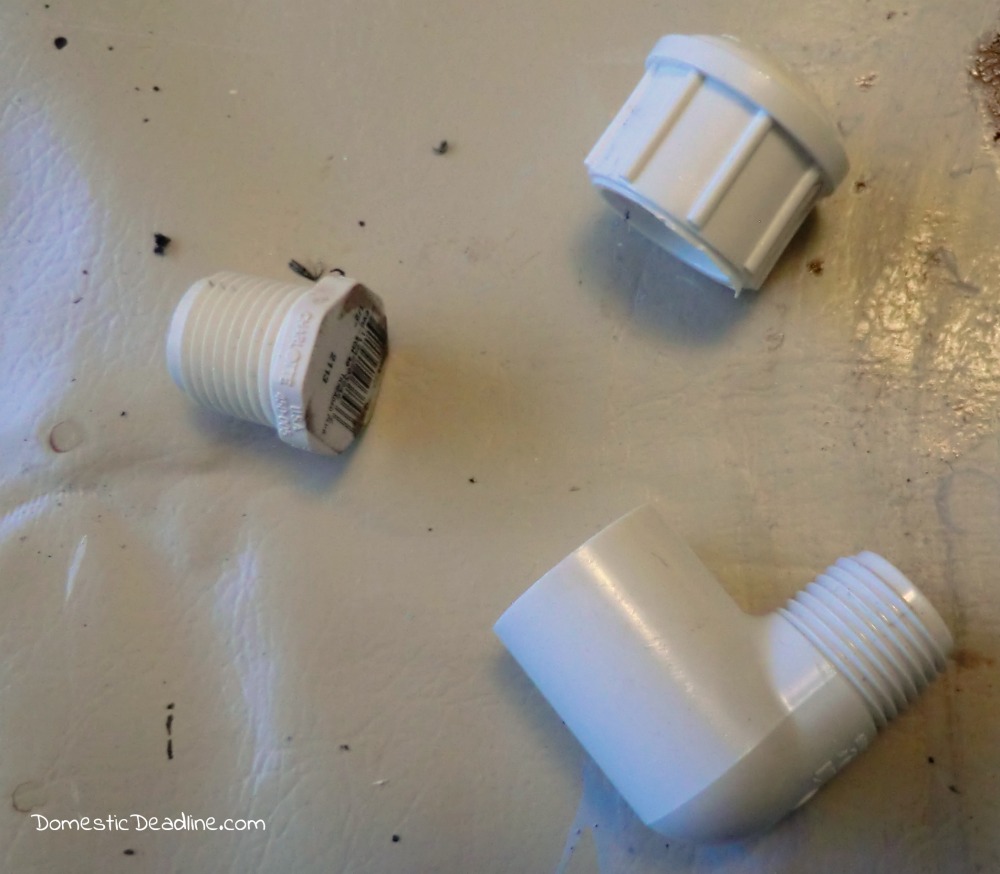 Assembled, they make simple hooks.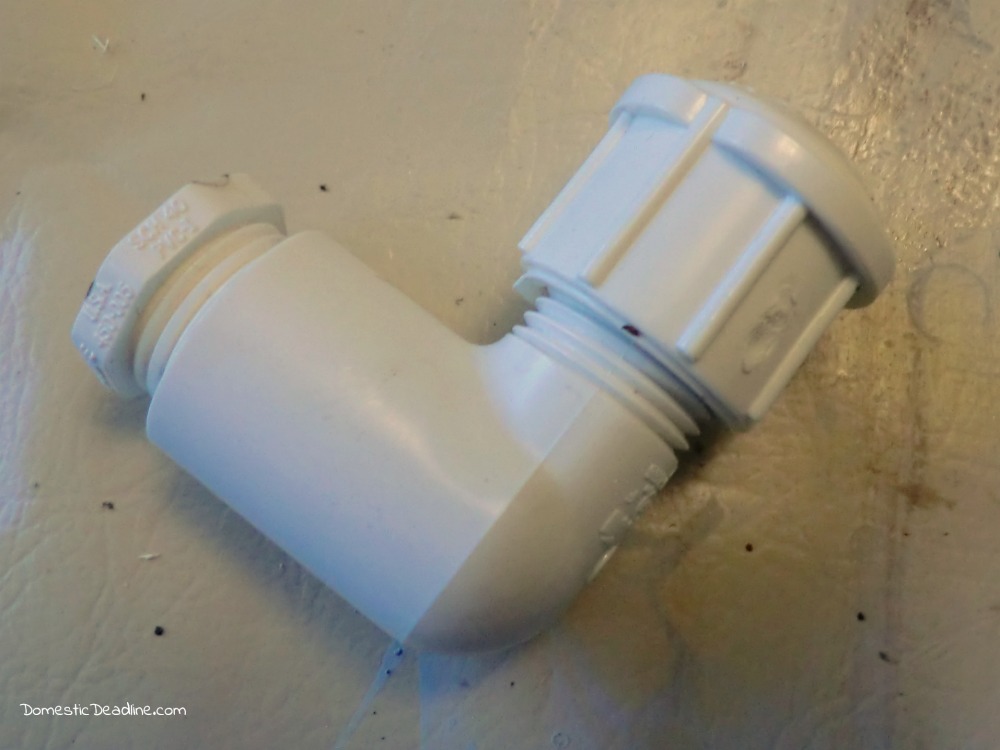 On Another Day
Once I had the idea, the pieces sat around for a while. It wasn't spray painting weather when I had the idea. And, white PVC would not have worked with the iron looking hooks.
So, when it was finally nice outside, I got back to work. First, I attached the faucet hooks to the stained board.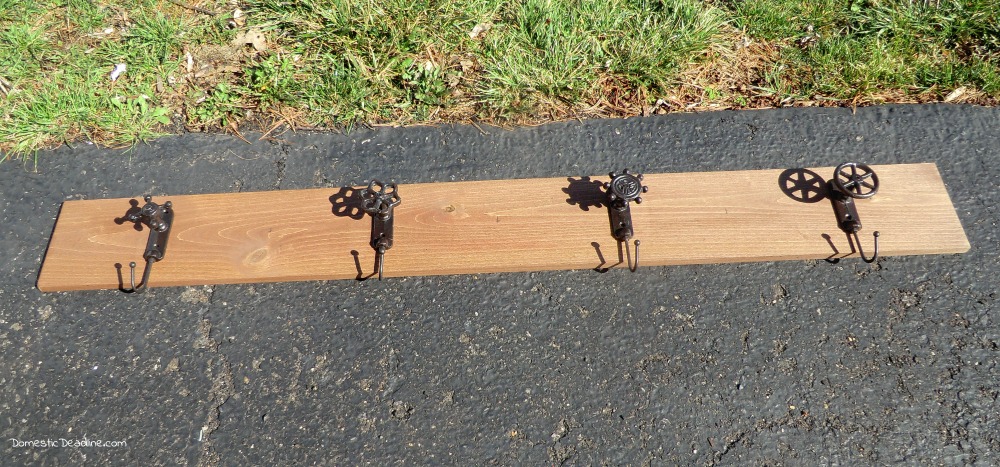 Ok, so I may have spray painted and then done this part at two different times. And, probably forgot to take pictures of the spray painting. But, I do remember I used a Danimal's yogurt box to spray the PVC pieces!
And, the first attempt was glossy black.
It didn't work with the antique finish.
So, on yet another day, I picked up dark bronze in hammered finish.
Back on the day I have pictures for. The flat threaded piece was centered between two faucet hooks. With a dab of construction adhesive and a short screw, I mounted it in place.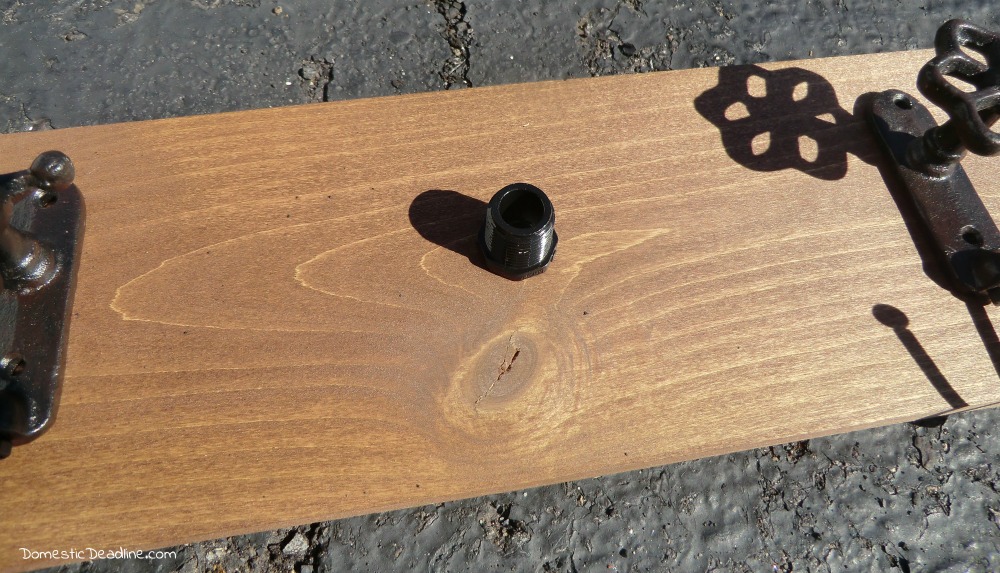 The other two pieces were previously assembled. My base piece wasn't the ideal piece for the rest of the hook, but it was for mounting it to the board. A small amount of construction adhesive around the inside of the elbow solved that problem and secured the hook in place.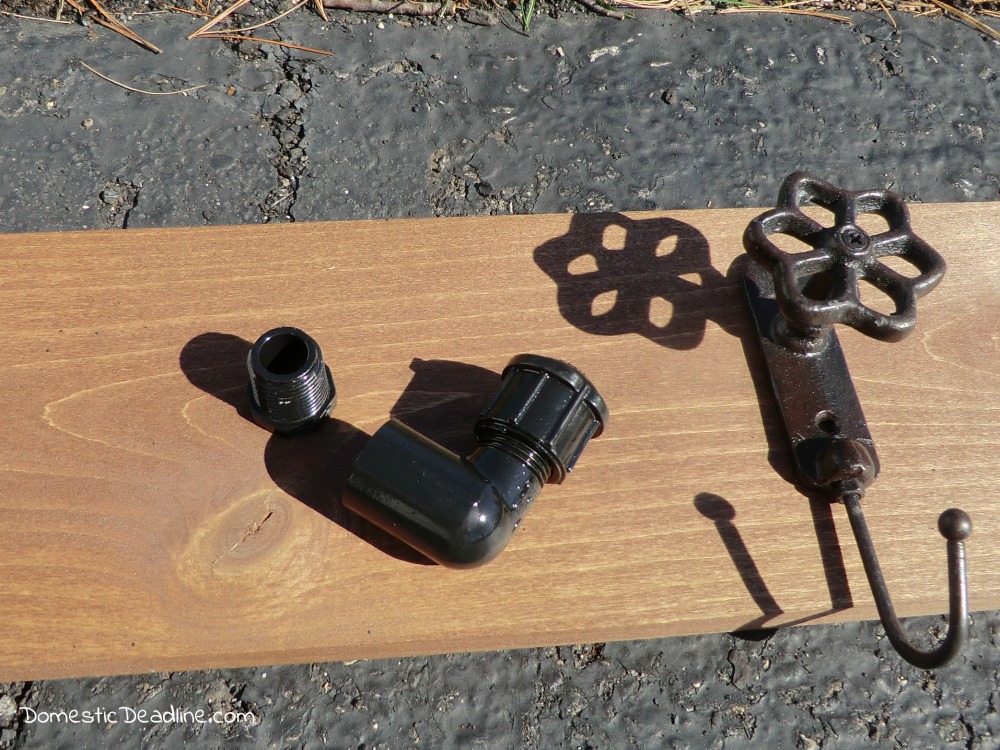 I repeated the process for the other two hooks.
PVC Pipe Hooks
I think it still took me another month to actually install the finished piece! As O-Man was about to head off to my parents and demo was about to begin, we needed the hooks in his bathroom.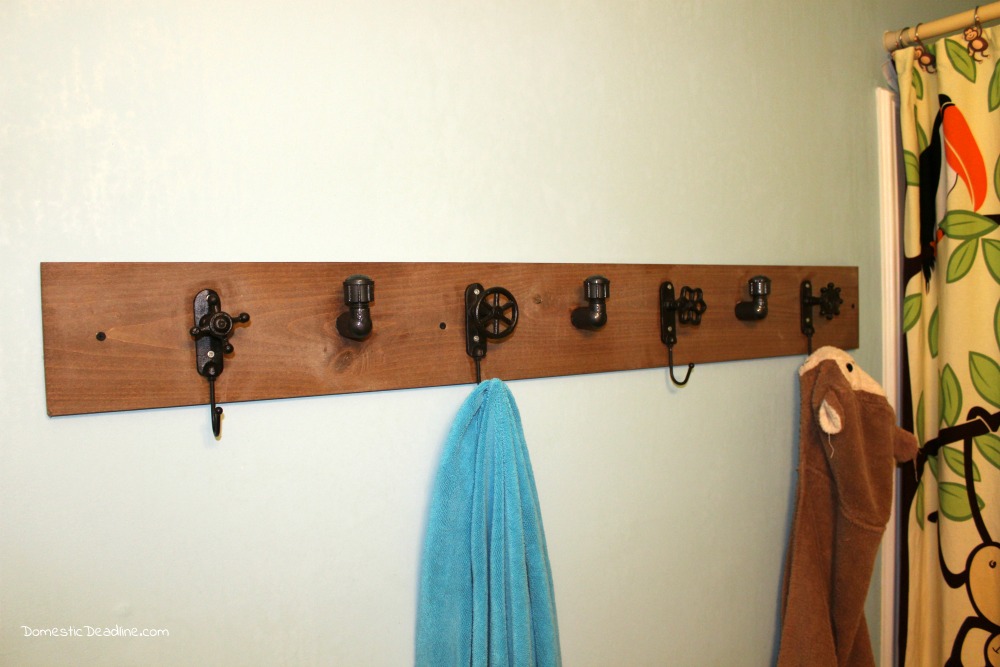 I used drywall screws to anchor the board into studs. They are already black. I still need to hit the silver heads of the wood screws I used to mount the faucet hooks. But that might be another year at this rate!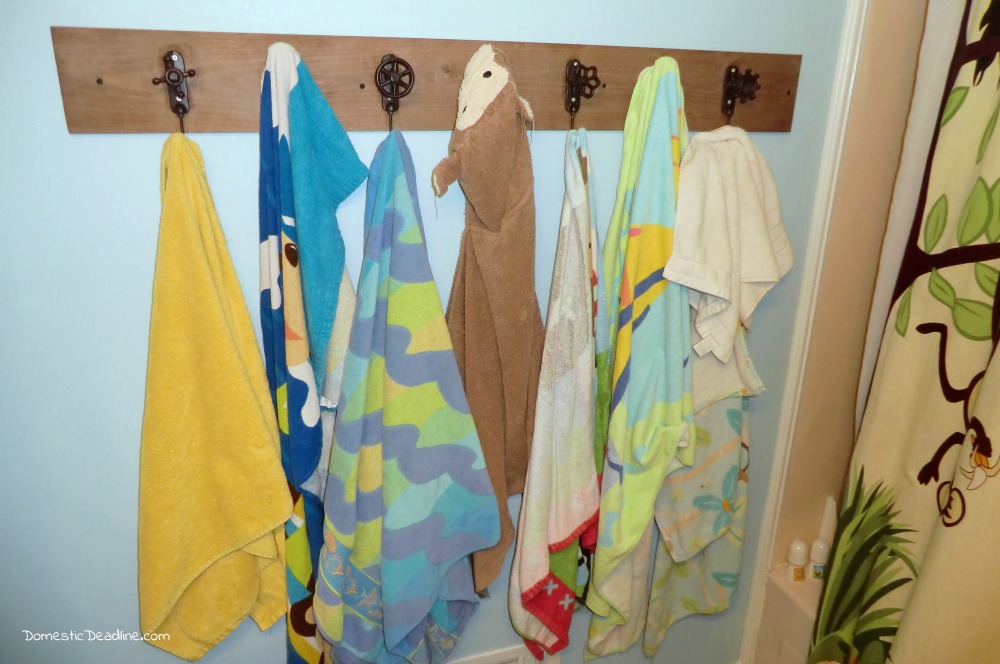 Now, we just have to get O-Man to understand that just because he has 7 hooks for towels in his bathroom, doesn't mean he needs to use a different towel each day of the week!
Why is it that sometimes the little projects can take the longest to finish? Please tell me I'm not the only one this happens to!