Each month I try to participate in the #MovieMondayChallenge. This month's theme is Halloween movies and since I have a few Harry Potter fans, I knew that would be my selection. Tasha has been excited to be able to bake in our new kitchen.  She and I tossed around a few projects ideas and foods from the books and movies and decided to make Pumpkin Pasties with Butterbeer Frosting.

Flaky Buttery Gluten Free Pie Crust
Tasha spent some time making pies with both of her grandmother's this summer. Since she seems to do best gluten-free, we wanted to make our Pumpkin Pasties gluten-free. Pasties are basically hand pies, pie crust pockets of goodness.
Over the years I've tried several different gluten-free pie crusts, they have all been lacking. But, we decided to give this recipe from Comfortably Domestic a try.
Guess what, IronFish didn't even know our Pumpkin Pasties were gluten-free!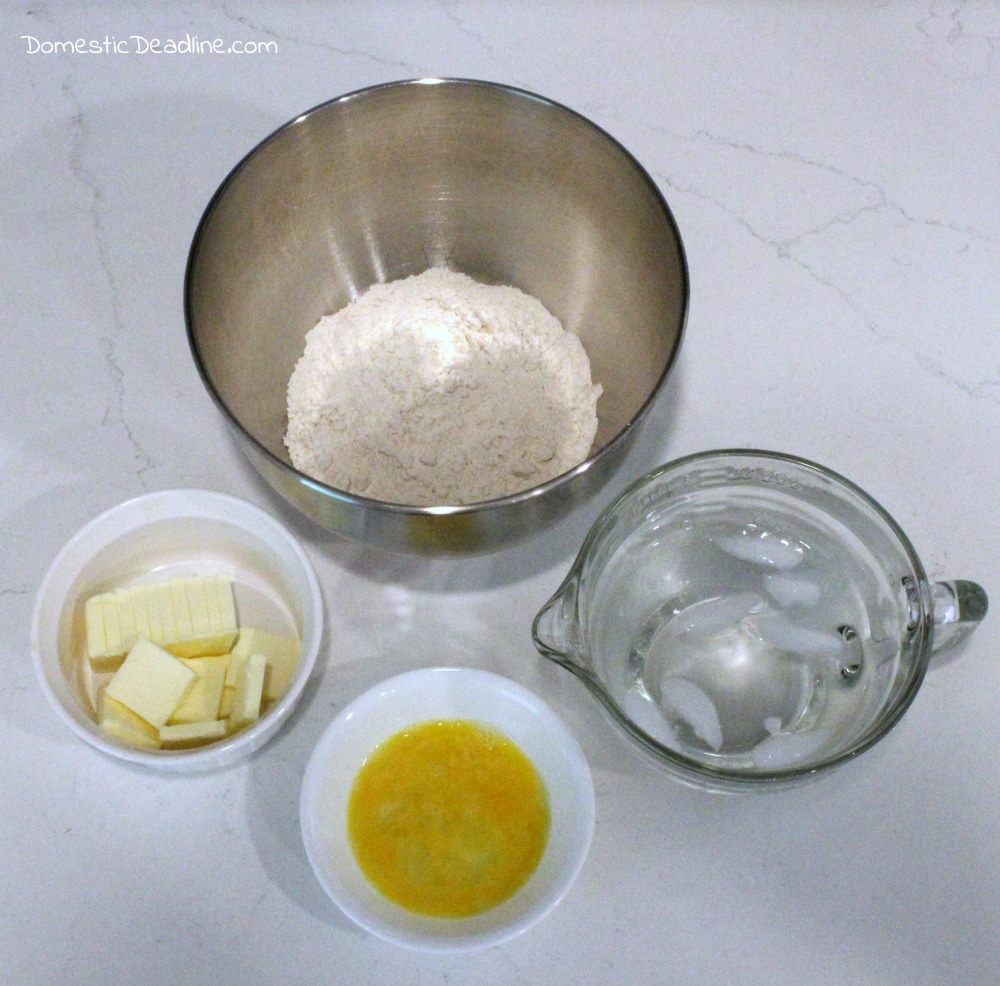 We did make a few little changes from the original recipe… I only had salted butter on hand, so I didn't add salt. We also added a tablespoon of sugar.
Tasha started by cutting 8 tablespoons of salted butter into 2 cups of gluten-free all-purpose flour.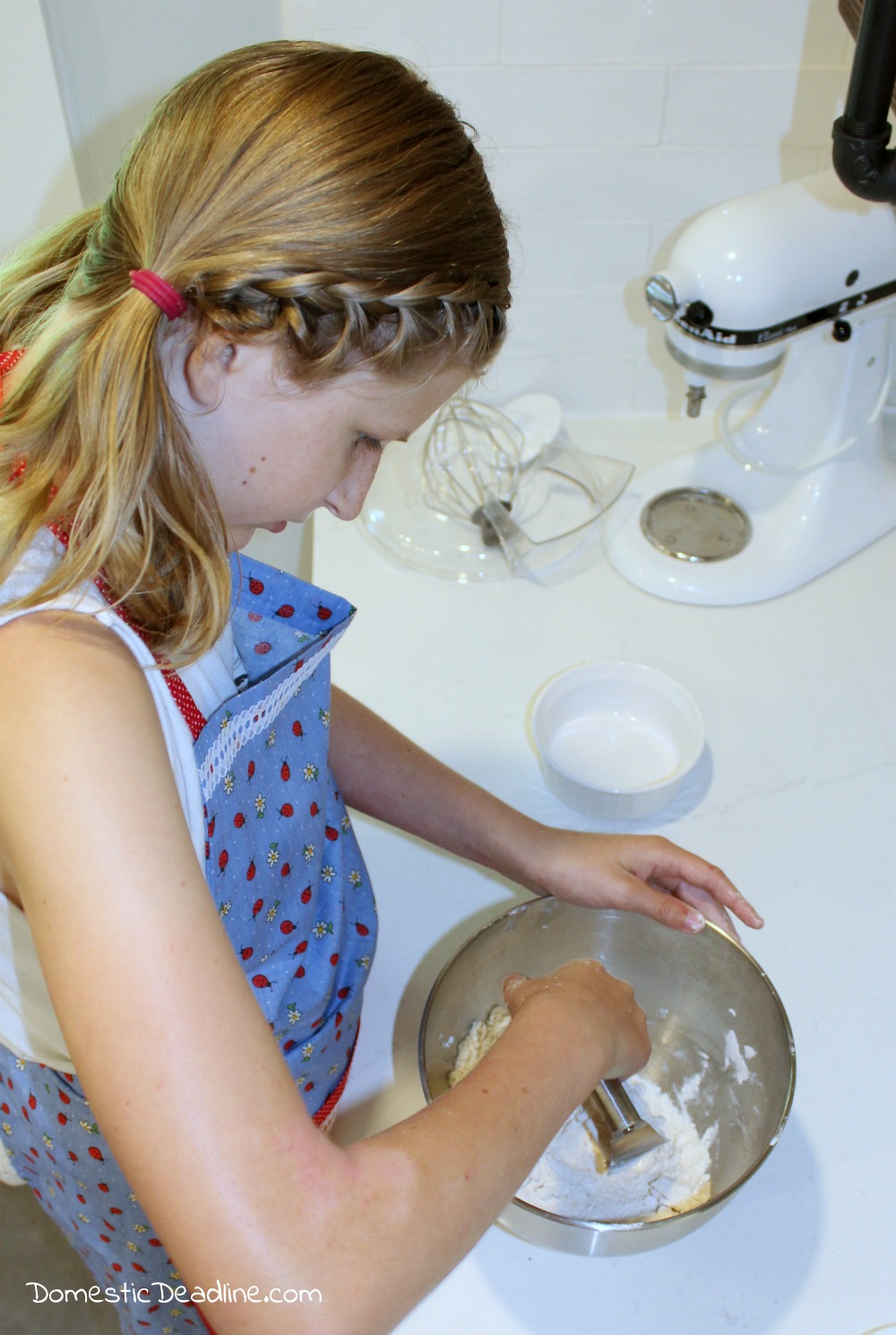 Then, she mixed in the beaten egg. Using her hands to mix, she worked in the ice water, one tablespoon at a time (about 6-8).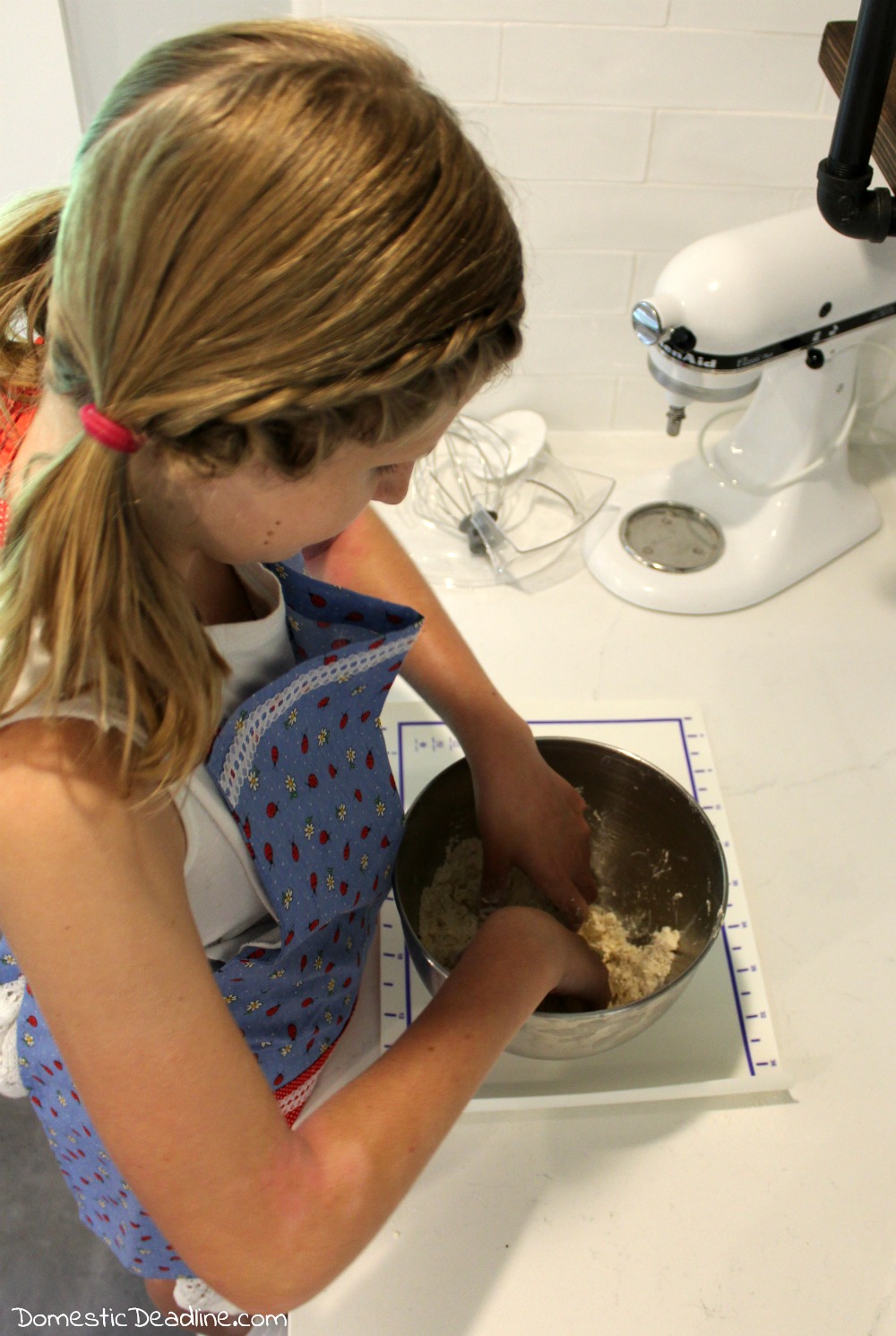 Once the dough all came together in a ball, we were ready to go.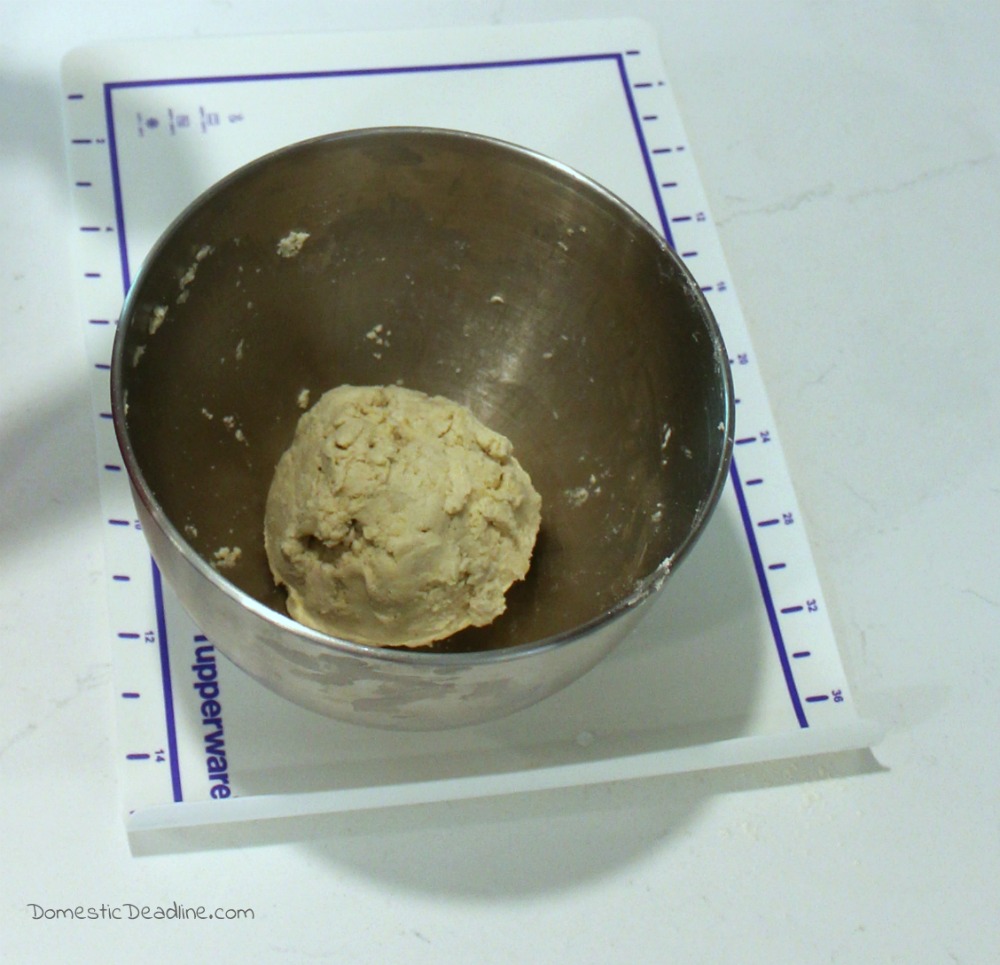 We dusted some more gluten-free flour over a silicone mat and rolled out half of the dough, refrigerating the rest.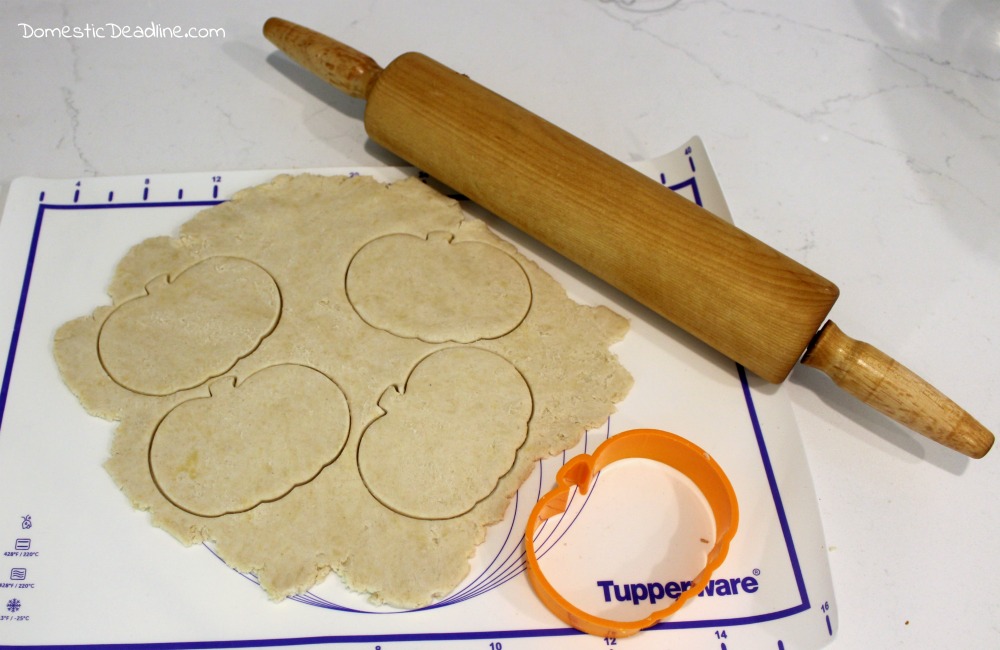 We originally planned on a traditional hand pie or pastie half circle, but when we pulled out the rolling pin the pumpkin cookie cutter was waiting to be used!
Pumpkin Filling
Mix together:
1 cup pumpkin puree
1/4 cup soft cream cheese
2 tablespoons sugar
2 tablespoons brown sugar
2 tablespoons Pumpkin Pie Spice
pinch of salt
1 egg yolk (reserve the white for egg wash later)
1/2 teaspoon vanilla extract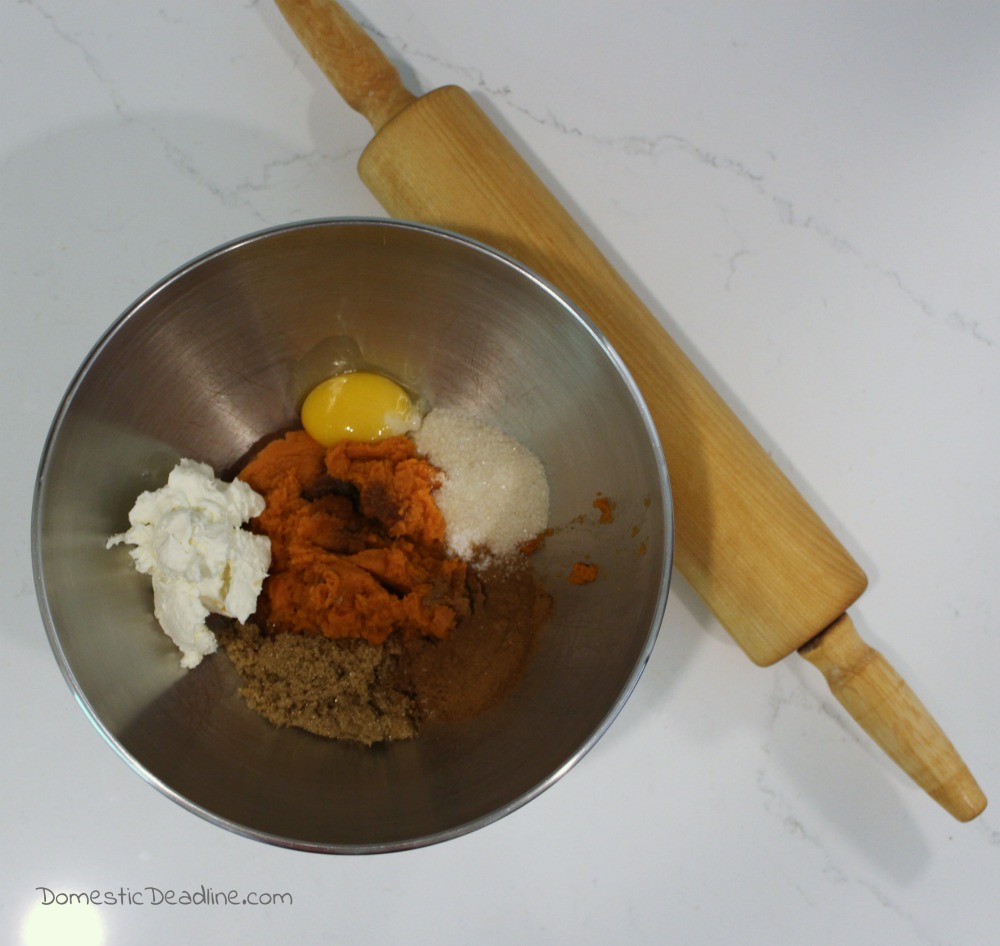 We threw it all in and mixed it up.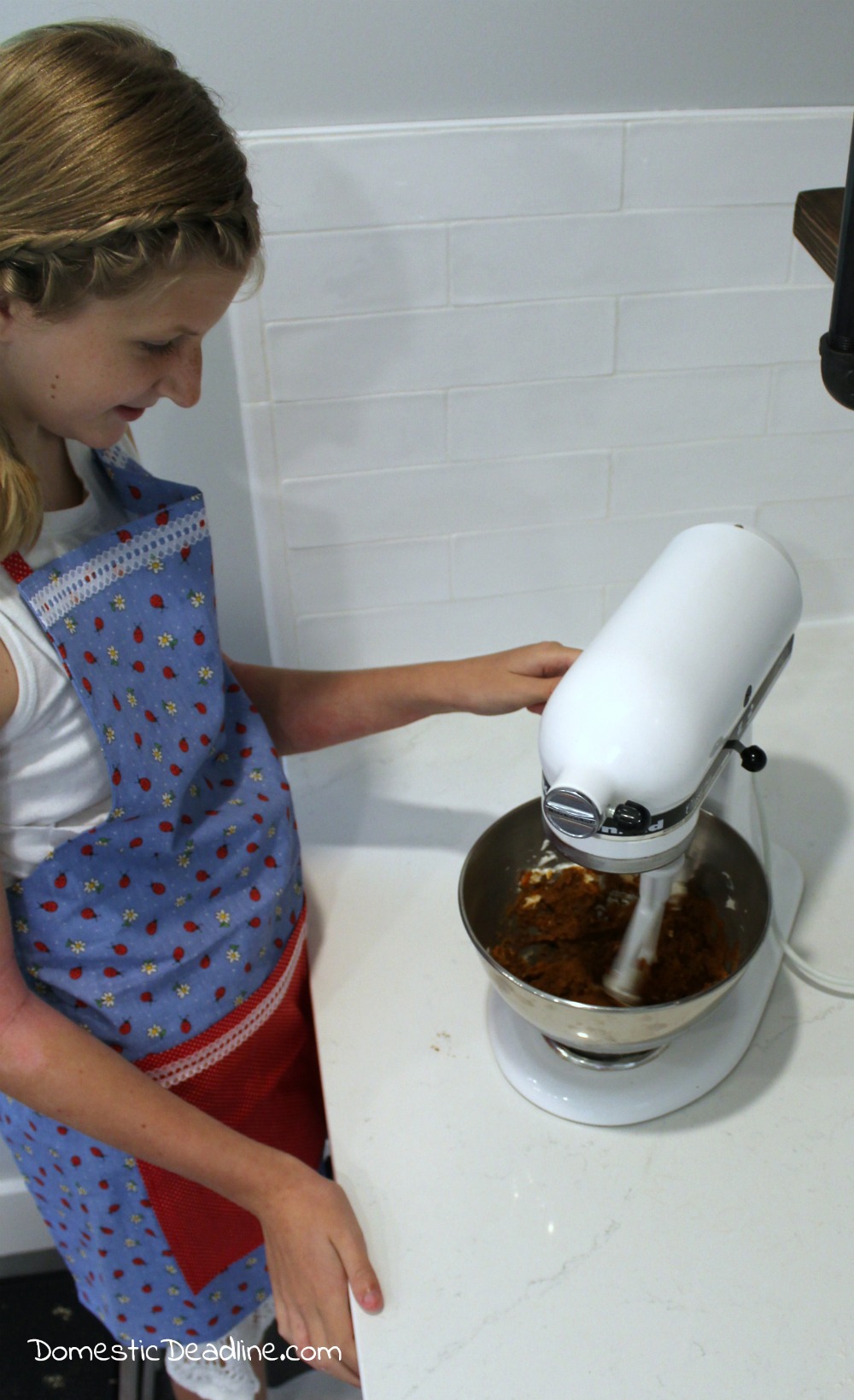 Next, we added a scoop on top of each of our pumpkins.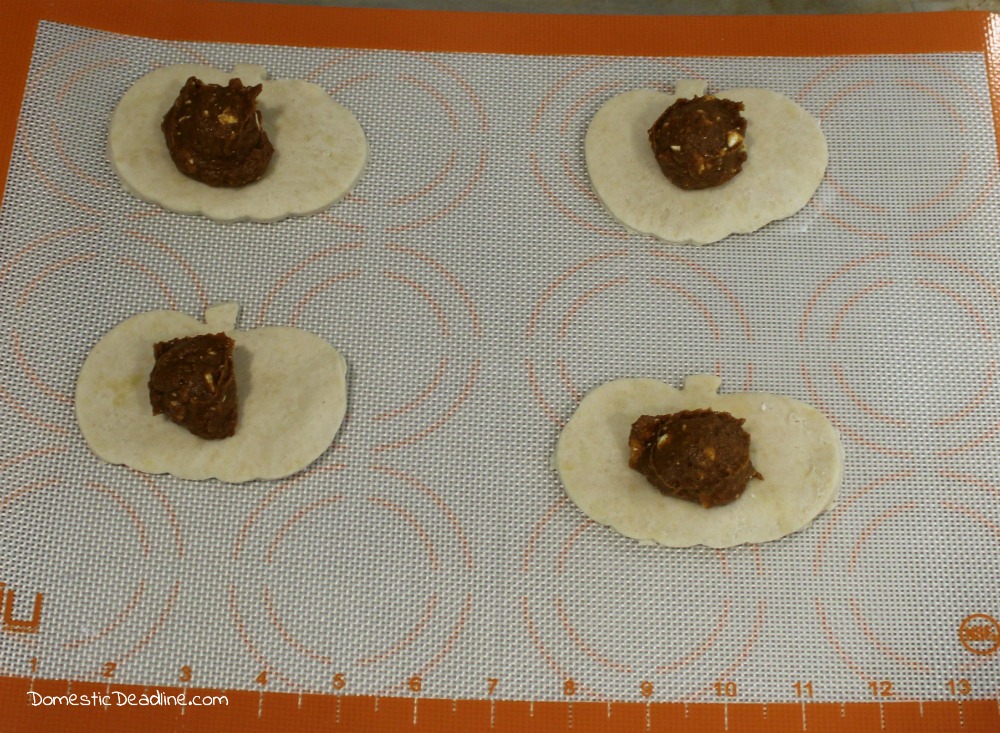 Tasha wet the edges of each pumpkin with a bit of the ice water and added a second pumpkin pie crust cut out on top.
After crimping the edges closed, we brushed each Pumpkin Pastie with egg wash (watered down egg white).
Bake for 15-20 minutes at 425.
Butterbeer Frosting
Unfortunately, my sous chef left to hang out with her friends while the Pumpkin Pasties cooled. Since I made the frosting up without her, I forgot to take pictures. But, it starts with a basic buttercream frosting.
To make the frosting melt 1/4 cup of butter. Beat in powdered sugar (I have a 1/4 scoop, I add a scoop at a time until it's crumbly, probably about 2 cups total).
For buttercream frosting, I would then start adding milk or water until I had the consistency I was going for. But, for this frosting, I used Salted Caramel Coffee Creamer!
Continue to blend and add the coffee creamer until the frosting is runny.
Melt 1/4 cup butterscotch chips in the microwave for 30 seconds at a time. Once melted, add into the frosting. As the butterscotch cools it will stiffen the frosting which is why I made it a bit runny initially.
Drizzle over the Pumpkin Pasties!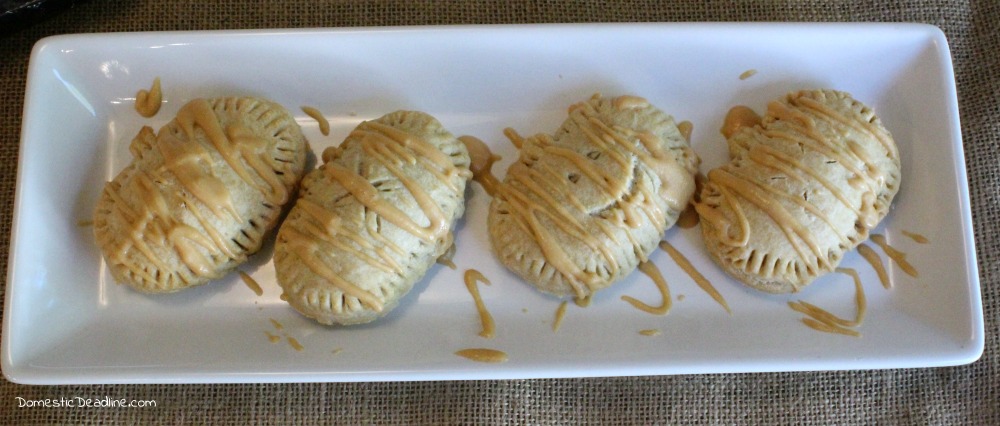 Enjoy Gluten-Free Pumpkin Pasties with Butterbeer Frosting while watching your favorite Harry Potter movie!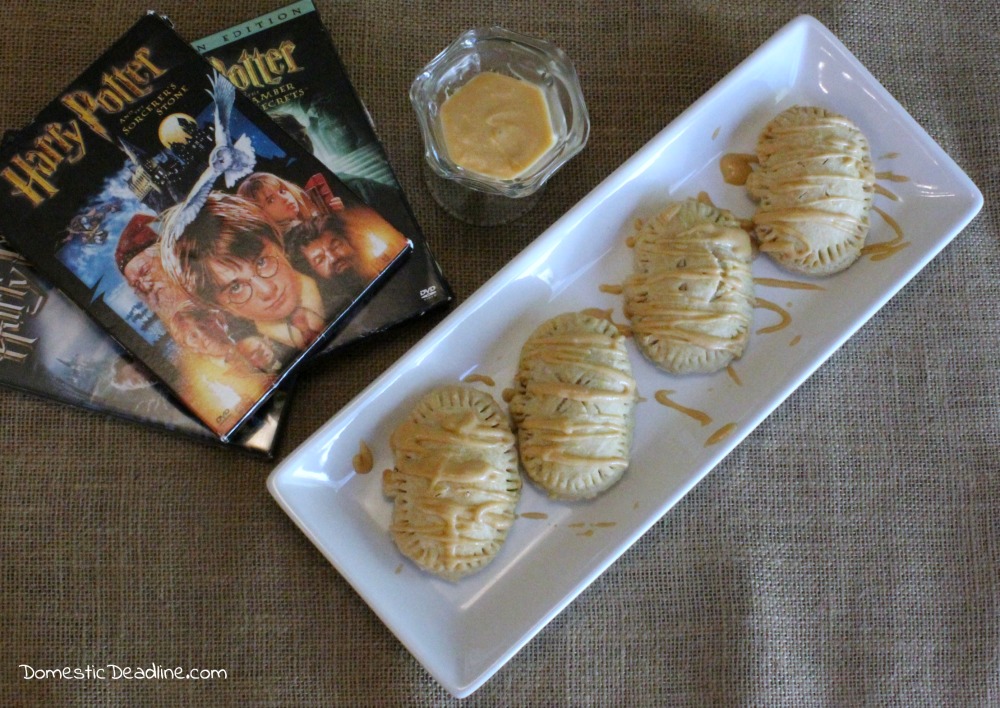 Harry Potter Inspired Gluten Free Pumpkin Pasties with Butterbeer Frosting
Ingredients
For the Crust

2 cups gluten free flour
1 tablespoon sugar
8 tablespoons cold salted butter, sliced or cubed
1 egg beaten
6-8 tablespoons ice water

For the Filling

1 cup pumpkin puree
1/4 cup cream cheese, soft
2 tablespoons sugar
2 tablespoons brown sugar
2 tablespoons pumpkin pie spice
pinch of salt
1 egg yolk (reserve white for egg wash)
1/2 teaspoon vanilla extract

For the Frosting

1/4 cup butter, room temperature
1 1/2-2 cups powdered sugar
1/4 cup salted caramel coffee creamer
1/4 cup butterscotch chips, melted
Instructions
For the Crust

Mix the sugar into the flour. Cut cold butter with a pastry knife into the flour until crumbly. Using hands, mix in the beaten egg then add in the ice water a tablespoon at a time. Continue mixing until dough comes together in a ball. Roll out to about 1/4 inch thick on a lightly floured surface. Cut into desired shapes. Refrigerate excess.

For the Filling

Mix all the ingredient together in a mixer. Scoop a tablespoon into the center of each bottom crust. Wet the edges and place a top piece of crust on top and crimp closed. Brush with egg wash and cut an x into the center. Bake for 12-20 minutes depending on size at 425 degrees.

For the Frosting

Beat butter, add in powdered sugar 1/4 cup at a time. Thin with coffee creamer. Add in melted butterscotch to desired consistency.
7.6.4
4
http://domesticdeadline.com/2017/09/25/gluten-free-pumpkin-pasties-butterbeer-frosting/
Movie Monday
On the last Monday of each month, a group of bloggers participates in a #MovieMondayChallenge, hosted by C'mon Get Crafty! We decide on a topic, genre, or specific movie to use for inspiration and everyone gets free reign to create something wonderful!
This month's challenge was. . . . HALLOWEEN!!!! Everyone was allowed to choose their own favorite Halloween-themed film for this challenge.
Now let's see what everyone else was inspired to create for this month's #MovieMondayChallenge!! If you'd like to join our Facebook group, you can request an invite here.
INLINKZ:

Pin and Share
As always, feel free!