Welcome to the first 2018 monthly Pinterest Challenge Blog Hop, hosted by My Pinterventures. The purpose of this Pinterest Challenge is to motivate all the participants of this hop (and you too) to not just pin, but to make it happen! So this month, I chose to make a crocheted earrings after scrolling through my pins and re-falling in love with a beautiful rainbow of crocheted earrings.
Crocheted Earrings Pinterest Inspired
I've crocheted a ton of things over the years and even written some of my own patterns. Currently, I'm on a craft diet… meaning, I'm not buying any craft products unless they are necessary to finish another project and will be used immediately. The Monthly Craft Room Destash helps with this as well. So I was only considering projects I could make with supplies I already had on hand.
This was the pin I decided I wanted to make for myself:
Unfortunately, the pin didn't lead me to earrings even close to the picture! Yes, it did take me to crocheted earrings but not ones I was interested in recreating.
No matter. I sat down with the tiniest hook I had, some embroidery floss, and a 30mm pair of hoop earrings.
Starting at the front of the hoop earring, single crochet around it all the way to the back, pushing the stitches as close together as possible.
Turn and slip stitch in about 5 stitches, *chain 6, skip 4 stitches and slip stitch. Repeat from *, I made a total of 4 loops, more or less might be better on another size earring.
After the last loop, turn. Single chain, half double chain, 3 double chains, chain 3 and slip stitch in the top of the 3rd DC, 2 more DC, HDC, chain. Slip stitch where the loop joins. Repeat in each loop.
When the last loop is finished, tie off. Use a needle to weave the ends in and carefully snip any tail.
Repeat on the second earring!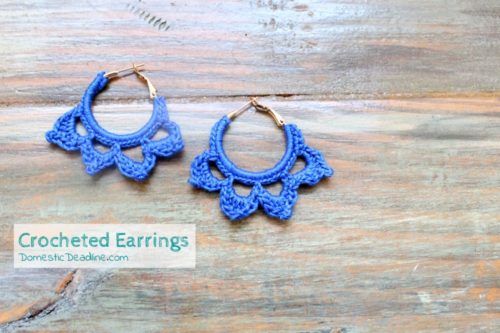 Now I just have to decide what other colors I want to make and find more hoop earrings I haven't worn in a while!
To join next month's challenge, click here to sign-up ⇒ February Pinterest Challenge
Pinterest Challenge
Now let's see what other things Pinterest inspired! Head over and visit the other hosts to see what they crafted, cooked, built, or tried!
Erlene – My Pinterventures • Shirley – Intelligent Domestications
Michelle – Our Crafty Mom • Molly – Just a Little Creativity
Marie – DIY Adulation • Jenny – Cookies Coffee and Crafts
Joanne – Our Unschooling Journey • Emily – Domestic Deadline
Roseann – This Autoimmune Life • Trisha – Blowing Away Out West
Sam – Raggedy Bits • Lynne – My Family Thyme • Beverly – Across the Blvd.
Debra – Shoppe No. 5 • Lauren – Mom Home Guide • Emily – Domestic Deadline
Heather – Glitter on a Dime • 
Gwen – Geez, Gwen! • Blake – Style Island • Kristie – Teadoodles
Kelly – Under A Texas Sky • Candice – Fearlessly Creative Mammas
Chelc – Inside the Fox Den • Megan – C'mon Get Crafty