One of my favorite memories of childhood snow days was coming in from playing in the snow. My mom would always make us hot chocolate, grilled cheese, and soup. But, I don't actually remember liking soup as a kid. Now, I love soup! So, as everyone headed to the grocery store to stock up on their French toast supplies before the last winter storm, I decided I needed ingredients to make soup. Not just any soup, potato soup. While a good creamy potato soup is one of my favorite soups, I do not love peeling and dicing the potatoes. It was time to come up with a good easy creamy potato soup. Something I could let simmer in the crockpot while the snow fell outside our windows.
No Peeling, No Dicing
My venture into an easy creamy potato soup actually goes back to college. In my dorm room, I could have a hot pot, but not a microwave. I also had a little mini crock pot, not sure if that one was legal or not! What started as making instant potatoes in the hot pot (which, by the way, I despise instant potatoes. But, I was attempting to cook things I could in the dorm room so my choices were limited). Instant potatoes needed to be doctored up big time and I started adding things like sour cream, onion and garlic powder, cheddar cheese.
As I experimented, I found I liked the instant potatoes more when I got them to a soup consistency. For several years, I used mashed potatoes as a base for making my own homemade potato soup. The problem became, many instant potatoes have wheat in them! This may have changed, but several years ago, I stopped using instant potatoes because of wheat.
So, I settled for going to Panera when a potato soup craving struck me (well, if it struck me on a Monday or Wednesday)!
And then, scrolling through Facebook, I saw one of those recipe videos. You know the ones. The time lapse where they show all the ingredients going in.
Diced hashbrown potatoes were the source of potatoes.
Why this had never occurred to me before, I'll never know. After all, one of my all-time favorite potato dishes, Aunt Bettie's Potatoes, uses hash brown potatoes.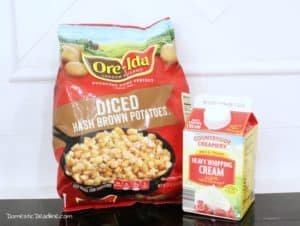 I'd love to give credit to the video I originally saw, but I tunned out once things like cream of chicken soup were introduced. Not only do I not like the extra stuff they put in canned cream of anything, but there is always wheat in them. If I truly need cream of something, I make my own.
Easy Creamy Potato Soup
Here's what I ended up making. The whole family declared it a keeper recipe. I'm usually happy if 4 out of 5 say keep, but a full 5 out of 5 is the highest rating I can get!
Into the crock pot:
32 oz chicken broth and 1 chicken bouillon cube OR 32 oz chicken broth and 5 teaspoons chicken base
8 oz (1 block) cream cheese
32 oz bag of frozen diced hash browns
3 cups shredded cheddar cheese
2 cups diced ham (we used leftover from the last time I fixed a whole ham)
1-pint heavy whipping cream
salt and pepper to taste
Optional: onion and garlic powders to taste
Dump it all into the crockpot and cook on low for about 6 hours, high for about 3. I did periodically stir the soup, mainly because I was experimenting and checked the taste to see if I wanted more seasonings. If you're going to make this and not be home to stir, I suggest cutting up the cream cheese and making sure the bouillon or chicken base has dissolved and mixed in.
Sprinkle with more shredded cheddar cheese to serve. Sour cream would be yummy too!
Warning: Hungry teenagers who apparently can't serve themselves a bowl directly from the crockpot may derail your attempts at food photography…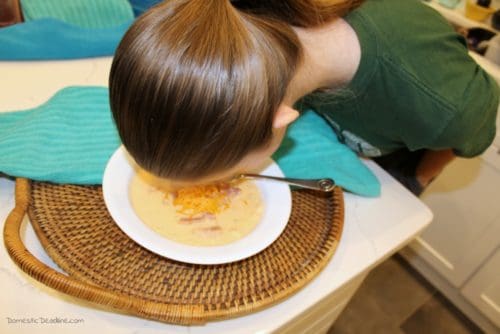 Next time, I'll probably double the batch as there were no leftovers! Everyone had multiple bowls.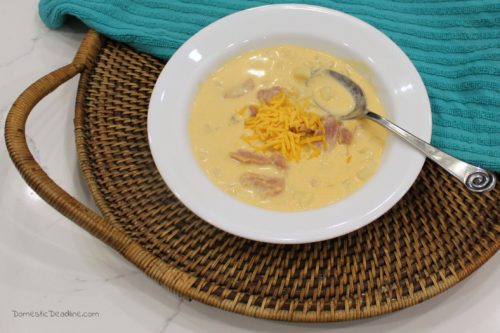 This is officially our favorite snow day recipe and I will always rush out to the store to make sure I have the ingredients before the snow starts!
Do you have a favorite snow day recipe?
Pin and Share
As always, sharing is caring, so feel free to pin and share! I'd also love to hear from anyone who tries my recipe!