I have to admit, to me, Valentine's Day is really just a candy holiday. When my kids were little they always wanted to decorate and make a big deal out of Valentine's Day. I did some, but over the past few years, I've scaled back to a few red-pink-heart decorations and maybe a heart-shaped treat for the kids. Since the kids are allergic to artificial food coloring and Tasha can't have gluten, many store-bought Valentine's Day treats are out for us. But, I did pick up some heart-shaped silicone pans. I've been promising Tasha I would make up a gluten-free brownie mix. This was the perfect time to fill up a jar of mix and make whipping up heart-shaped gluten-free brownies for my little loves.
Gluten-Free Brownie Mix
This is the recipe I used for the brownies. We've used and loved this recipe for a while now. It can easily be made with regular flour, in fact, the original recipe called for white flour. Tasha and I found switching the traditional flour out for a gluten-free baking flour blend with xanthan gum already included didn't affect the yumminess of these brownies at all.
While I was making these brownies, I wanted to mix up several batches of the dry ingredients to have ready to go. At first, I had planned on putting one batch of the dry ingredients into zip-top bags and labeling the bag with the wet ingredients and directions.
But, I had recently cleaned out some large plastic jars that fit nicely on our open shelves in the kitchen. I decided to fill one jar with the equivalent of at least 8 mixes. After quadrupling the recipe twice, I started mixing up individual batches and adding them to the jar so I lost count of how many the jar fit.
Heart Shaped Gluten-Free Brownies Valentine's Day Treat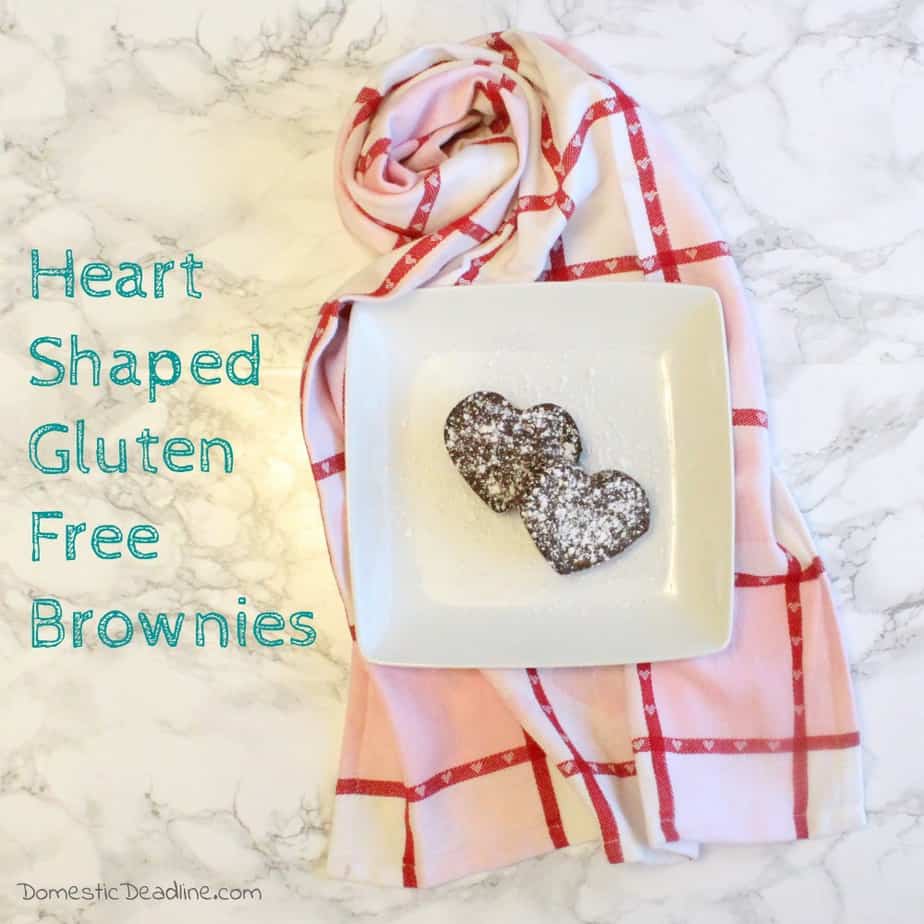 Ingredients
1 1/4 cup gluten-free flour
1 teaspoon baking powder
1 teaspoon salt
2/3 cup cocoa powder
2 cups sugar
1 cup melted butter (coconut oil works also)
3 eggs (or 2 eggs plus 2 yolks for a more fudge-like brownie)
1 teaspoon vanilla
Instructions
Set oven to 350 degrees.
Mix the flour, baking powder, salt, cocoa powder and sugar together until evenly combined.
Fold in the melted butter, eggs and vanilla.
Bake for 22-25 minutes in silicone muffin pan or a 9x13" pan.
7.6.7
1
http://domesticdeadline.com/2018/02/13/heart-shaped-gluten-free-brownies/
Now that we have a whole jar of brownie mix, the next time someone wants brownies, we simply need to add the wet ingredients to 3.5 cups of the mix. The simplicity of a box mix with the homemade flavor!
Heart-Shaped Brownies
I recently tried several different silicone pans for brownies. The various molds were all similar shaped but different brands and thicknesses of silicone. I'm curious if the thickness of the silicone is what resulted in drastic variations of to my success or failure of the brownies.
Ultimately, I decided if I'm going to purchase silicone baking molds, I'll be sticking with Wilton or Aldi's versions. Both brands are thicker silicone and the brownies popped out nicely every time. The same couldn't be said for the thinner brands of molds.  One was so thin I think I only had about a 25% success rate of my brownies.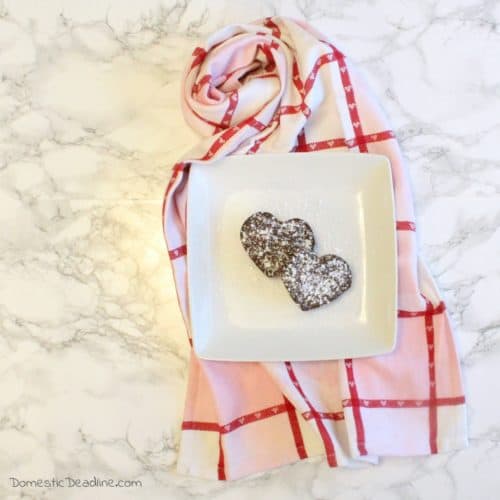 I'm pretty sure I gained a few pounds that day… the brownies still tasted yummy, I just couldn't take them to the party I was going to in pieces.
These heart shaped ones were made using the pans I picked up at Aldi. Since they worked as nicely as the Wilton pans, I'll be keeping my eye out for other shapes there since they are also the least expensive of the molds I tried.
Pin and Share
As always, feel free to pin and share.  Do you have a favorite DIY mix you like to keep on hand for quick treats?