Meatloaf is a favorite dinner in our house. Almost everyone can agree on it but it takes time. Time that I don't have, but then again, who really does? Hands on time plus the hour or two of baking in the oven is just too much.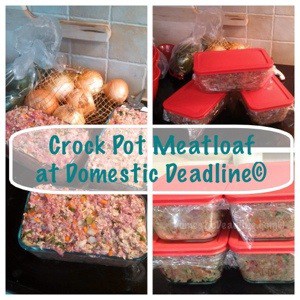 Some nights we aren't even getting home until 7pm after games, practices, lessons or other various activities. If I still have to prep and cook dinner, we'd either end up at a fast food place every night or it would be well past the kids bedtime by the time I get a meal on the table. Resulting in a favorite meal might get relegated to weekends or fall of the rotation completely.
Instead, I cook my meatloaf in a crock pot! Ok, maybe not a novel idea to you, but it was to me when I first discovered it.
Veggies are also "hidden" in my meatloaf. When it's been a long day and one of the kids is over tired and wants to argue about the meal I put in front of them. I'm happy to just argue they eat the meatloaf and not have to push the veggies also since the meatloaf already has some in it.
Meatloaf with Veggies
2 pounds meat (I like to mix ground beef and ground turkey)
1 cup oats
1 cup cheese (I mix parmigiana and mozzarella)
1 teaspoon poultry or Italian seasoning
1 Tablespoon onion powder or half a diced onion
1 Tablespoon minced garlic
2 medium carrots grated
1 green pepper diced
1 bunch of kale or spinach finely sliced (tip: stack a bunch of leaves and roll them up, then slice thinly)
Salt/Pepper to taste
Directions
Mush all ingredients together.  I know, real technical here!  Use your hands, I can't stand it but it's over pretty quick.
Smush it all into a loaf pan
Bake or freeze for later (see below)
I like to double or triple the recipe and freeze the extra for another night. Glass Pyrex loaf pans with lids
are perfect for this. I usually add a layer of plastic wrap right over the meat and then put the lid on top. Don't forget to remove the plastic wrap before baking.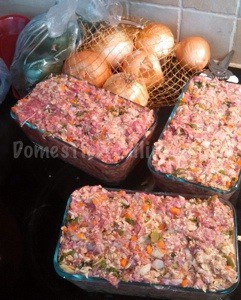 Meatloaf is one of those things people can be very particular about. Mom's or grandma's recipes are often a favorite. However, even your favorite recipe can be cooked in the crock pot.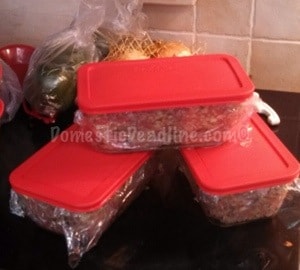 Crock Pot
Take the loaf pan and place it directly into your crock pot. Add a cup or two of water around the pan, cover and turn it on. Every crock pot is different but I have found these cooking lengths to work: unfrozen 4 hours on low, frozen 6-8 hours on low but have been known to leave it longer. Always turns out juicy every time.
I will say, you won't get a crisp brown crust that some people like, so be warned if that is important to you. However, getting it on the table minutes after walking in the door, far outweighs my need for a crust.
Tip:
Brown cooked leftovers in a frying pan to get that crisp brown crust another night, almost makes it a completely different meal!
More Freezer Meals
Occasionally dinner will be made with ingredients from the fridge or just after returning from the grocery store, but most nights I pull something from the freezer. I've been sharing some of those tips and resources. Check out more here:
Save