Mornings are crazy in our house. Three kids in three schools. Gluten-free overnight oatmeal waffles make for a quick, healthy meal to start everyone's day off right. I have to admit, I haven't made these since we moved into the new house. I've been doing great keeping the freezer full for dinners, but it's time to get back on track with breakfasts.
Yes, you may have seen this recipe on Domestic Deadline in the past. Today, I'm updating the post with new pictures and the ability to print or save the recipe. Because, seriously, I'm willing to get up for these waffles. And I am NOT a morning person.
This post may contain affiliate links. Which means, if you click the link and buy something, I may receive a percentage of sales at no additional cost to you. Thank you for supporting Domestic Deadline.

Don't let the word "overnight" scare you. Or "gluten-free." I use gluten-free flour but whole wheat or any traditional flour works just as well. And the overnight part is letting the oats soak up some goodness, making it that much easier to make in the morning.
And, the best part is, these waffles freeze beautifully and toast up quickly in the toaster. So make a batch on the weekend and enjoy them all week!
The Night Before
4 cups old fashion or steel cut oats
3 3/4 cup milk mixed with 1/4 cup lemon juice or 4 cups buttermilk
4 tablespoons cinnamon or pumpkin pie seasoning
If you don't have buttermilk, put 1/4 cup of lemon juice in a 4 cup measuring cup. Then top it off with milk; I use whole milk. Let it sit for a few minutes. If I'm doing this, I let it sit while I gather my other ingredients.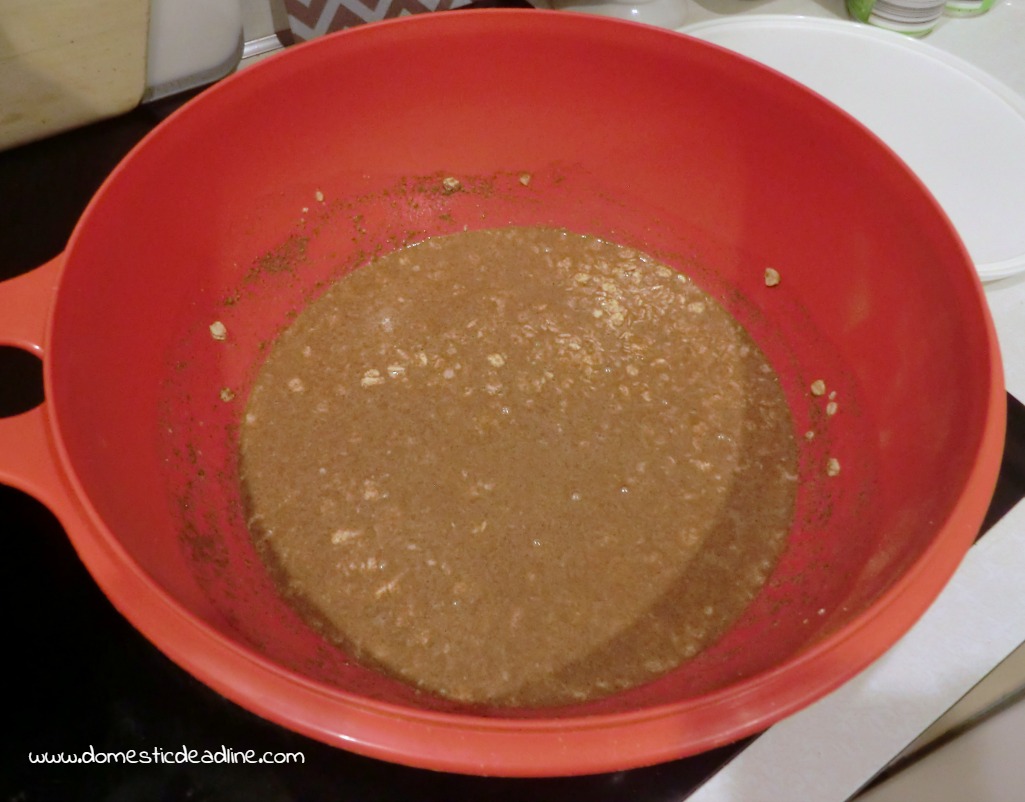 Mix all of the above and let sit out on the counter overnight. Put an airtight lid on the bowl.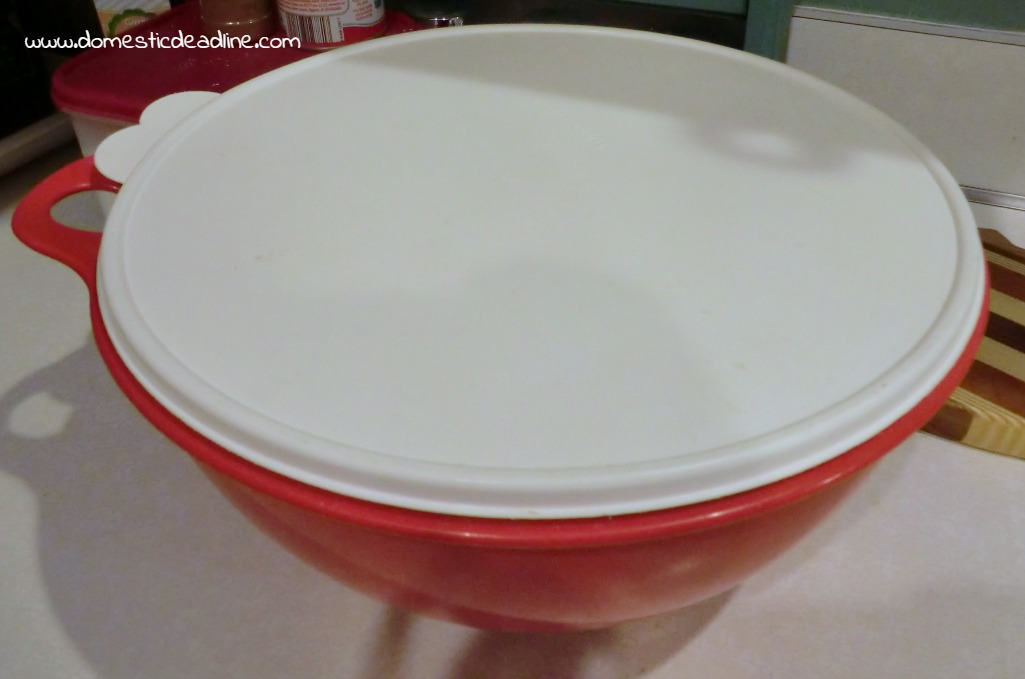 The Night Before – Part 2
This doesn't have to be done the night before, but it saves valuable time in the morning. If you're anything like me, the easier we can make the mornings, the better.
1 cup gluten-free flour (or flour of your choice)
2 teaspoons baking powder
2 teaspoons baking soda
1 teaspoon salt
Whisk these ingredients together and set aside until morning. I use a smaller bowl with a lid, but sometimes I just drape a clean dish cloth over the bowl.

And in the Mornin', I'm Makin' Waffles!
3/4 cup melted coconut oil
4 tablespoons honey (or pure maple syrup)
4 eggs
Now, mix the above ingredients into the oat mixture.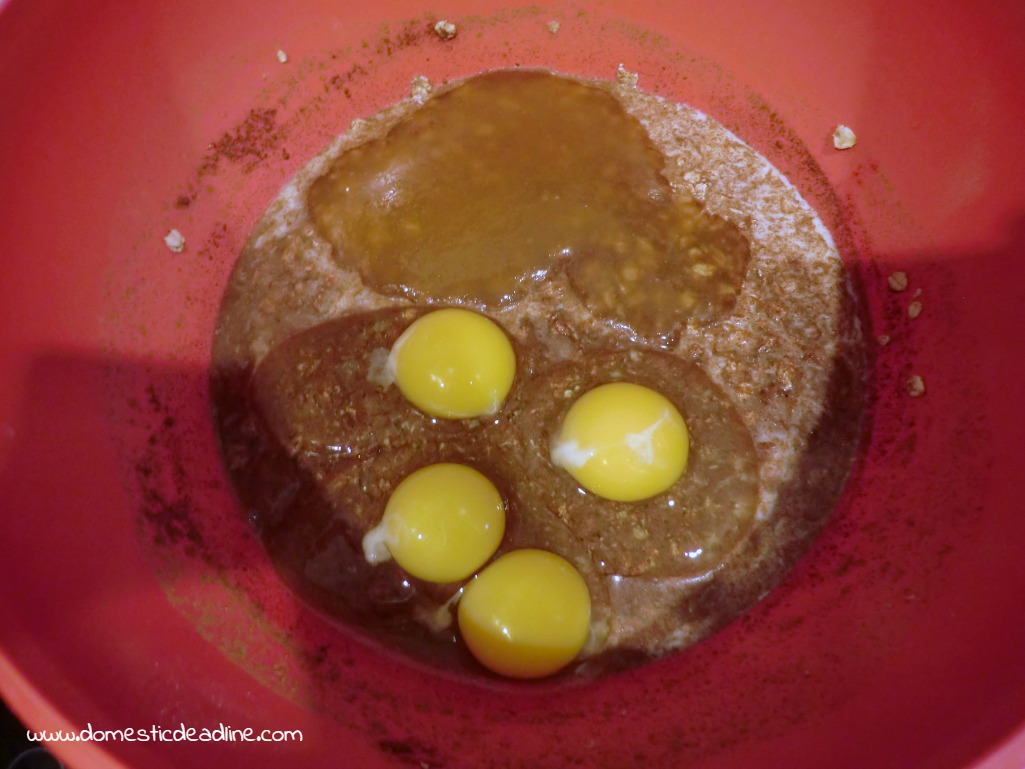 Whisk the eggs a bit before mixing them into the oat mixture.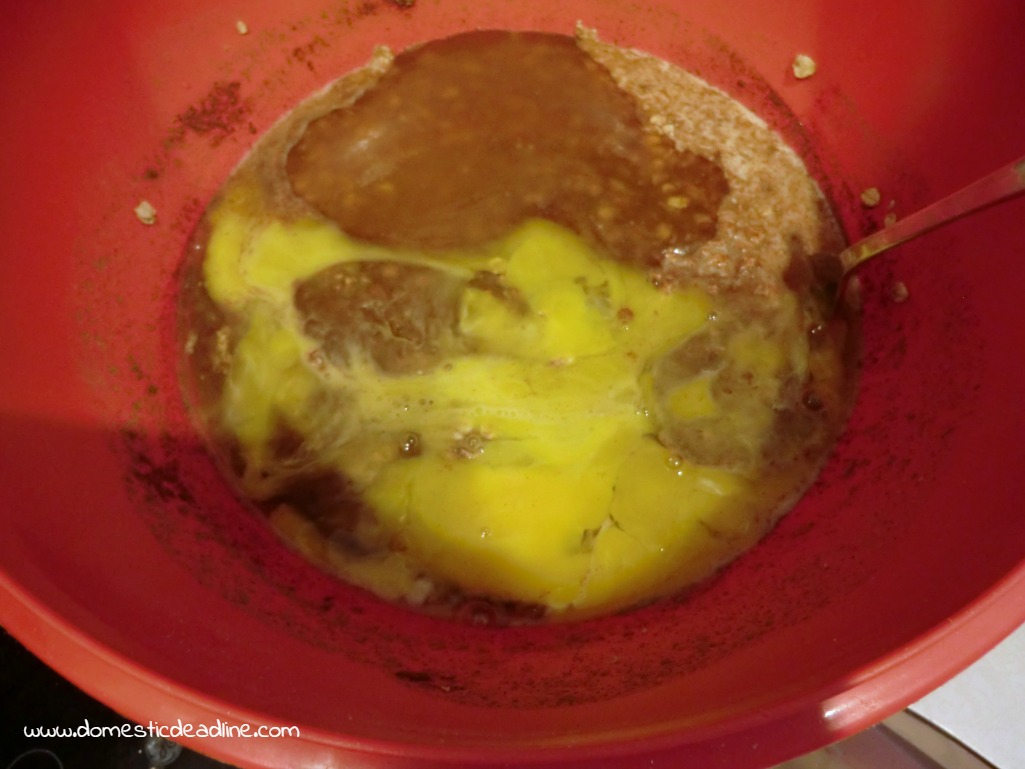 Finally, add the dry ingredients and mix well.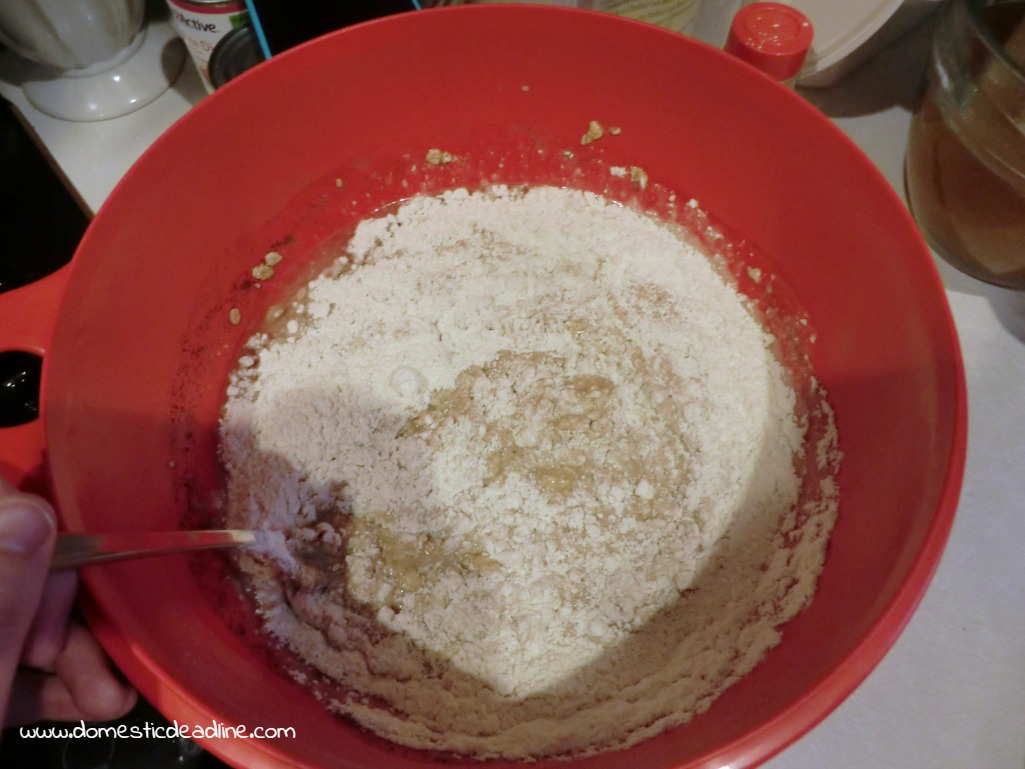 Heat up your waffle maker and spray if necessary, I used to use EVOO in my Misto
, but my newer waffle maker doesn't need anything.  Use an ice cream scoop for portioning out, the batter is a bit chunky from the oats.
I love my waffle maker, not only does it make 4 waffles at a time, but it has an indicator light to tell me when it's hot enough and when the waffles are done!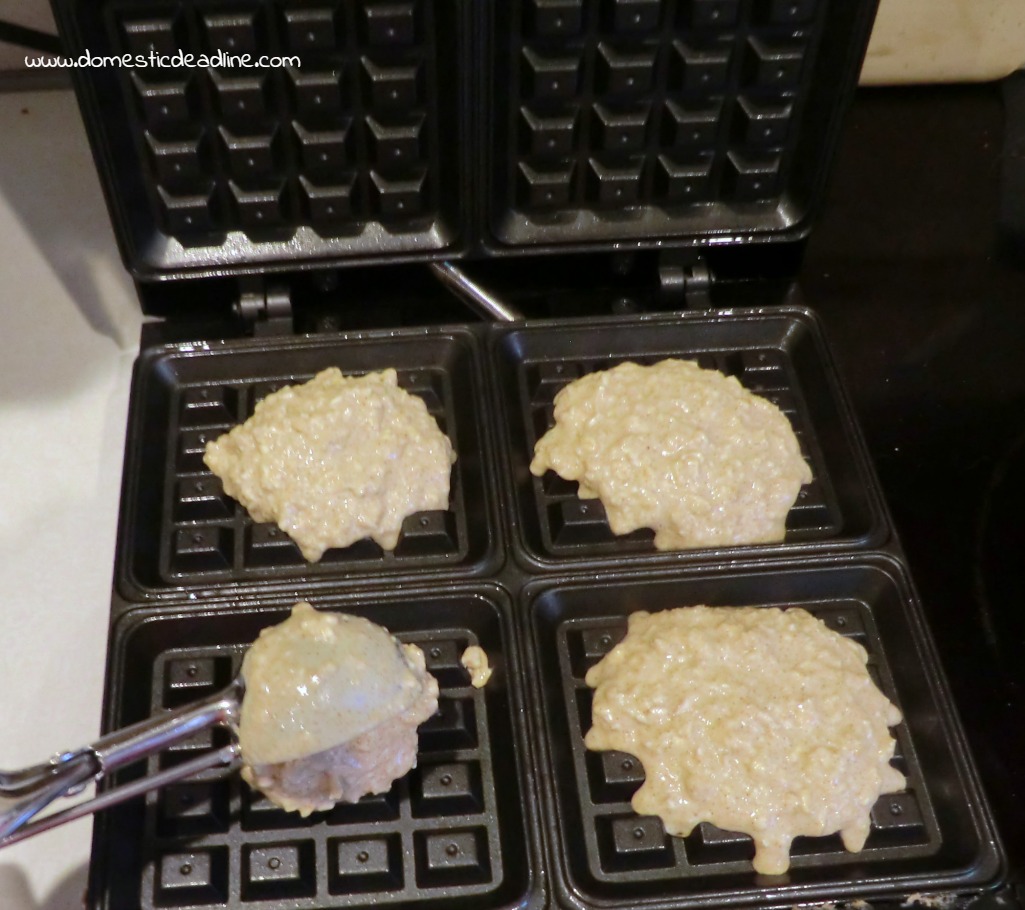 You may need to make a few adjustments to figure out how much batter to add to your waffle maker. I've figured out mine takes 5 ice cream scoops. One for each waffle and a 5th one to add an extra dollop to each waffle so I don't end up with partial waffles like this.
But they still taste good! When they cool a bit, put them on a rack in the freezer.

Once frozen, bag 'um up!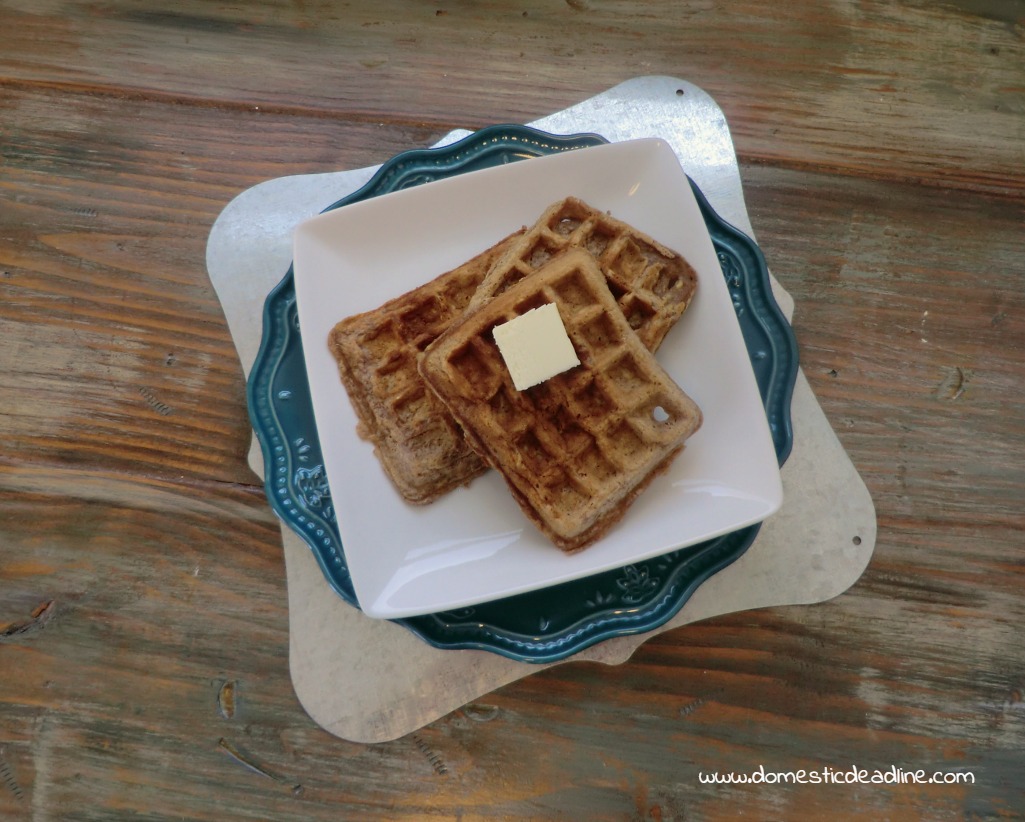 To reheat, pop them in the toaster from frozen.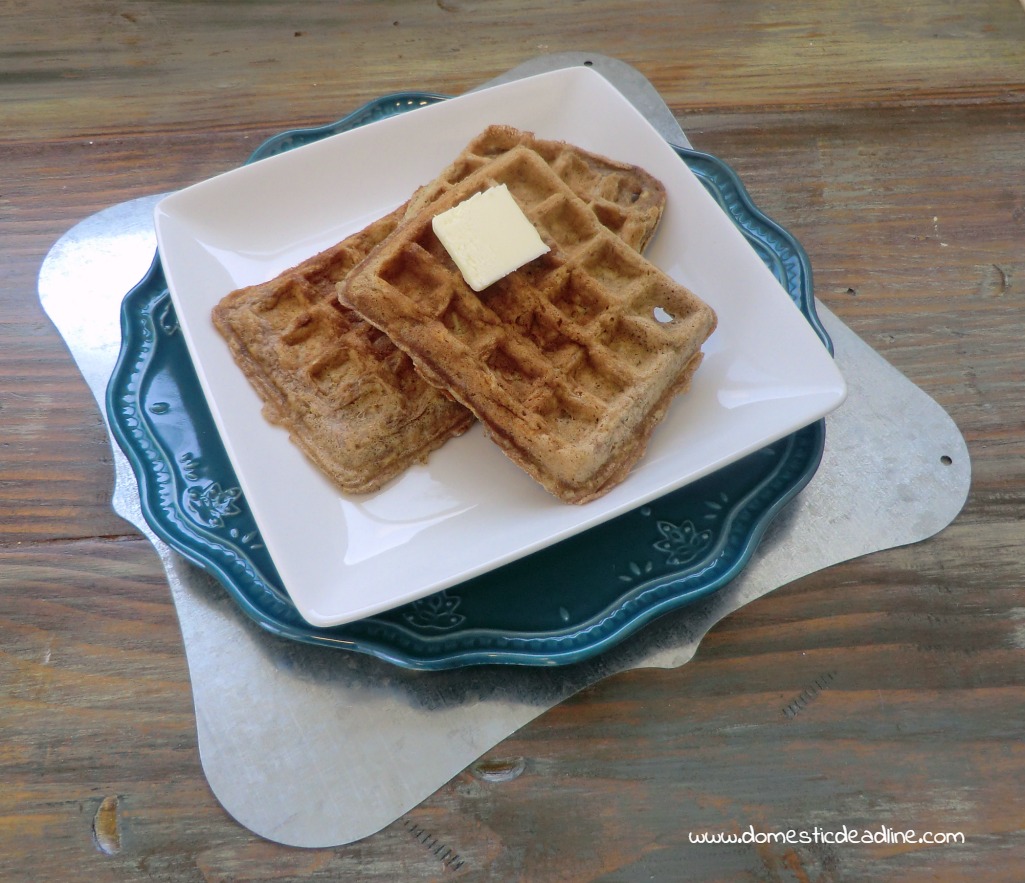 Top them with maple syrup or just eat them plain like I do.  I find it better to make these when IronFish isn't home or I don't end up with as many to freeze!
If mornings are too crazy, soak your oats all day and make these for dinner one night topped with fruit.  Then freeze the extras for future breakfasts.
What do you do to make your mornings run smoother?