I'm really excited to share my most recent contribution to the monthly #ProjectChallenge. This month's material to work with is tile. Considering my day job is doing kitchen and bathroom remodels, I have tons of experience with tile. And, I tend to hoard hang on to extra tile pieces from those jobs. So, this project really was all about using what I had. This was also a great time to tackle a project from my to-do list, turning an end table into a mini office.
This post may contain affiliate links. Which means, if you click the link and buy something, I may receive a percentage of sales at no additional cost to you. Thank you for supporting Domestic Deadline.

Yard Sale Find
I picked this piece up at a yard sale one day while driving back and forth between our old house and our new house. A box of frames is what caught my eye and made me stop since Tasha had wanted gold frames for her room. The whole box was only $2.00, nothing a little paint couldn't fix for that price. As I was loading it into my car, I noticed this little table.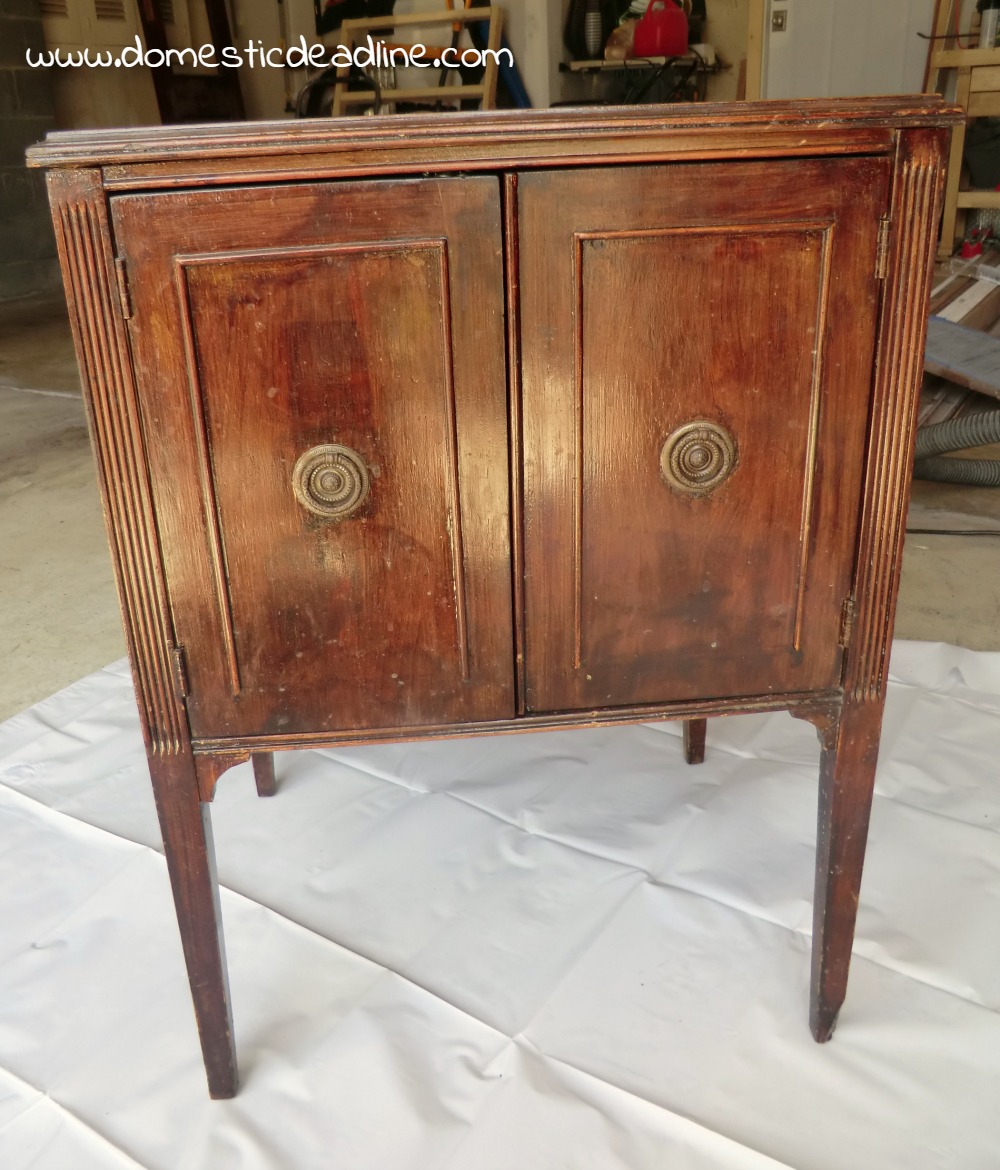 Five dollars! Honestly, I had no idea what I would do with it, but for $5, even using it temporarily was worth it.
But, it wasn't in great shape. Someone had already attempted to fix the latch. Because of this, it took a lot of effort to open the doors.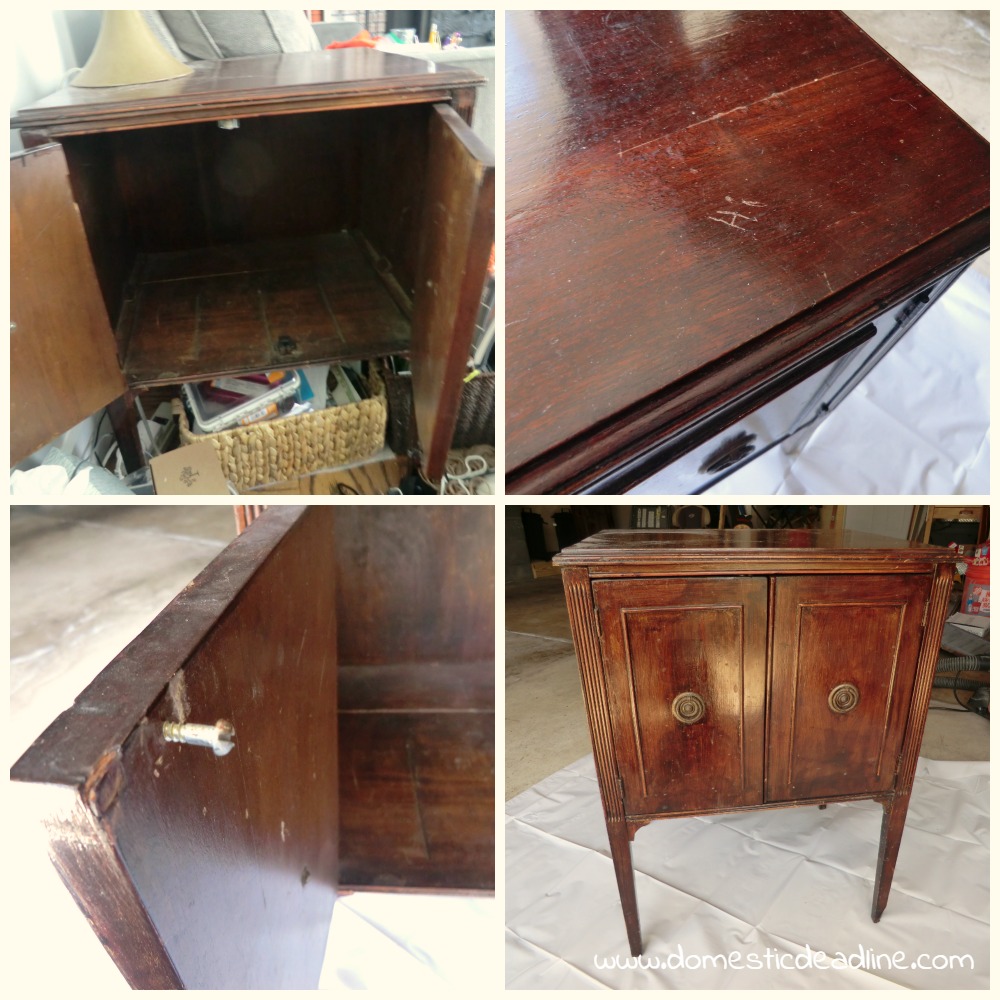 Once our furniture was in place, it was the right size for an end table for the space between our couch and recliner. It didn't take long to become its permanent home.
And soon, I realized it was perfect for holding all the stuff that ends up around my recliner. Because that's where I use my laptop, so that's where piles accumulate.
Remember the doors don't open really well?
Random stuff ended up getting stuffed inside and the piles grew around it. But it held my coffee every morning! That makes it useful in my book!
Rock What You've Got
After attempting to use baskets to corral the mess, it was finally time to do make this little piece useful. I have to admit, I didn't have a real plan, this evolved as I worked. Attempting to use things I already on hand made me continue to think of how best to use the piece.
Eighteen months of this table sitting next to me had given me plenty of time to examine the piece. I have no idea what it was originally intended for. At some point, it was poorly stained. Either originally, or someone tried to give it a stained woodgrain look.
Basically, I didn't feel bad painting the piece.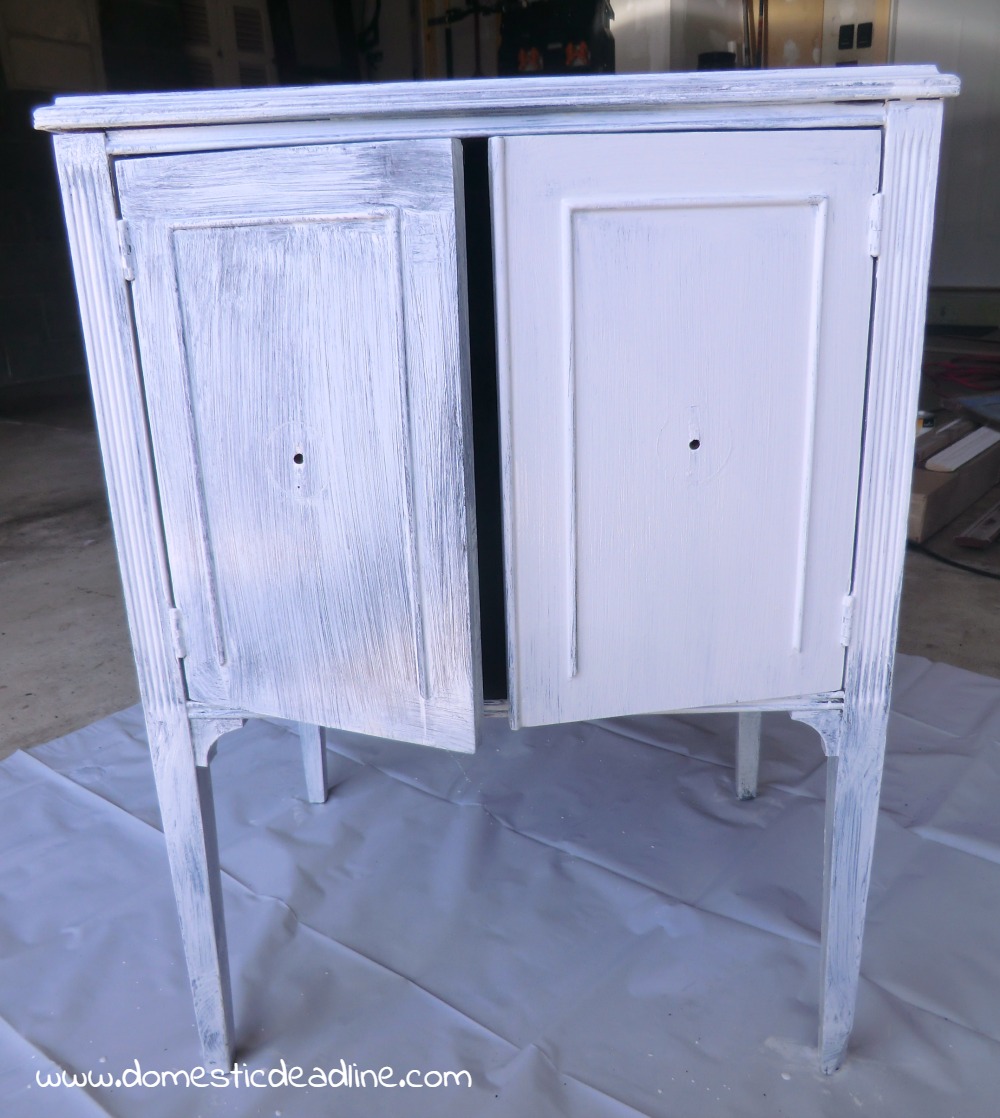 The outside got a few quick coats of my favorite white trim paint. (I used it here, here and here). Inside, I wanted a pop of color. One of the many sample cans was the base. After the first coat, it just wasn't the right color. Adding some teal acrylic craft paint solved that problem.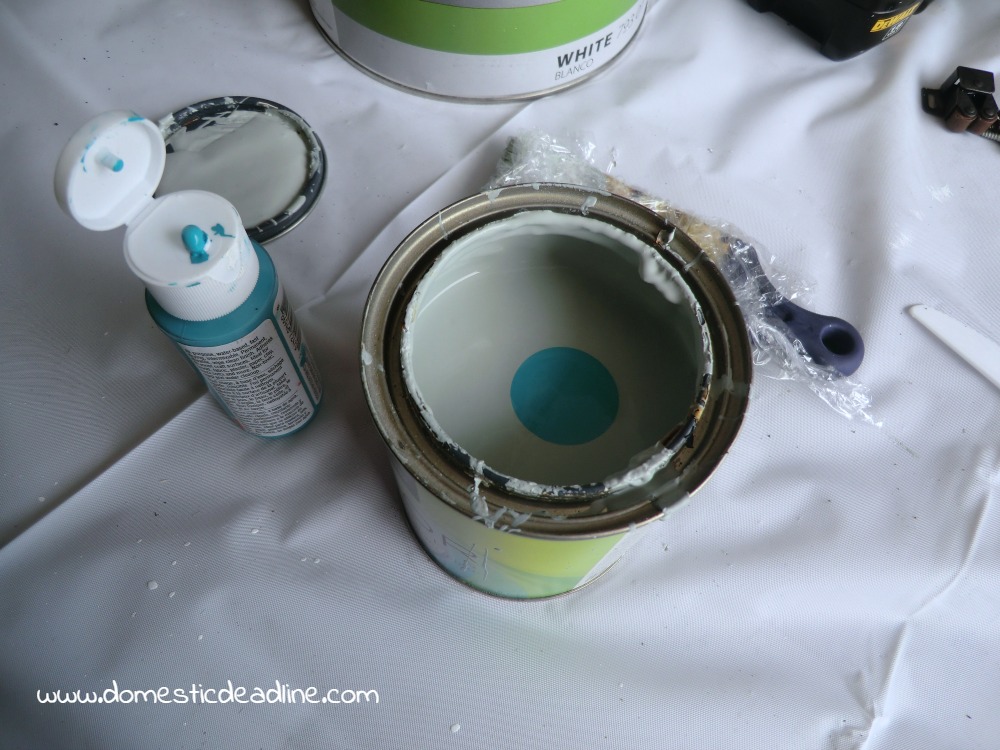 Then it was time to decide how to tile the top.
So Many Choices
Ok, hoard probably is the correct term…
"Emily's Mismatch Tile Shed" is what my friend Gayle calls my tile collection. But, this isn't the first project where my tile collection has come in handy.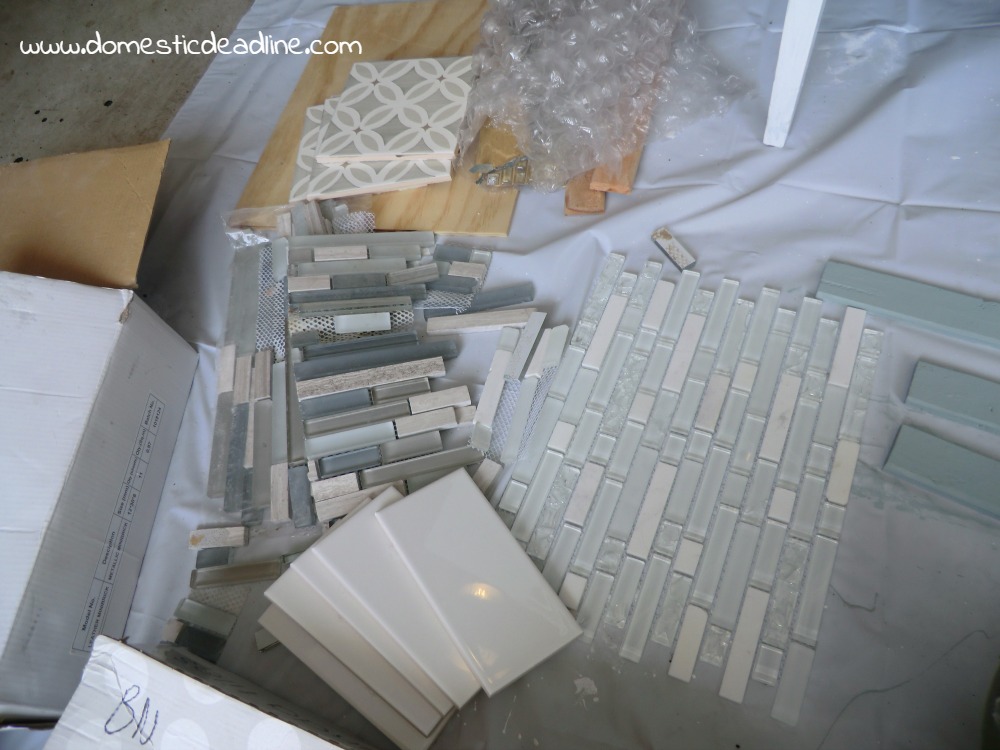 My powder room floor used up a nice chunk!
And, I'm storing the floor tile for my son's bathroom. When I get to that project…
Back to the end table. Paint went on first so I could decide how to tile the top while it dried. The paint was plenty dry 10 days later when I finally decided on the tile!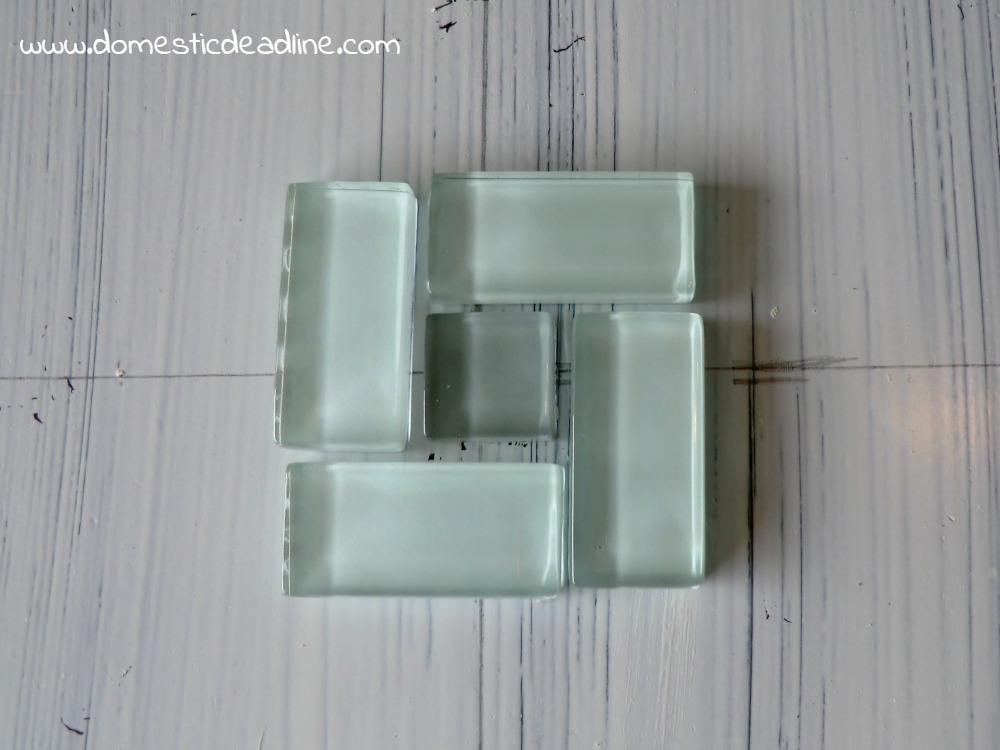 Once I decided on the tile, the pattern fell into place. Starting in the middle of the top, I calculated exactly how many tiles I needed. Then I found some gray glass tiles to trim the whole pattern. The green glass happens to be a perfect match to the painted interior.
I did decide to purchase a length of white Schluter edge to finish the tile. If you aren't familiar with Schluter edge, it's a great cost effective alternative to bull nose. It's also available in metal finishes and various colors.
And, it cuts nicely. Even when I'm lazy and decide to not to bother plugging in my saw!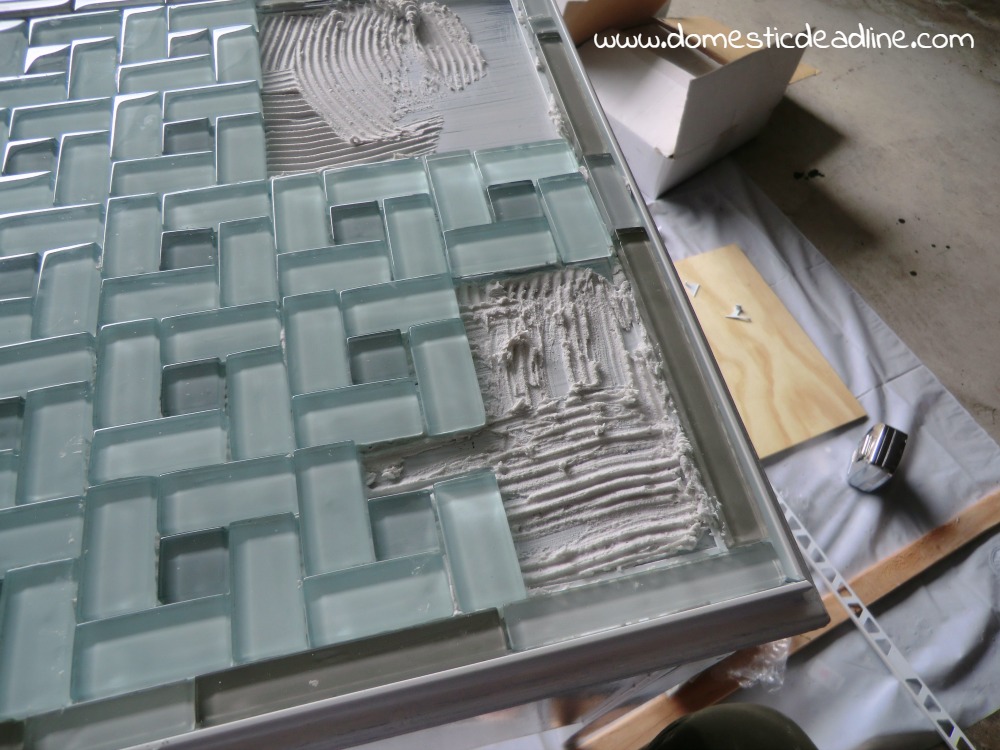 The trick is to put the tile on top, so you need to know you're going to use this instead of adding it later.
Omnigrip was really all I needed to apply the tile to the top of the cabinet. Another thing I had left over from other projects. This time it was extra from my mudroom.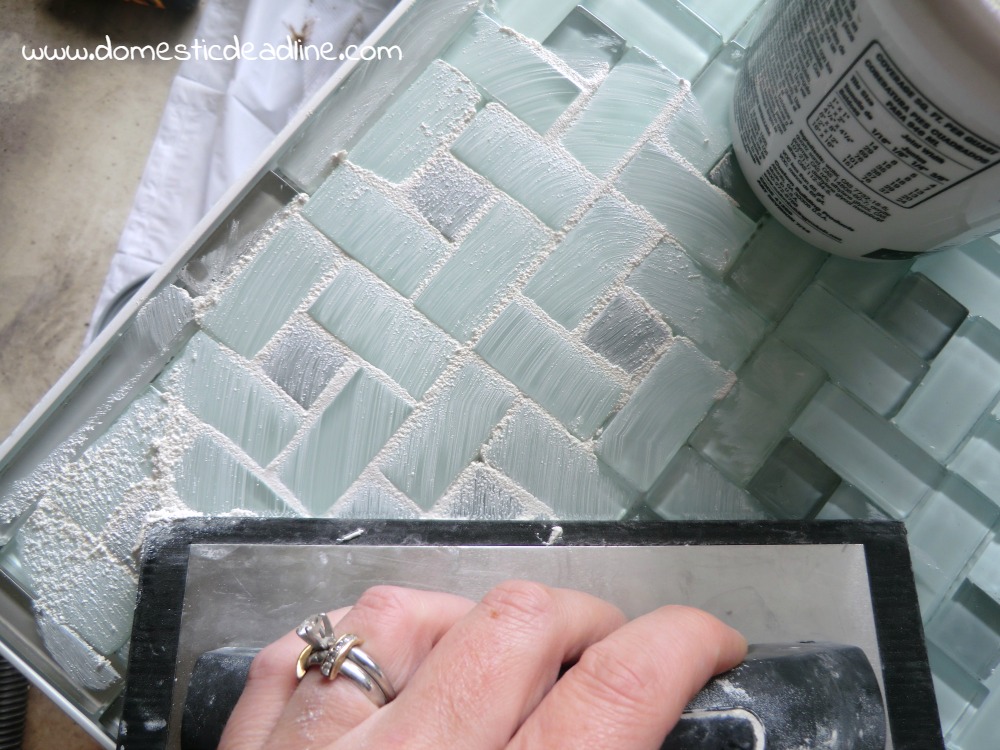 I found the pre-mixed white grout in the basement… unopened… I have no idea where it came from!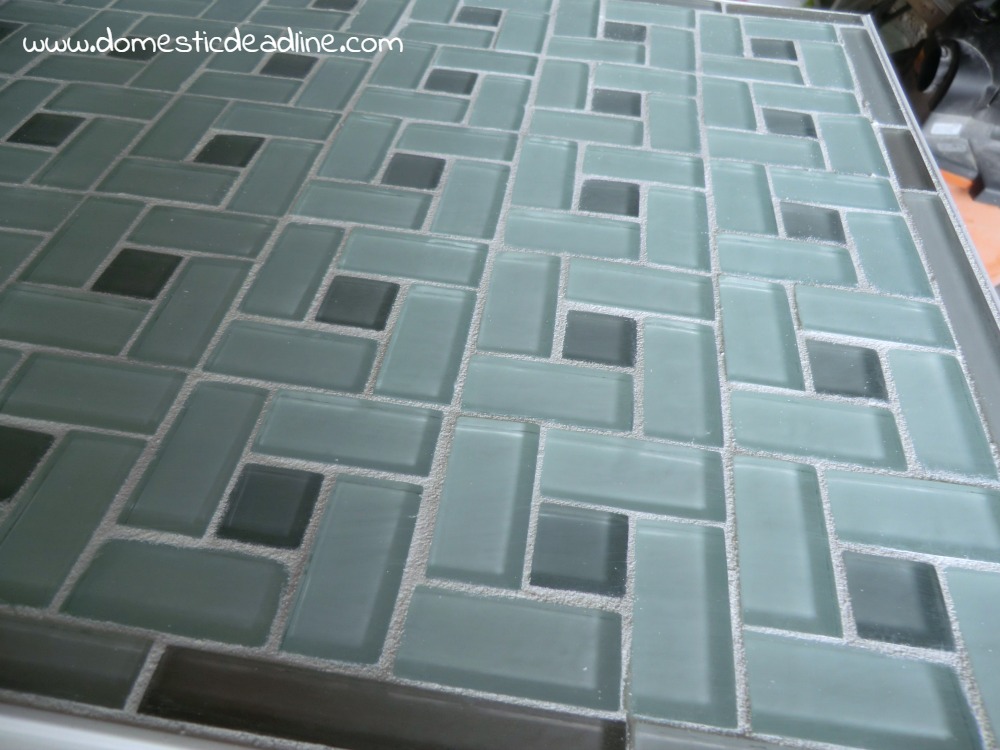 The finished tile top is perfect.

Improving Function
While mulling over the tile, I realized adding a shelf inside would greatly improve the function of the piece. Another trip to my shed for some scrap strips of wood and plywood!
Correction… It's IronFish's shed. He just lets me keep the tile there. We had planned on building a shed together last summer. Instead, I ordered and scheduled one to be installed in our yard for us as his Father's Day gift last year. So, it's his shed. I think the garage belongs to him to…
When it came to the placement of the shelf, I suddenly remembered I had stacking inbox trays collecting dust!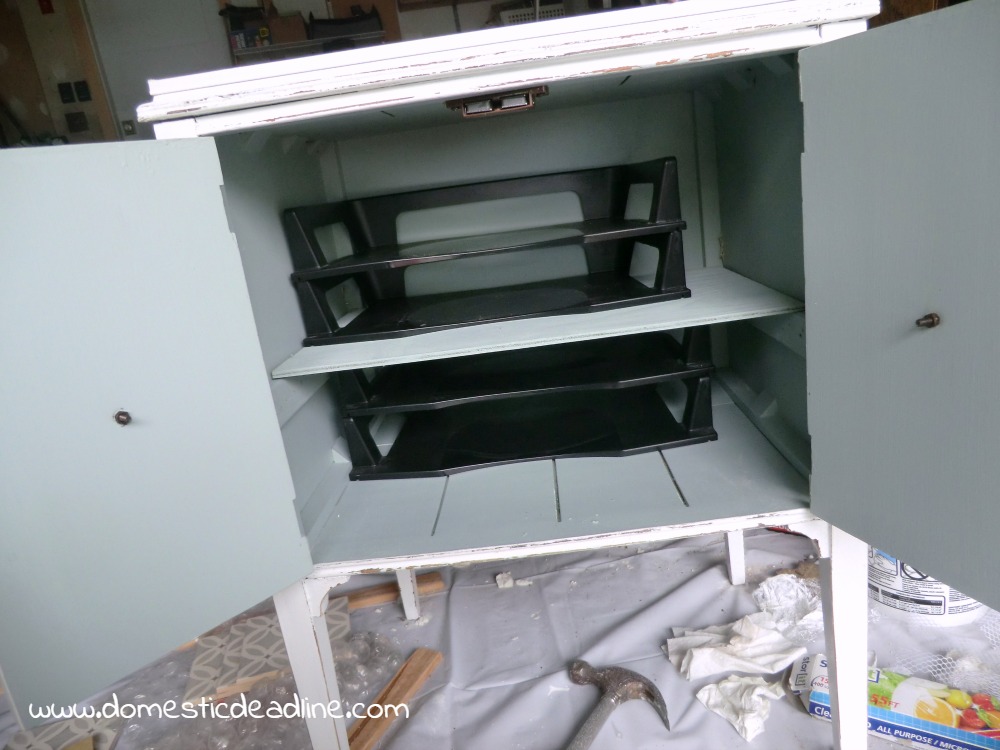 Using two gave me a guideline for where to put the shelf. Tiny brad nails held the strips of wood on either side (now painted the interior color). And the plywood simply sits on top.
But, I still wasn't too thrilled with the finish. Partially my fault. I considered using chalk paint but didn't. I was also too lazy to bother sanding the piece down before painting!
Running sandpaper over the edges gave everything a distressed look. What I like about a distressed finish is the imperfect look. However, I try not to overly use the distressed look. Shabby chic is great for some people, but not something IronFish is overly fond of. It works for this piece.
A quick coat of furniture wax seals the paint and the distressed areas.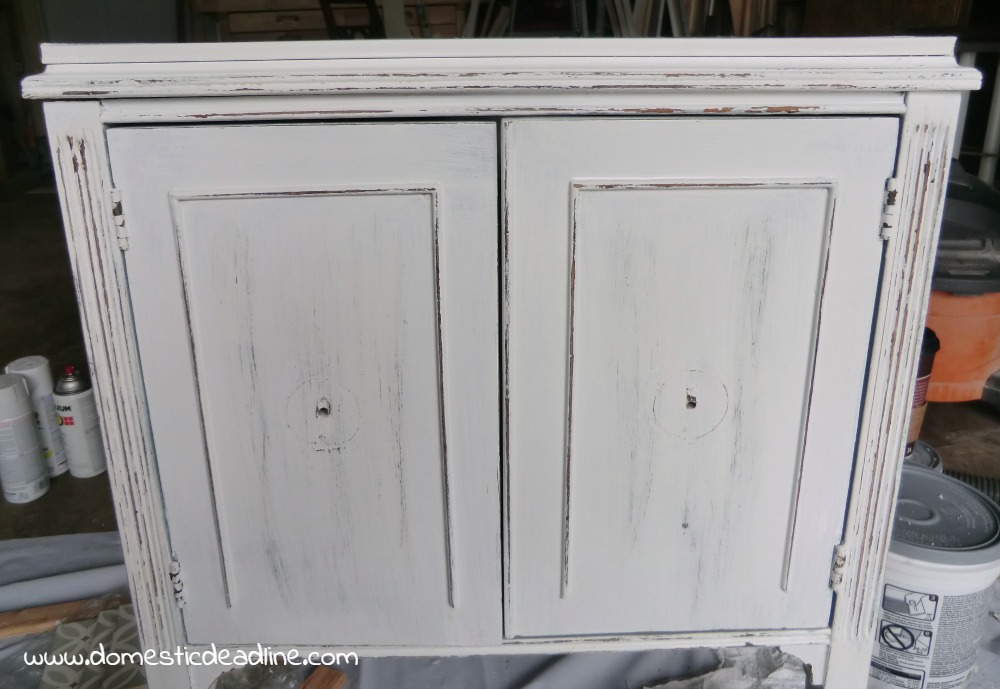 Oh, and my first few brad nails went through the side, oops! I switched to shorter ones. Painting the sides had also brought out the unsmooth finish.
Nothing a little faux shiplap can't cover! Yep, something else I collect leftovers of. I also used this in both my old powder room and my new one.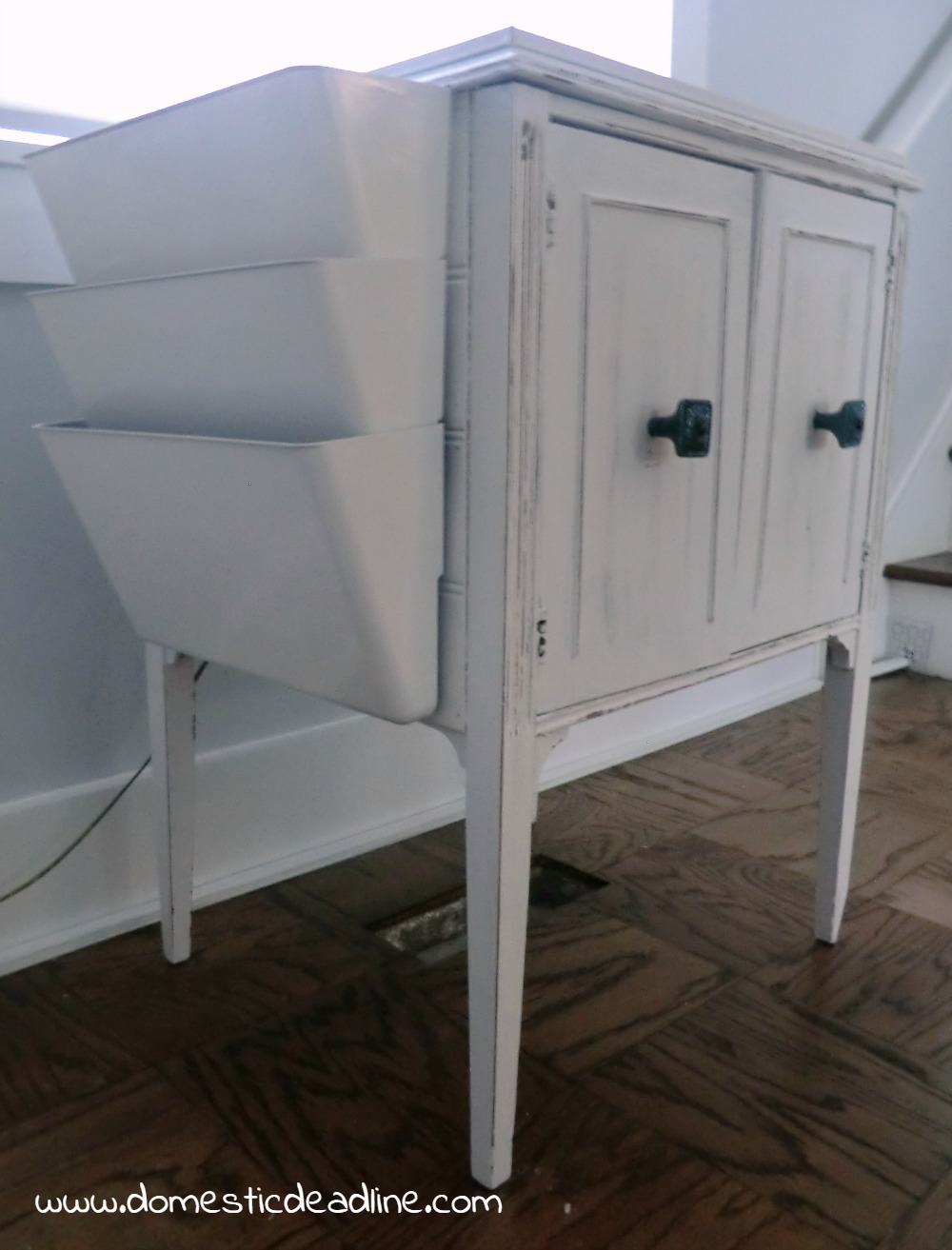 And, when I was looking for the stacking inbox trays, I found hanging wall pockets. A few light coats of spray paint and they were ready to be hung on the side. I decided to hang them on the left, the side that will be facing the wall when it's back in place.
Finishing Touches
Removing the broken latch kit and replacing it with a lightweight magnetic catch kit solved the problem of the whole cabinet shaking when trying to open it. Much safer when my coffee cup is sitting on top! I was also able to get the doors to line up more evenly than they had before.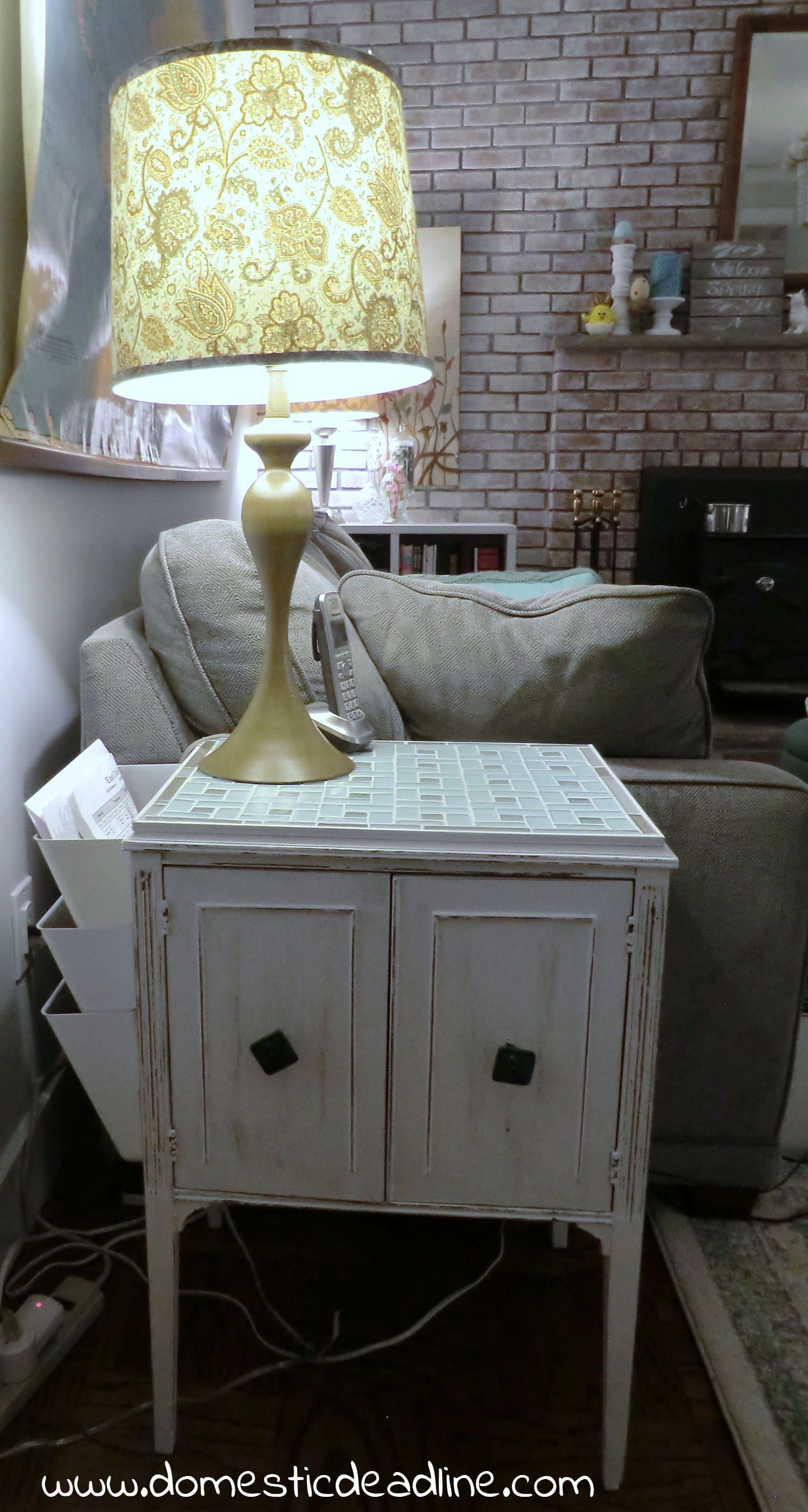 When I went to put the knobs back on, I realized I'd misplaced them. I'm sure they will turn up, but I kinda like these deep deal ceramic knobs. The cabinets in our living room already have these knobs on them. I'd gotten them at a great price and hadn't known how many I was going to need, so I ordered extra. I like how it ties the two pieces together.
Here's the finished piece in place. So much more functional now!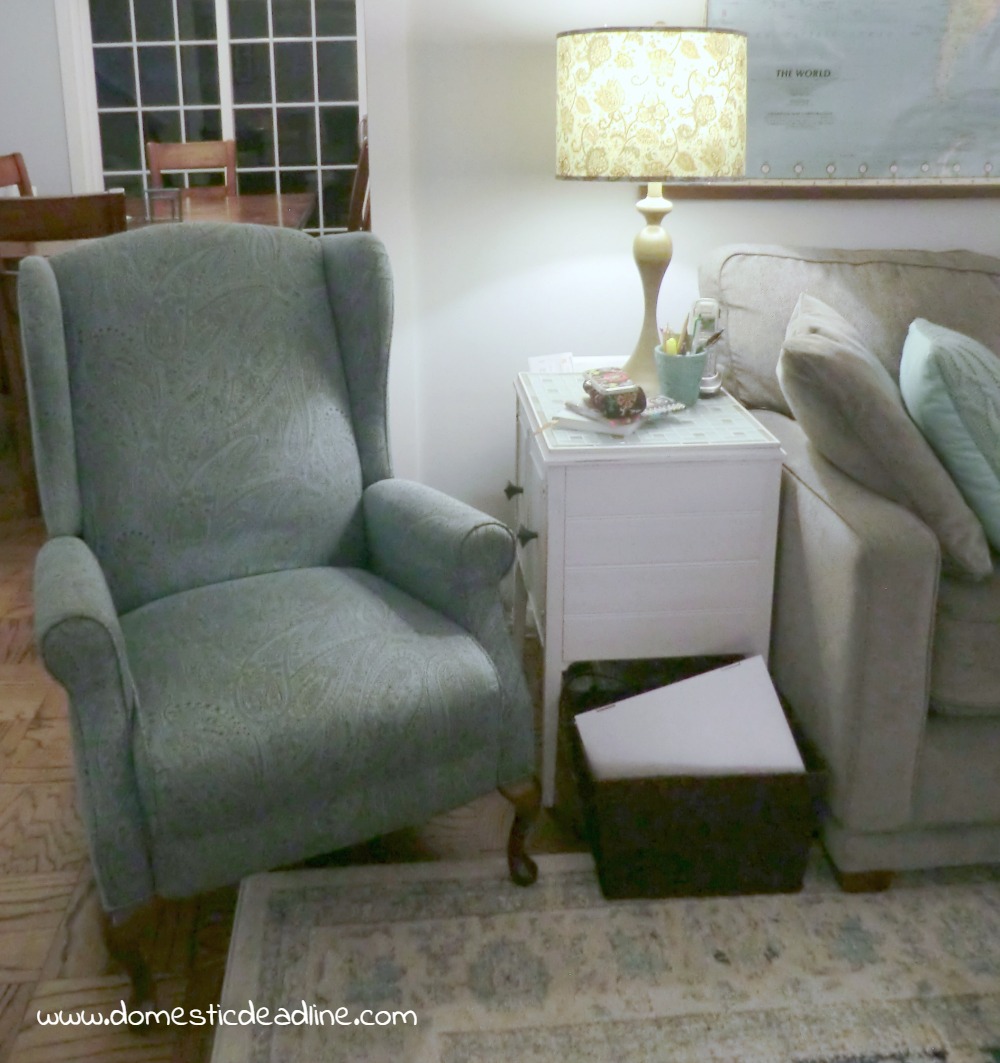 Pin for Later