It's time for another Project Challenge! This month our challenge item was old buckets or containers. While I collected a few different buckets, bins, and containers, my mind kept going back to a project I did a few years ago. A pumpkin bucket that didn't make the move a few years ago. With Halloween approaching, this challenge was the perfect time to make another one.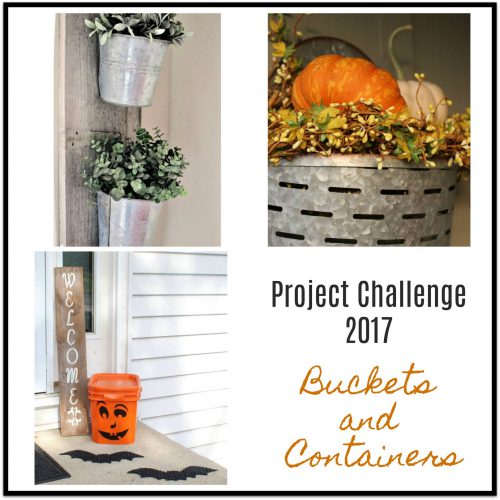 Upcycle a Kitty Litter Pail
My old neighbors had a few cats and frequently threw out these buckets. I originally snagged one from the recycling bin to hold ice melt for salting the walk. When I realized the containers cleaned up nicely, fit perfectly on a shelf in my basement… they became storage containers for craft supplies.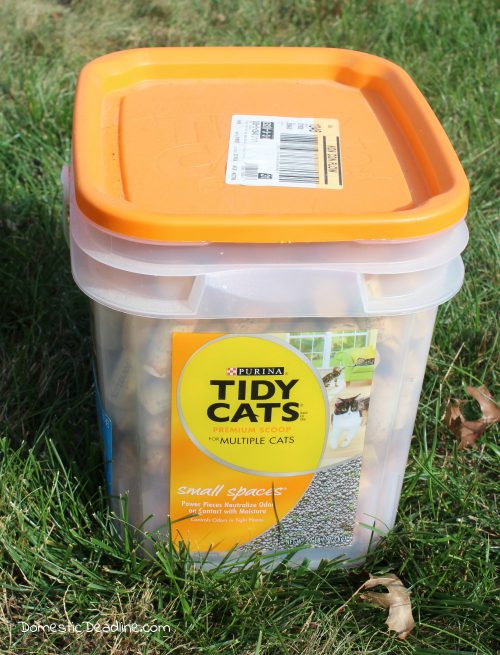 Because who doesn't need an entire pail of wine corks!?!?!
For this project, I sprayed the whole thing with orange spray paint.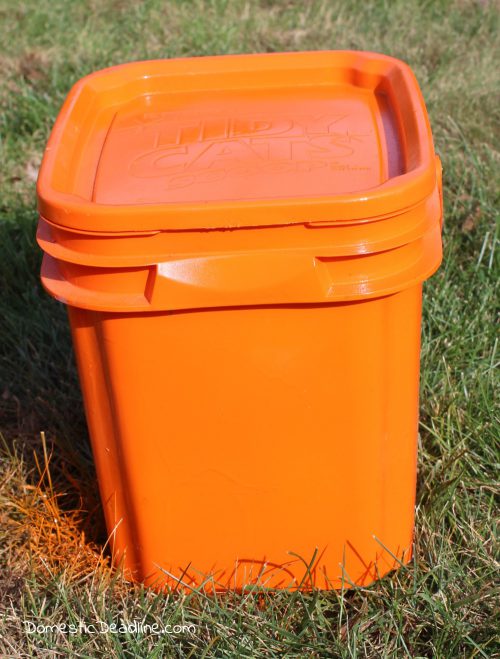 I used a few coats of a glossy orange, the same can I used for the first pumpkin bucket! Even though the lid was orange to begin with, it still got painted.
Jack-O-Lantern
Black self-adhesive vinyl makes the perfect Jack-o-Lantern face. I could have used my Cricut, but I just took scissors and cut out the face.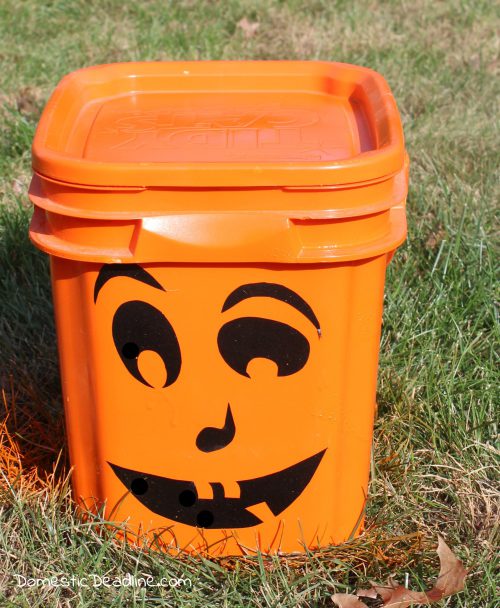 The best part of this is making your face however you want! Scary or funny!
My original bucket had a stem made from a prescription bottle. I used pipe cleaners to create a vine coil and added some green leaves. Unfortunately, despite attaching it a few different ways, it didn't stay on very well. Plus, out of season, the bucket didn't fit on my shelves with the stem. So, this time I decided to just leave it off.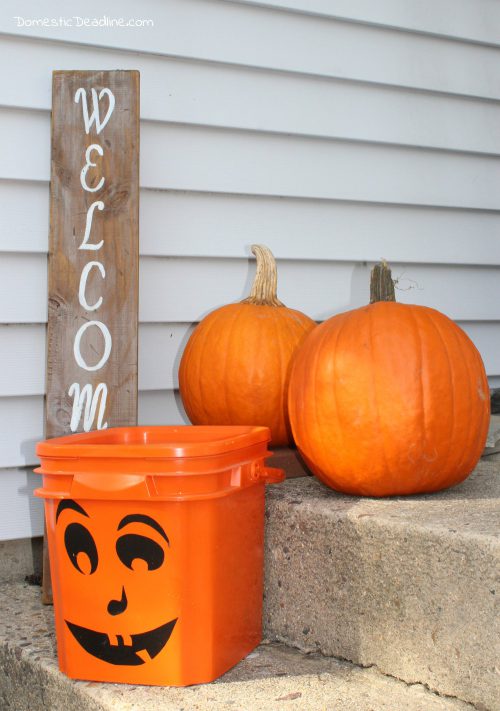 My pumpkin bucket looks great with the real pumpkins. Tucked inside is the sidewalk chalk that I still find my kids using on the walkway and driveway!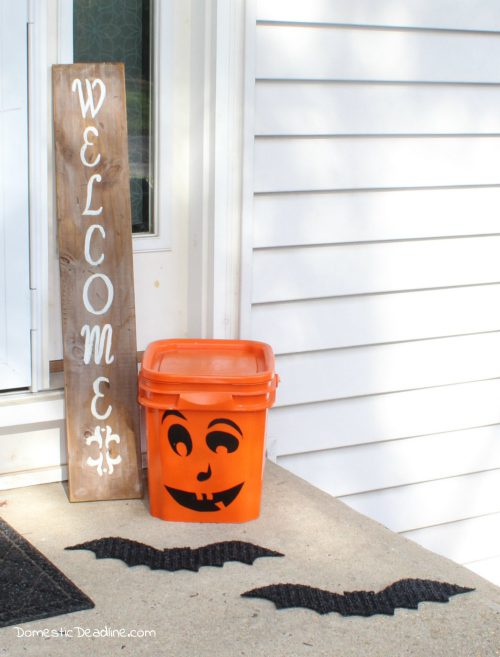 We are about to have the front steps, porch, and walkway completely redone. In the meantime, my bat doormats help hide the cracks and keep the entrance festive.
Project Challenge
Check out what my fellow bloggers did with buckets or containers this month!
Lisa made this beautiful hanging kitchen planter: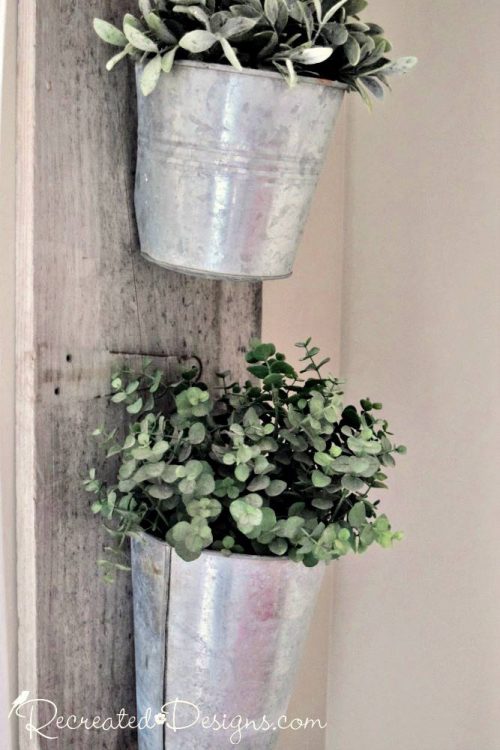 Michele used an olive bucket with festive outdoor decor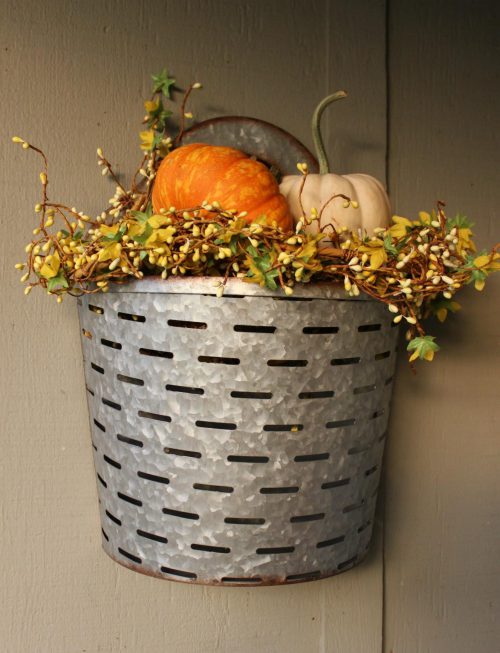 And Judith made this beautiful planter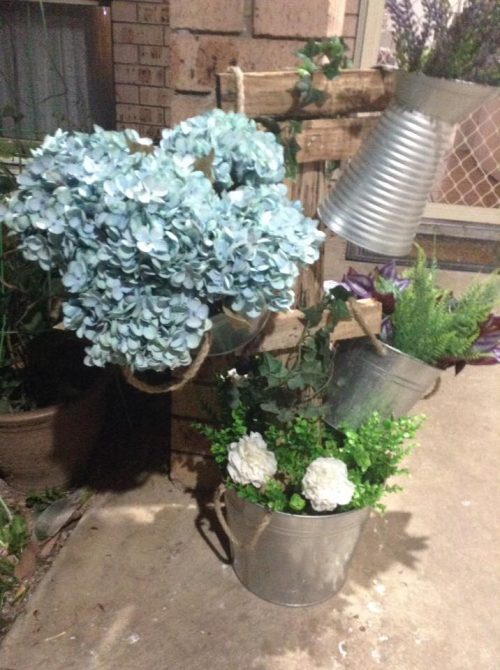 Pin and Share
As always, feel free to pin and share!