I am not exaggerating when I say I was literally dancing around my kitchen the morning my counter tops were installed. A full kitchen remodel takes a great deal of planning. Months before demo day I began the process of selecting counter tops. The process was both exciting and educational and I'll share it with you today.

Warning: Some pictures were taken on my phone, a few on my old camera and the install and finished pictures with my new DSLR camera… that I'm just learning to use now… because everyone needs to take up a new hobby while renovating their kitchen, right?
Pre Planning
In this digital era we live in, I started my renovation planning the way most do, on Pinterest. I started with overall looks that I liked in kitchens. Then I looked for trends in my pins.
I almost always loved Carrara marble counter tops.
This didn't really surprise me. I've always loved white marble.
I also knew I didn't want the upkeep or expense of real marble. Quartz was the best option for me and my family.

Comparing Options
The showroom where I selected my cabinets offers a few different counter top vendors. They were my first option. I picked up several samples that met my "marble look" criteria. Then came the prices.
I'd expected them to be high. But, I felt I'd have to cut out some of my other choices to get my favorite. Or settle for something that was just ok.
Next, I hit the big box stores. Normally I'm not a fan of theirs for this type of product. Especially after my local one quoted me $14,000 for laminate counter tops in my old house… The "kitchen specialist" calculated the entire square footage of my kitchen times the additional fee for a different edge I'd asked about.
But, that was in my old kitchen (needless to say, I didn't go with them then either). This time I went in the evening, knowing they don't have a kitchen planner there later at night. I simply looked at the options and the prices listed. It was a bit less, but I didn't really care for my choices. I would be settling here too.

Then, I walked into a few local show rooms. One place was super pushy and tried to steer me towards granite which I specifically said I didn't want. I left without any prices.
On a whim, I checked out Ikea. I was in the store for something else but noticed they were putting up signs for their kitchen sale. I found an option I really liked. Actually, it was my first choice from the cabinet show room.
Ikea was within reach! If I ordered during the sale. I had a solution and I was happy!
Then, I happened to talk to a neighbor. Who gave me a referral of who he had used. A name (Mike) and a phone number. Taking a chance, I called. His verbal square footage quote was less than anyone else.
And, he suggested I go check out a stone yard…
By the Slab
Armed with a texted picture of a business card, I went to check out the stone yard. My new counter top guy said he'd gladly bring samples to my house when he came to measure. His turn around was one week from templating. He kept his overhead low by not having a showroom and bringing samples when he did the templating.
That meant I was trusting his price would be better than Ikea's sale price. Because if his price was higher when he came to template and give me a final price, I'd be missing Ikea's sale.
But, I went to the stone yard to get an idea of what I could select and make sure I'd find what I wanted. I was looking for "Carrara Marble" for most of the kitchen and an accent for the island.
This one jumped out at me because it was gray, black, and white.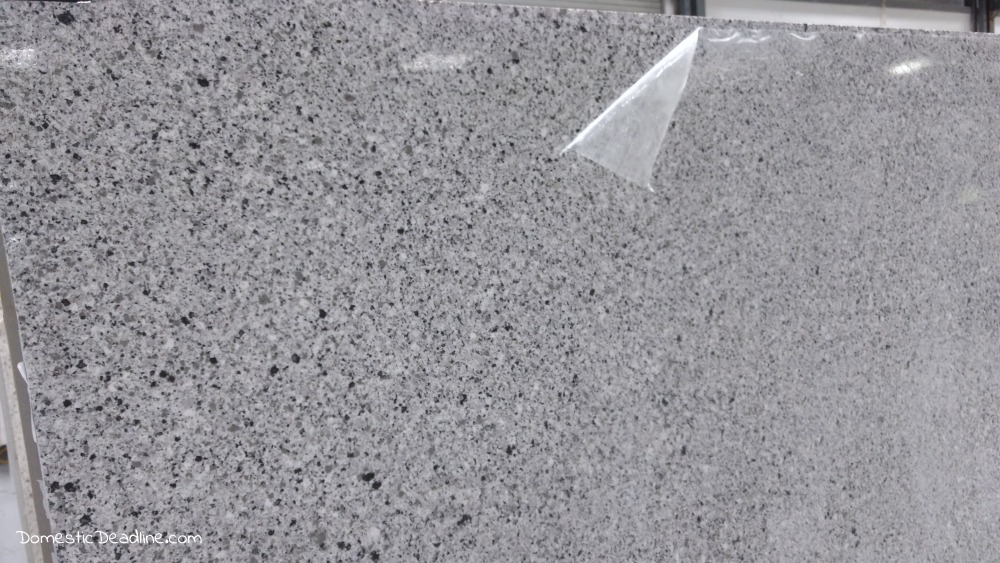 And then I found this… it made me think of concrete, which I really liked.
There were several "marble" looking quartz options to choose from. And no matter where I wondered in the warehouse of counter top slabs, I kept finding this finish.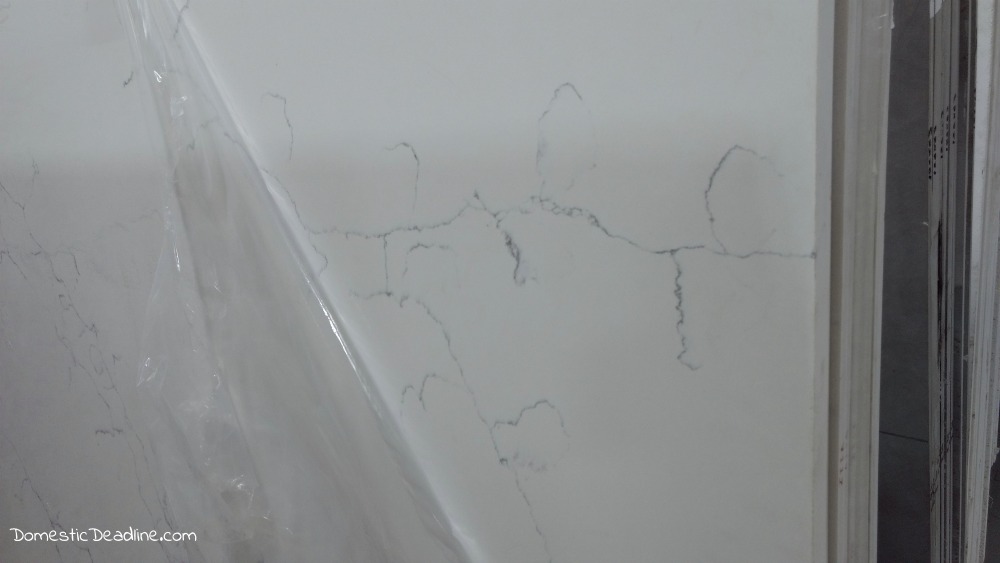 The helpful gentleman at the stone yard laughed… I managed to find the "Calcutta" quartz in 3 different thicknesses and each time tell him to add it to my list. My first 3 choices were the same finish! My 4 and 5th choices were also the same finish, but in different thicknesses (for things like kitchens, bathrooms, and floors).
He gave me a sample piece of both.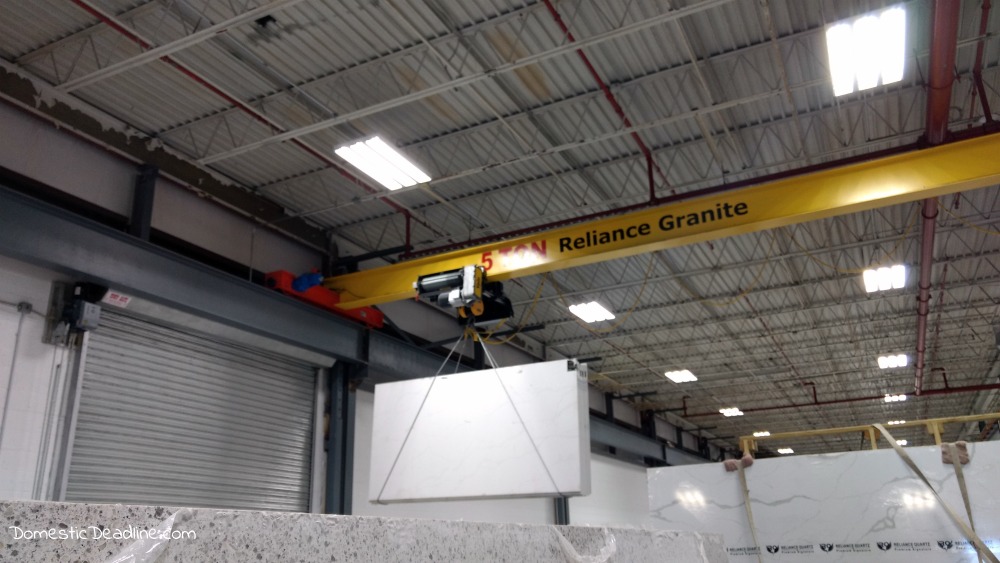 I got a real kick out of watching the giant stacks of slabs be moved around the warehouse. They offered to move my first 3 choices next to each other and show me how they were all the same but different thicknesses!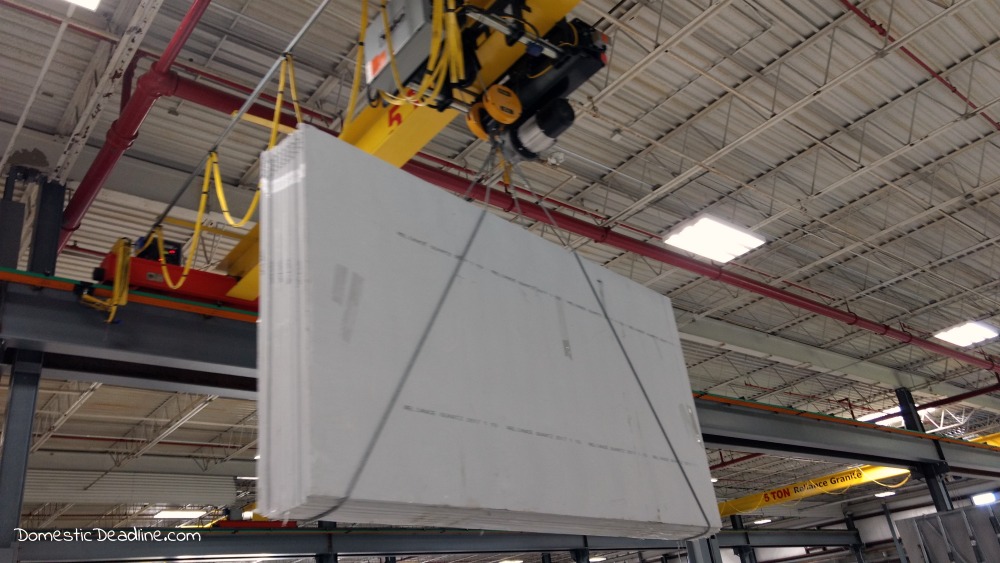 I believed them without having them moved!
Templating Counter Tops
With demo done and the tile laid, the cabinets were installed. I then scheduled the templates to be made. I've seen this done via by laser measuring and with wood strips and hot glue.
Mike and his assistant came to template. They prefer the old school wood and glue templates.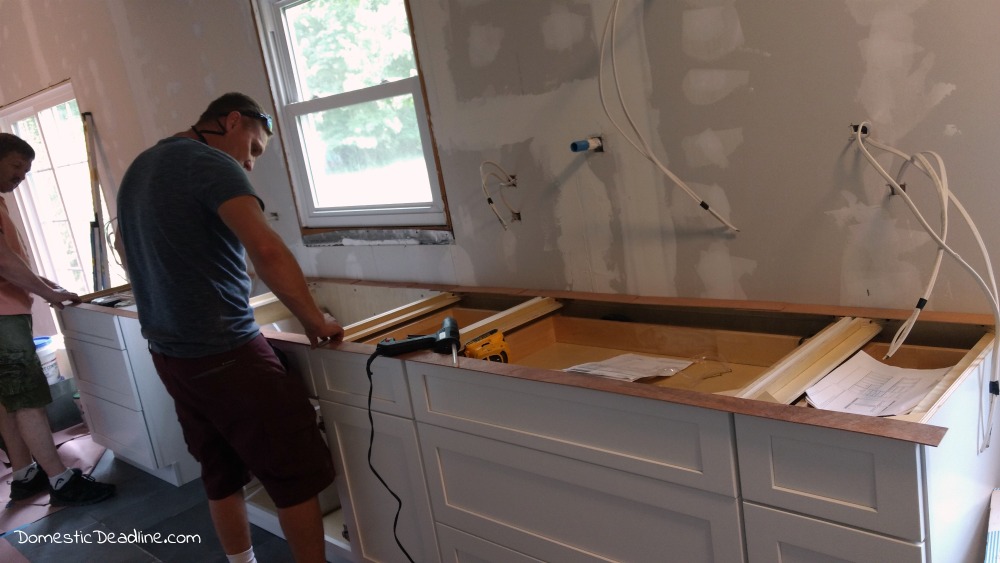 It's kinda fun to watch. Any little waviness in my walls was taken into account.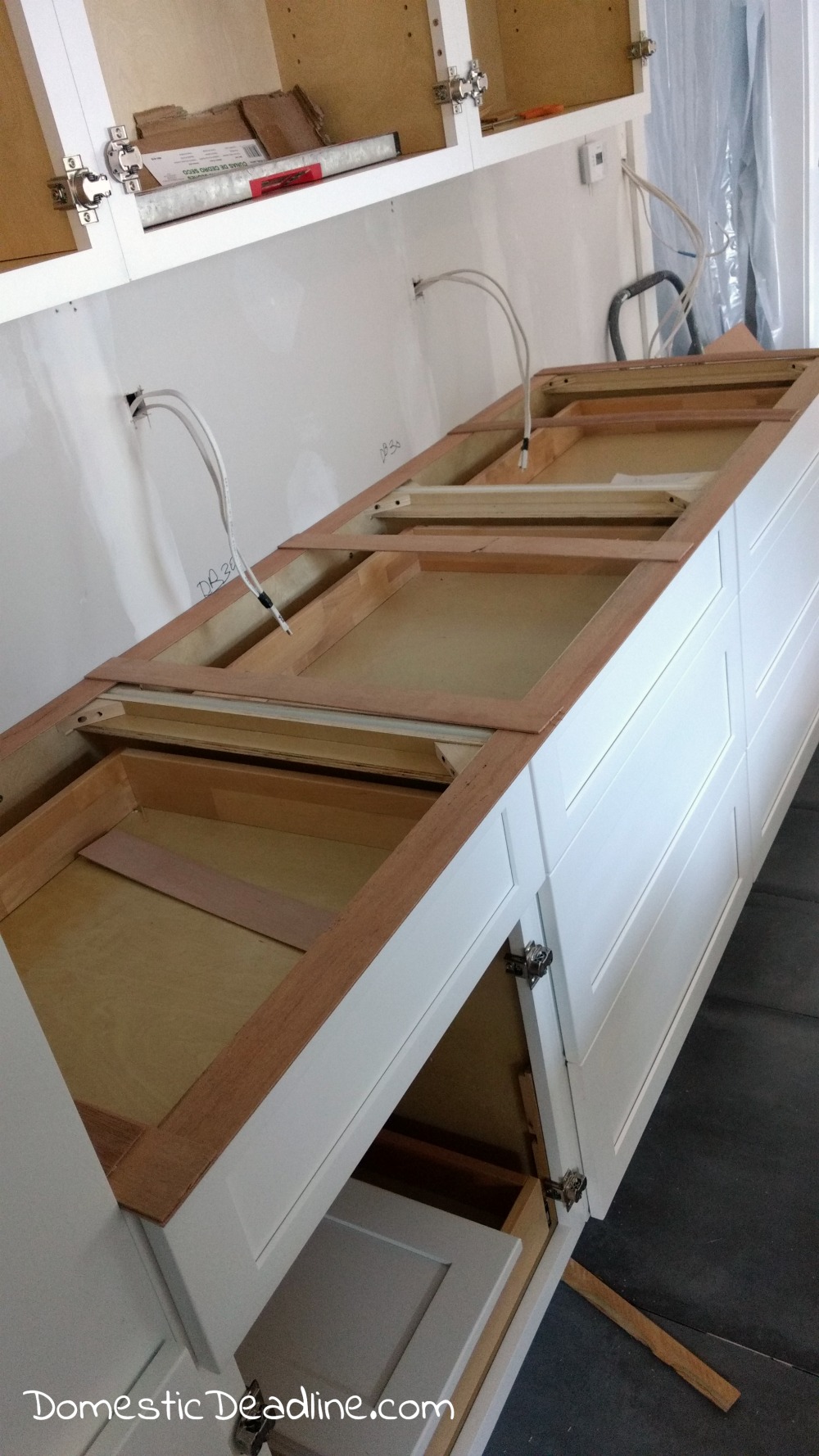 And, since my back wall calls for a length longer than the length of a slab, there would need to be a joint.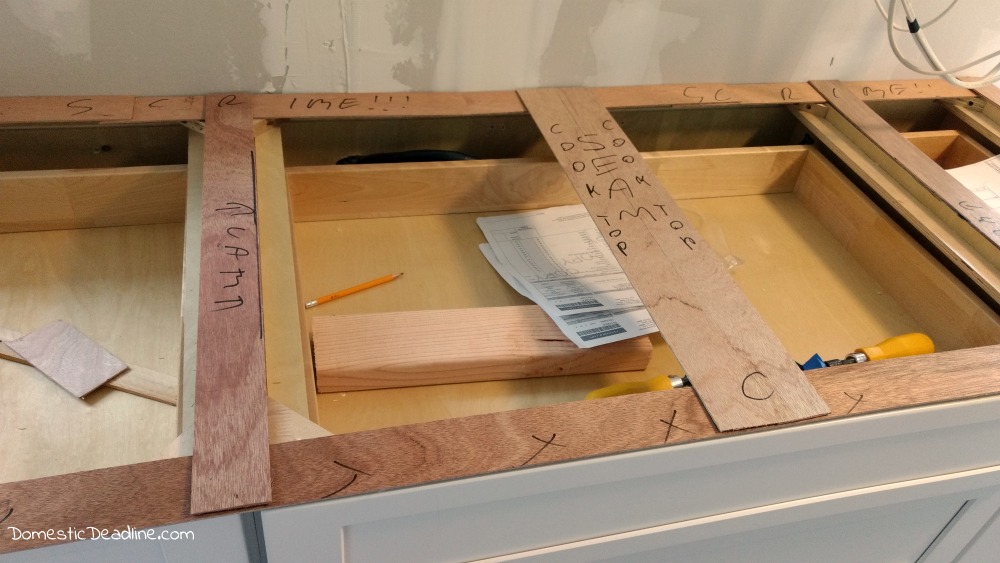 This would be at my cook top so it's not as noticeable.
The price came in $400 below my budget!!! And, it was my favorite of all the choices out there. It pays to ask around (if you live in the NJ area, email me, I'll share Mike's info with you!).
Installation
Yes, they laughed as I danced around taking pictures while they carried in heavy counter tops.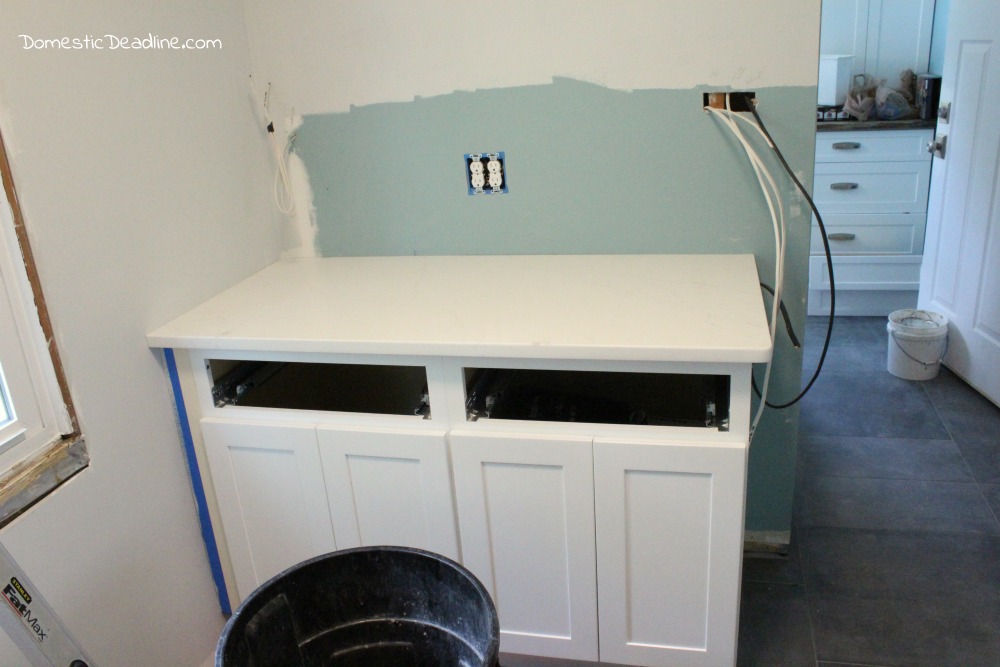 Tasha's "baking area" got the first top.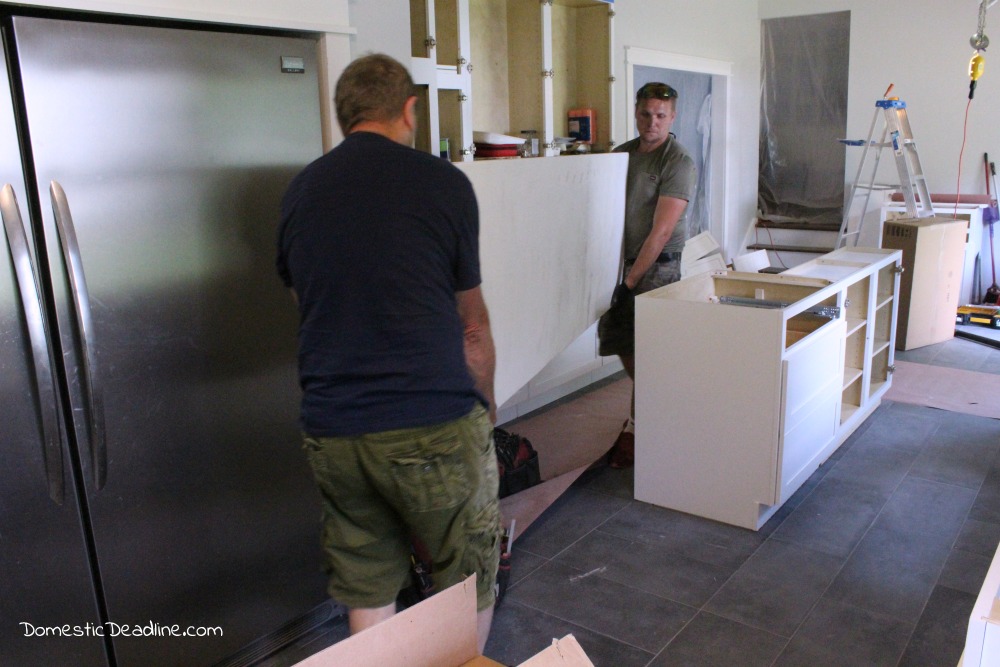 My island was next.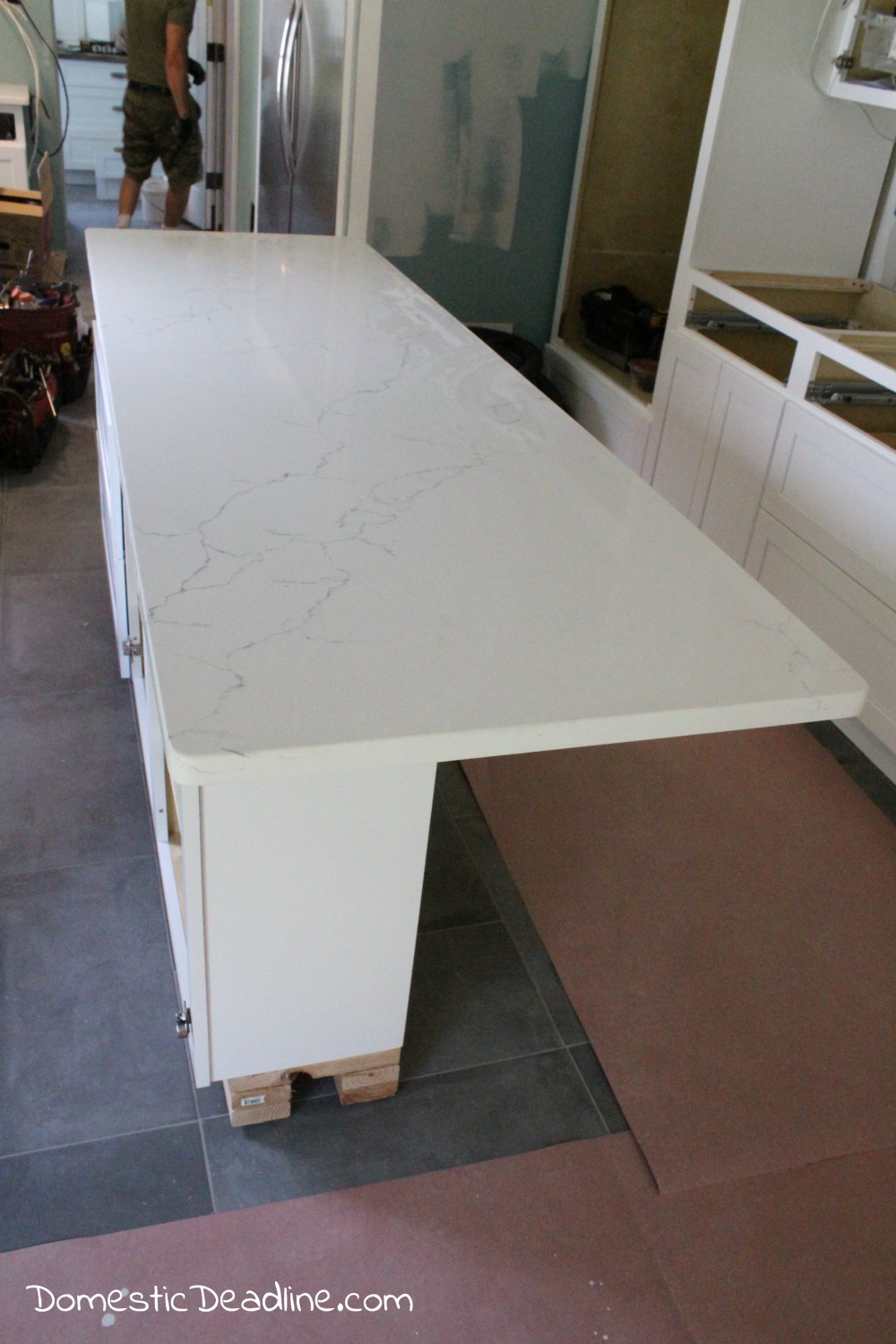 Since I loved the "Calcutta" marble so much, I decided to have all the counter tops be the same.
Here's a close-up. I love the large veining.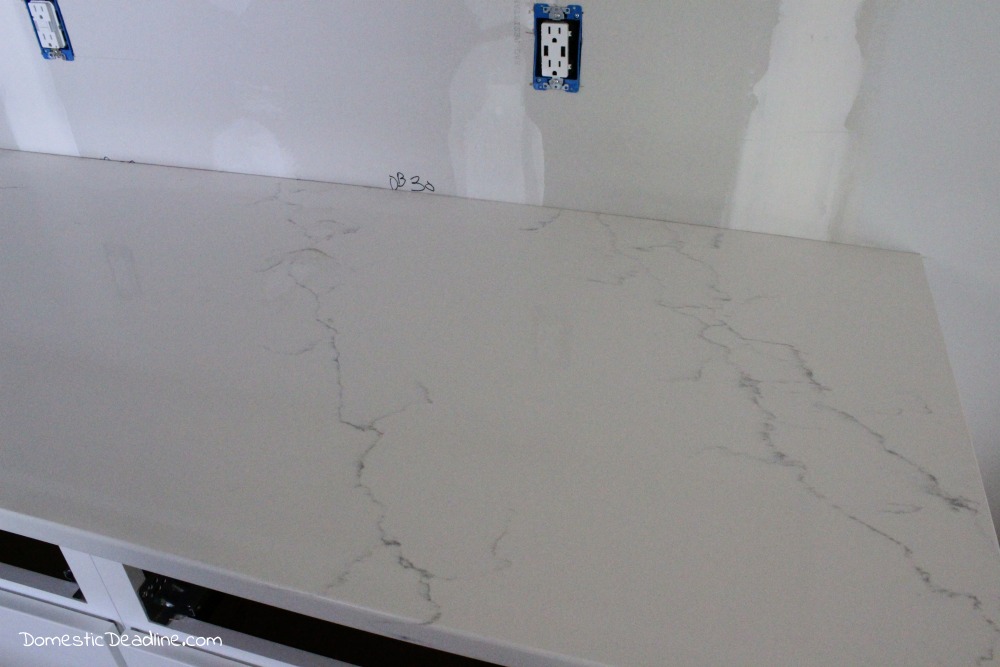 Then, it was time for the biggest piece to be brought in. Through the back door.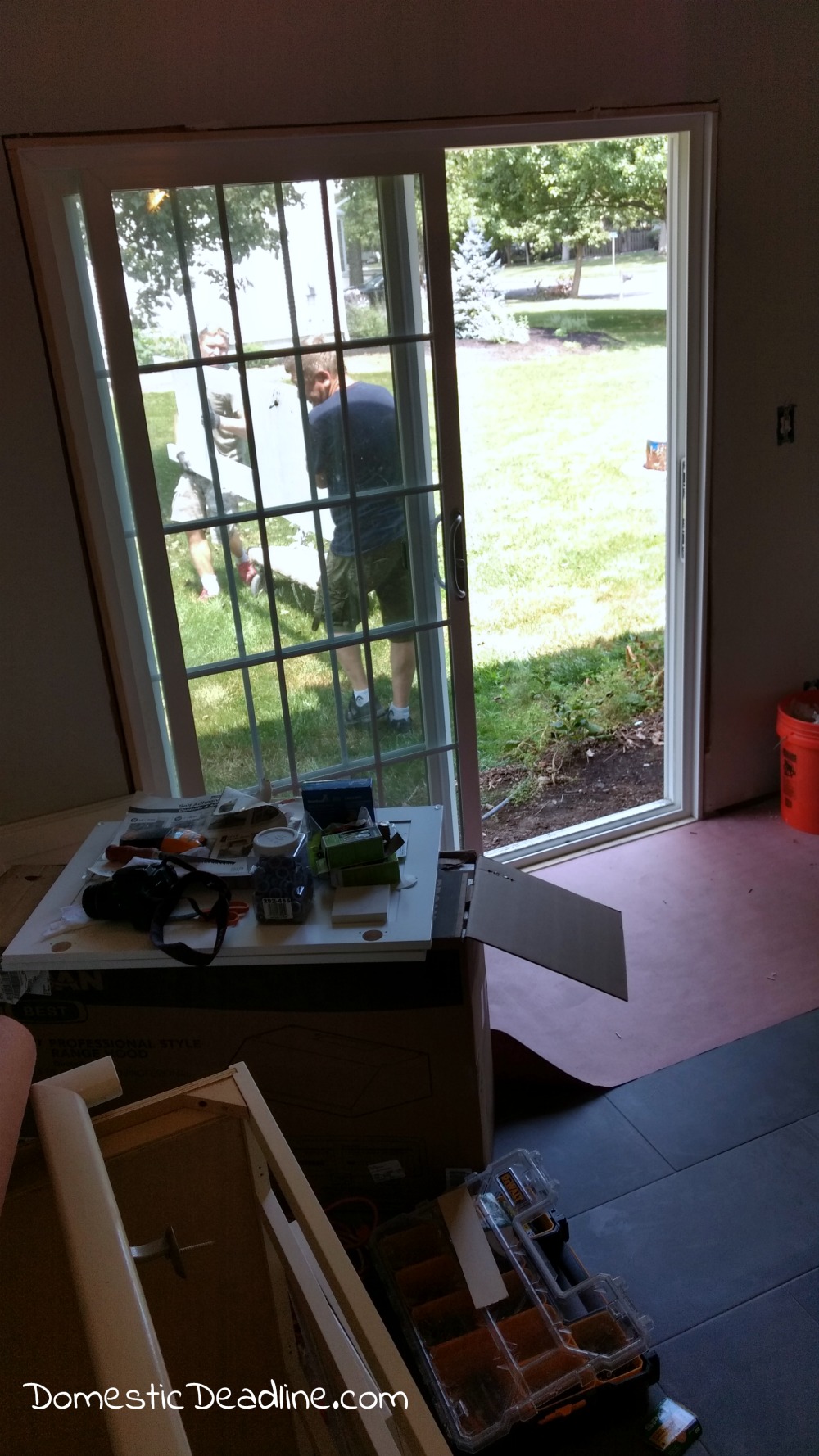 Darn good thing we took that wall down!
The hole for the cook top was cut outside. And a perfect fit, I might add.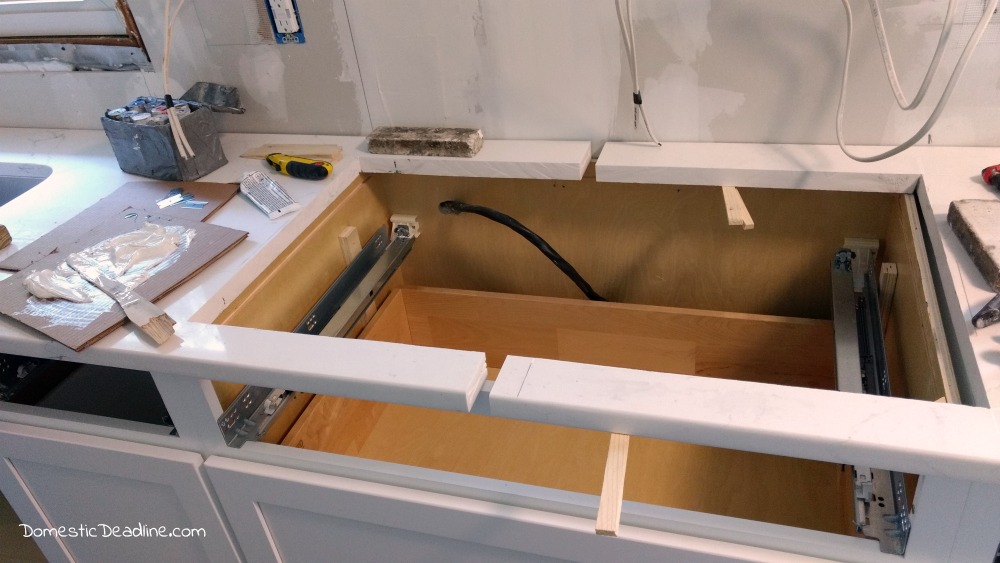 My under mount stainless steel sink (which I am almost as giddy about as the counter tops).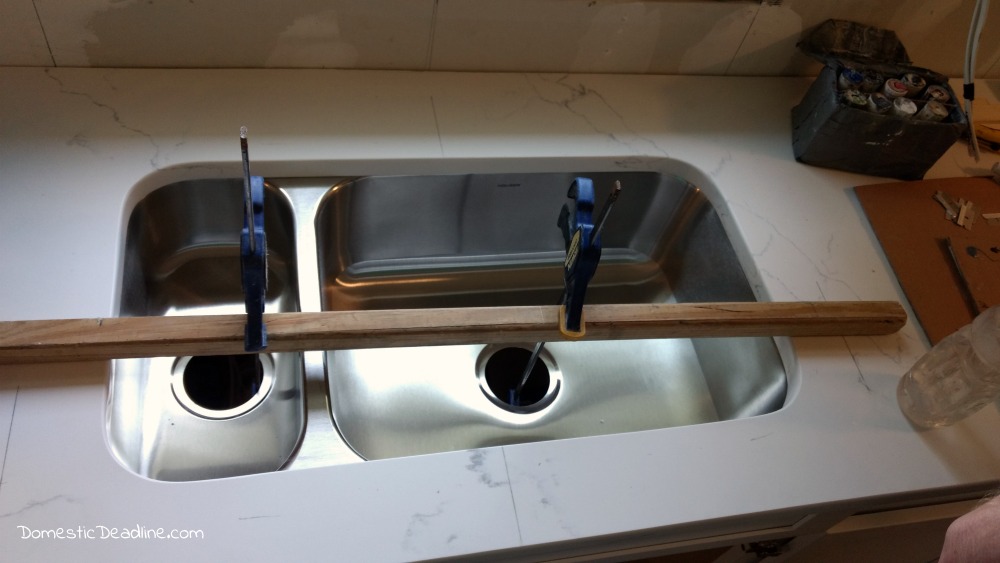 Counter Tops
In just a few hours, my kitchen went from still looking like a work zone…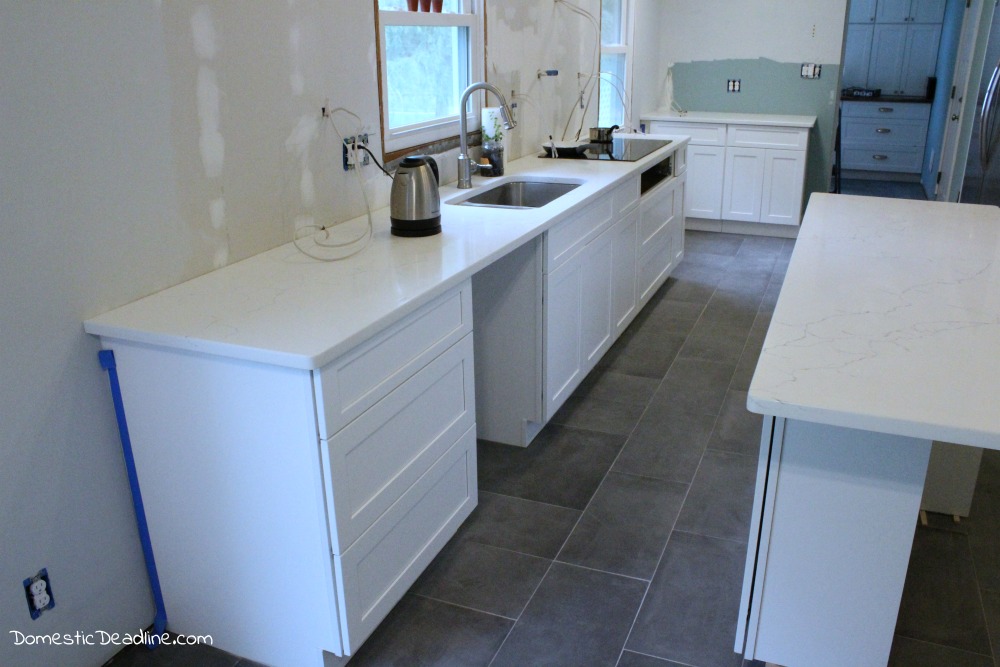 To functional!
With the cook top and faucet in, I boiled water… just to make sure the cook top actually worked!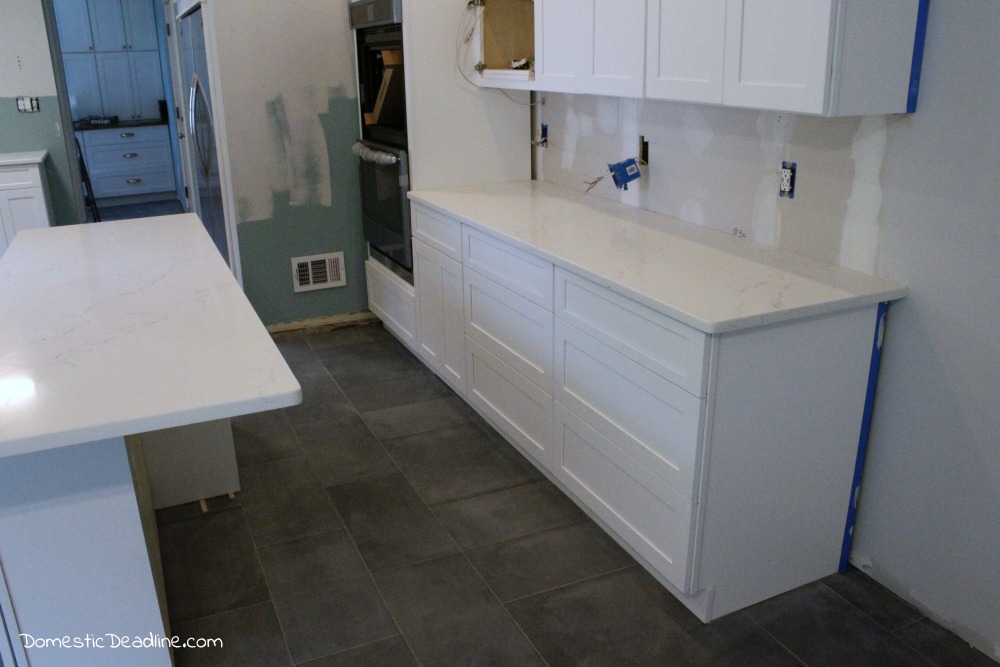 And, I now have over 3 times as much counter space as I did in my previous kitchen. THREE TIMES!
Now do you understand why I was dancing around?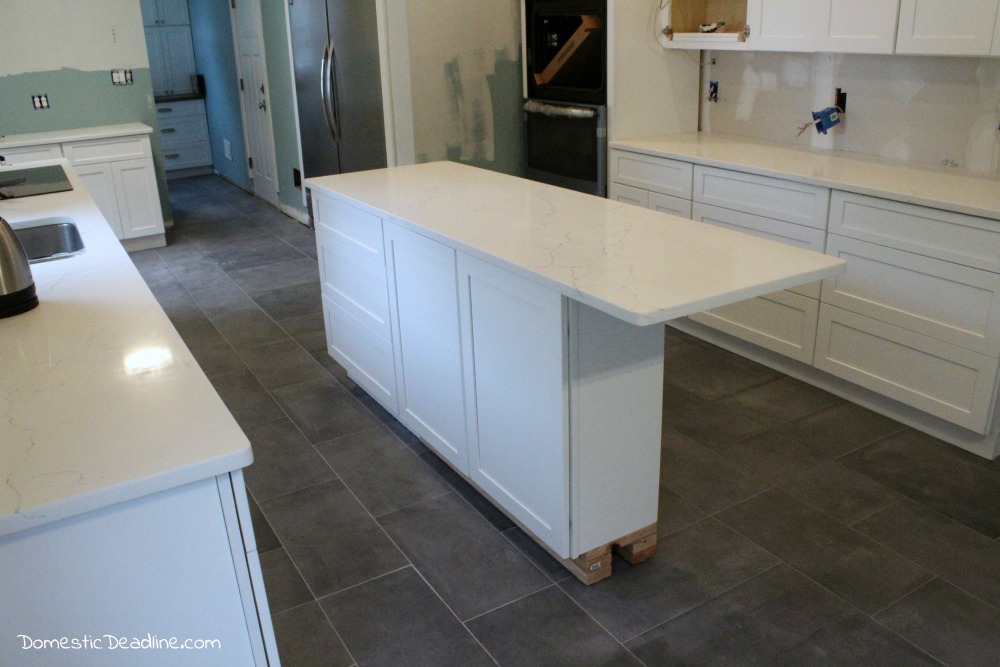 This is the view I had the next morning when walking into my kitchen!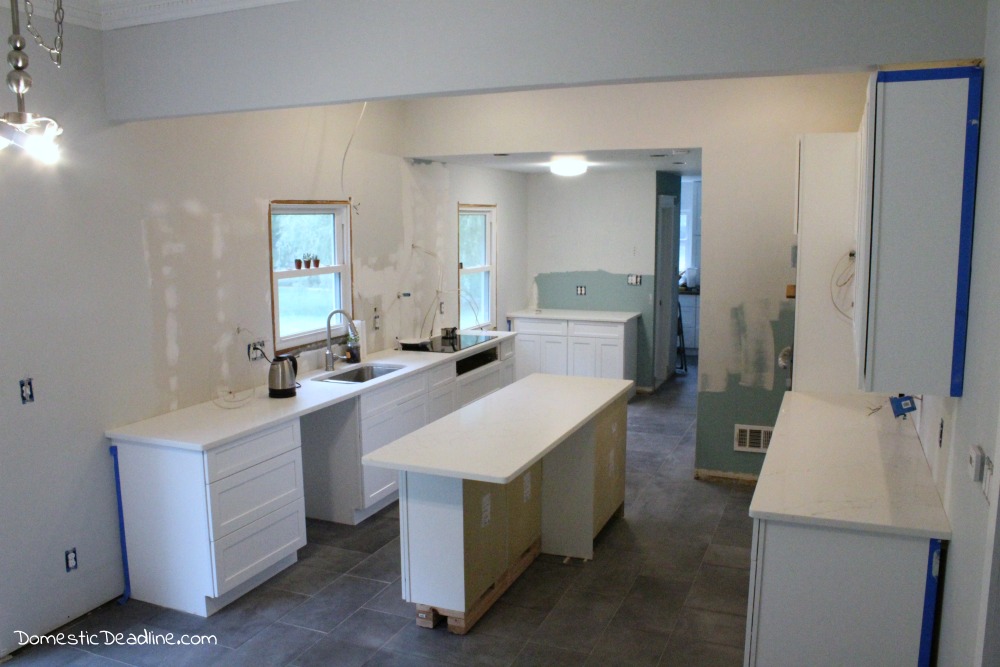 I never knew how happy a kitchen could make me.
So, I drove to Ohio for a vacation and to bring my kids back home…

Pin and Share
Feel free!