If I'm not crafting or constructing something, you can probably find me on Pinterest planning a future project. So when Home Made Luxe and Share-A-Sale offered to send me "Pinterest in a box" to try, I jumped at the offer. Check out my DIY Marble Hexagon Clock. This trendy clock would be stunning in anyone's home.
Delivery!
When I agreed to try out Home Made Luxe, I didn't know what to expect. A few days later this box showed up on my doorstep.


Admittedly, I'm a craft hoarder. I have a whole craft room dedicated to holding my supplies. Actually, that's all it does because I don't really have room to even craft in my craft room! But, that's for another post completely.
I was anxious to see what was in this mystery package.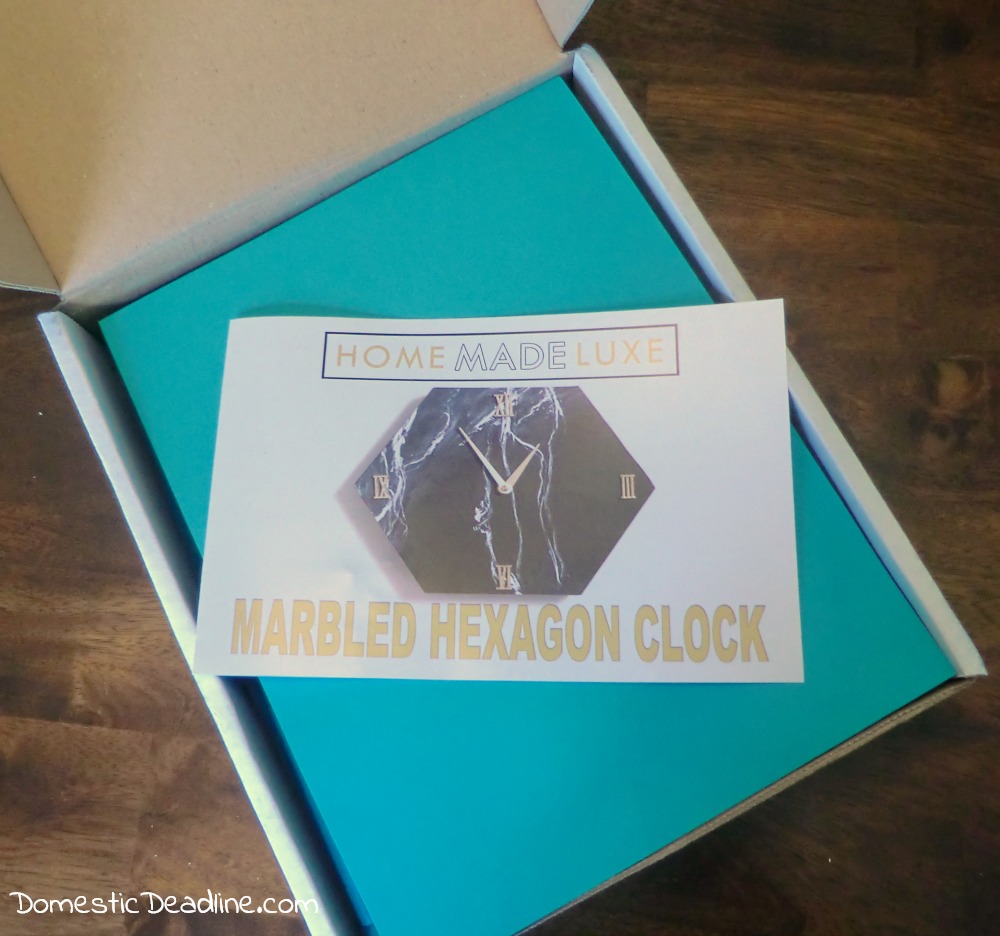 I've made clocks before. Frequently out of the same reclaimed wood I used to make my Chalkboard Menu, this contribution to the #MondayMovieChallenge, and O-Man's Martial Arts Belt Display.
And I love marble! I've already selected Carrara marble looking quartz for my new kitchen countertops. Four different marble tiles went into my powder room bathroom floor too.
So, I was definitely intrigued…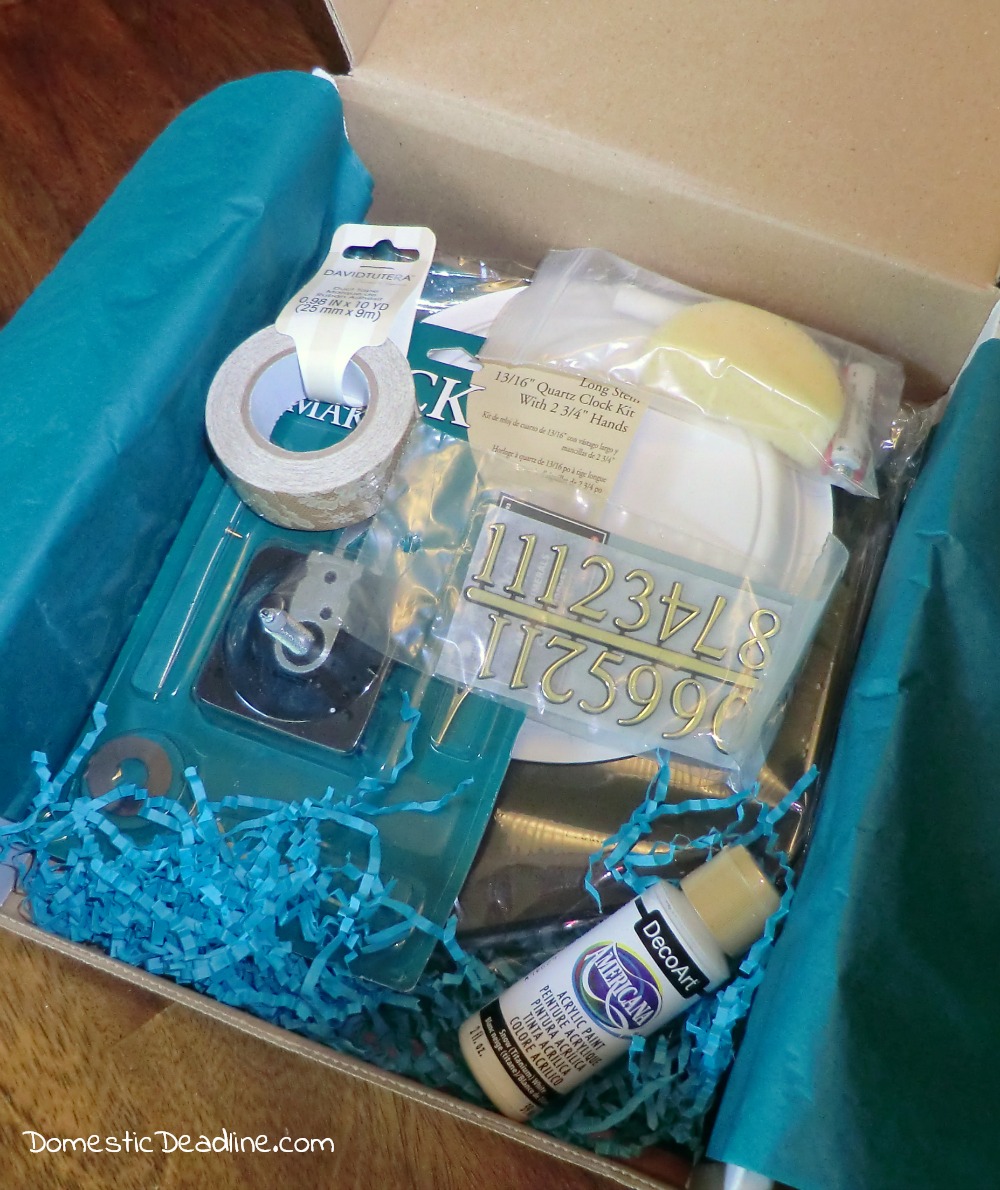 I unwrapped the contents of the box to find everything I needed. Down to the brush and a disposable plate for mixing the paint on!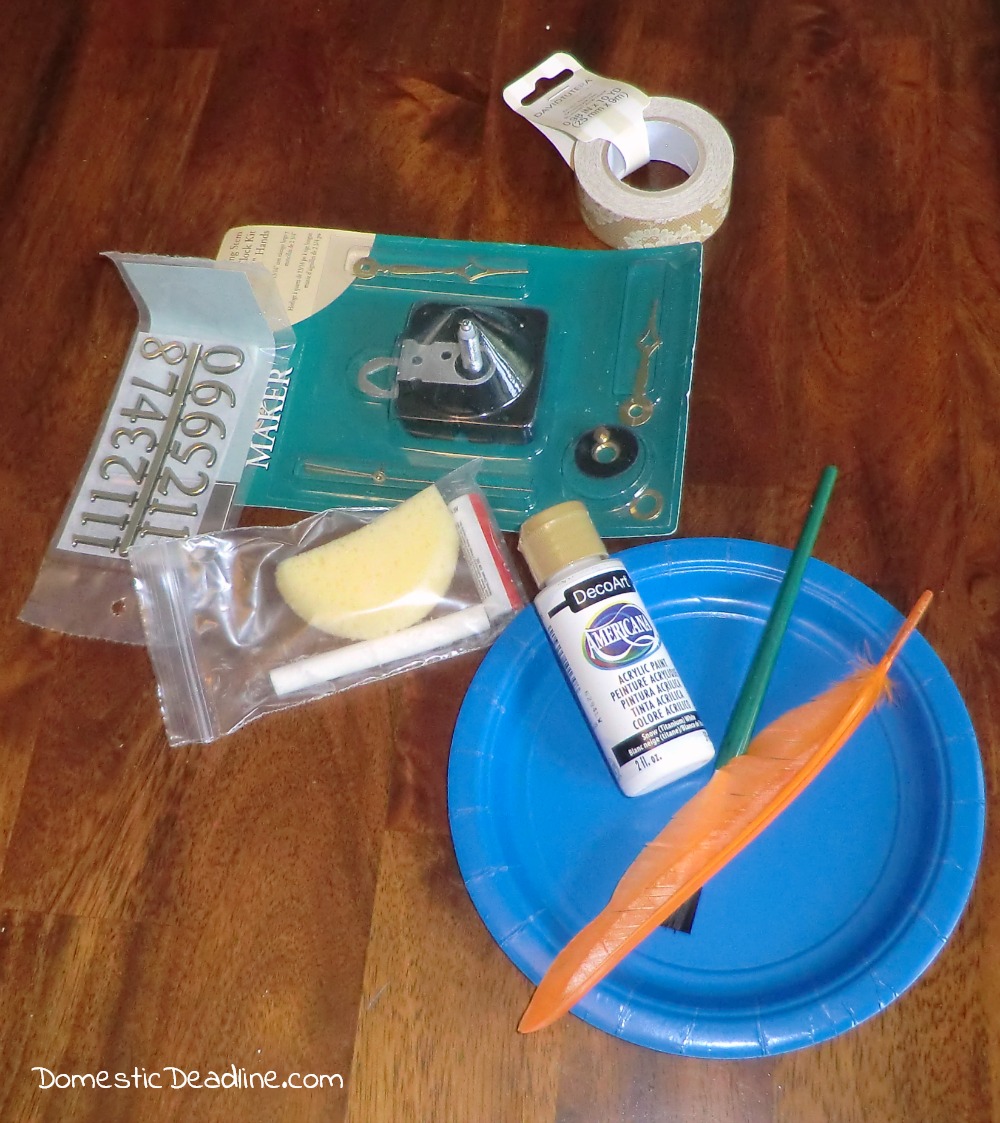 Getting Started
First, I should mention, I struggle with making something exactly as directed.
When it comes to crafts, I really enjoy the creativity of making something my own.


But, Home Made Luxe included a few ideas for how to make my clock. They were all fun and the directions were clear.
Practice Makes Perfect?
I decided I'd go for the marble suggestion. Even a piece of card stock was included in the box. The directions explained to water down the paint.
Then, using the feather included, paint "veins" of white on the black chalkboard base. Using the included sponge, soften the lines.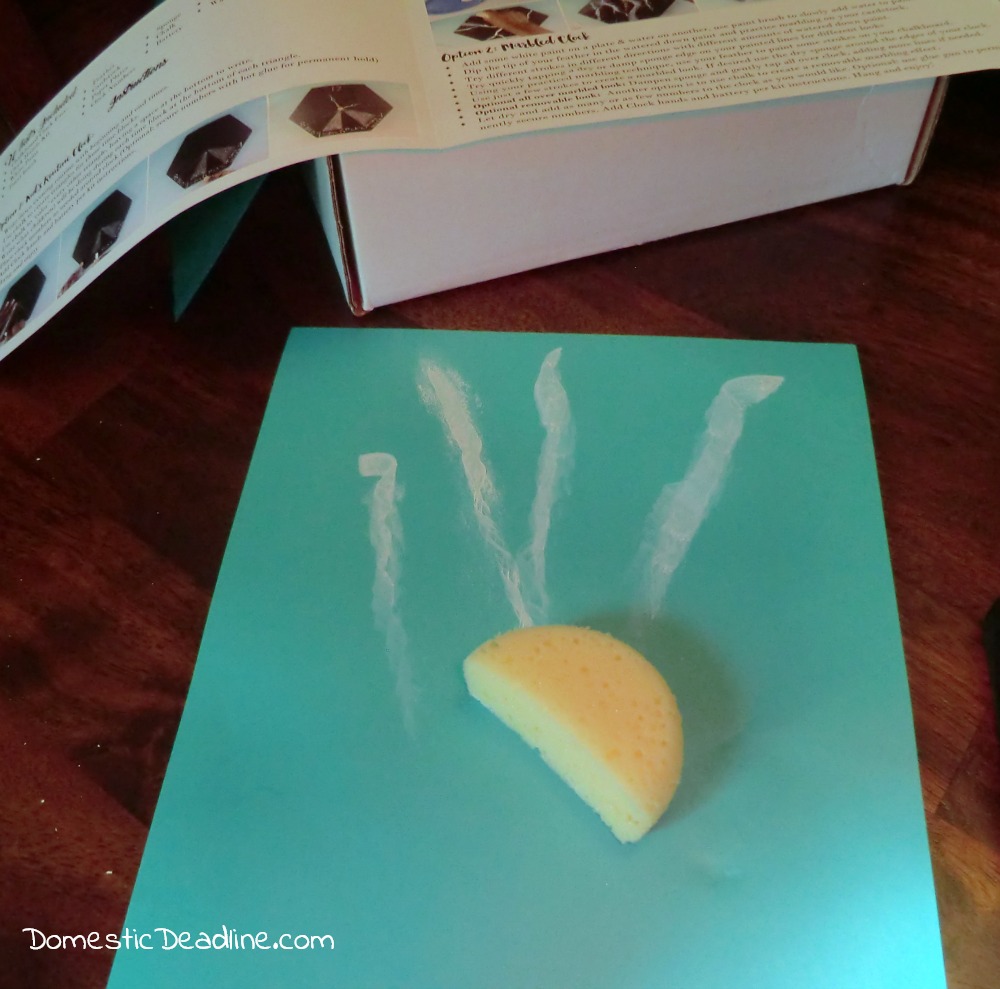 After a few attempts on the cardstock, I decided I was ready for the real thing.
Oh, I should mention, since I already had an open bottle of white craft paint, I used that. I'll save the bottle from my box until I use up some of my open bottles and jars.
And, in true Emily fashion, I got a bit carried away!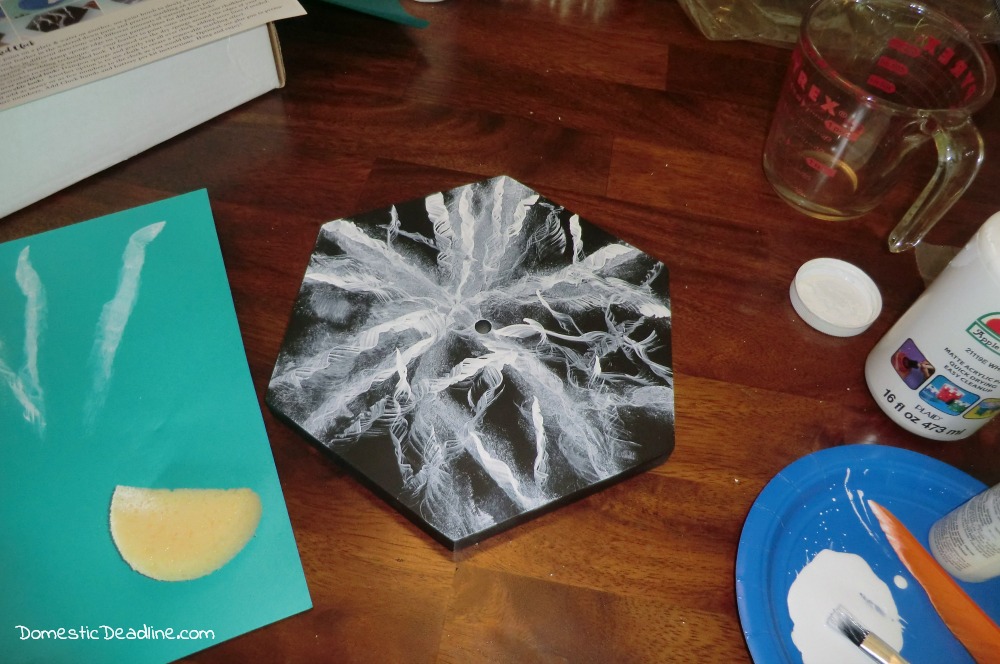 More is Better?
So I just kept going! While my powder room floor does have black marble in it, I'm more drawn to white marbles.
I continued to paint with the feather, adding more and more. Dabbing the sponge over the veins.
Then I grabbed a bottle of gray paint. Using it in it's intended color and lightening it with white, I added some gray veins.
Until I finally decided I had achieved the right marble look.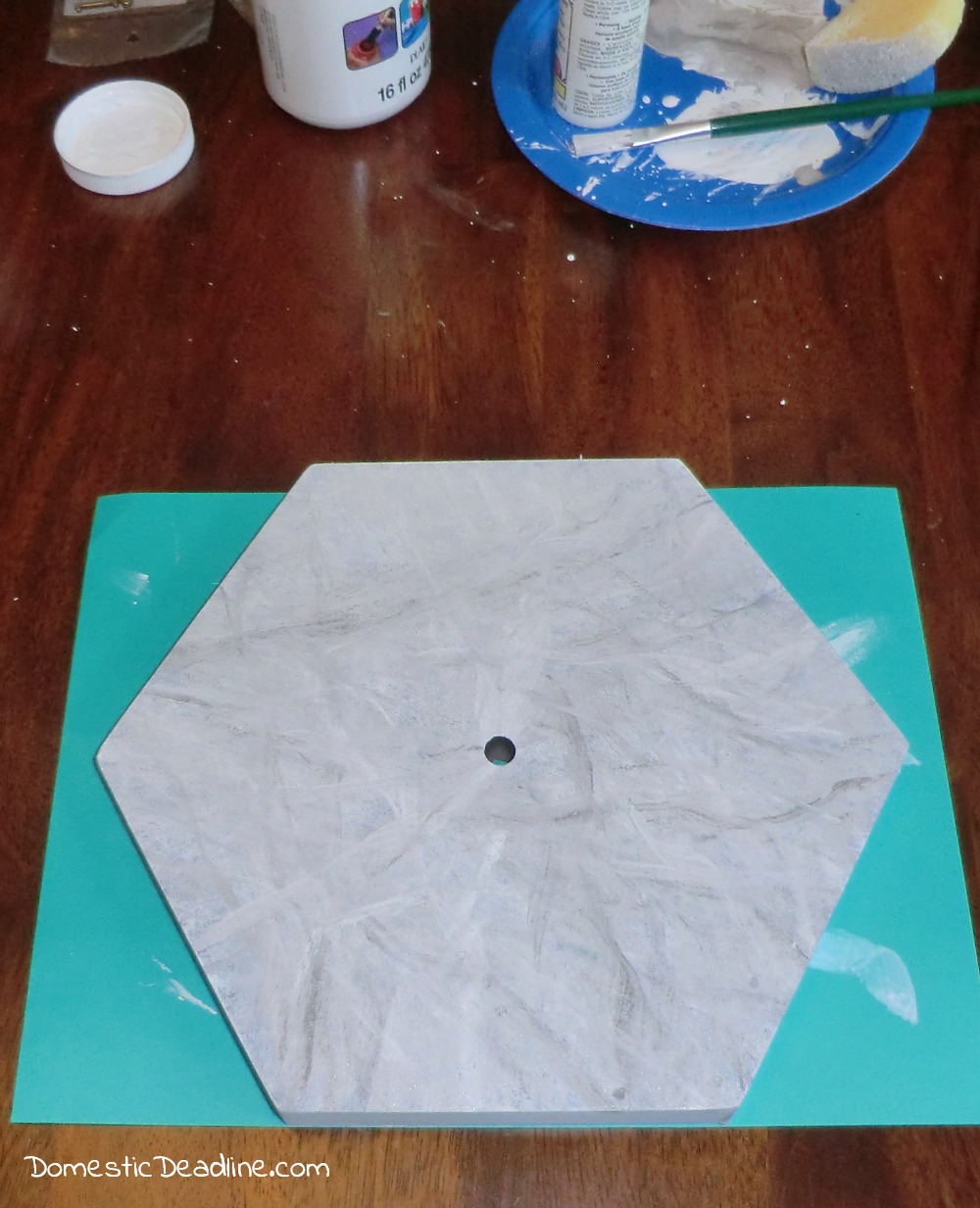 Time Keeps on Ticking
If you've never made a clock before, clock kits are very easy to use.
Not only did Home Made Luxe include the clock kit, but a battery and clock numerals as well.
With the hole pre-drilled for me, the clock went together in a matter of minutes.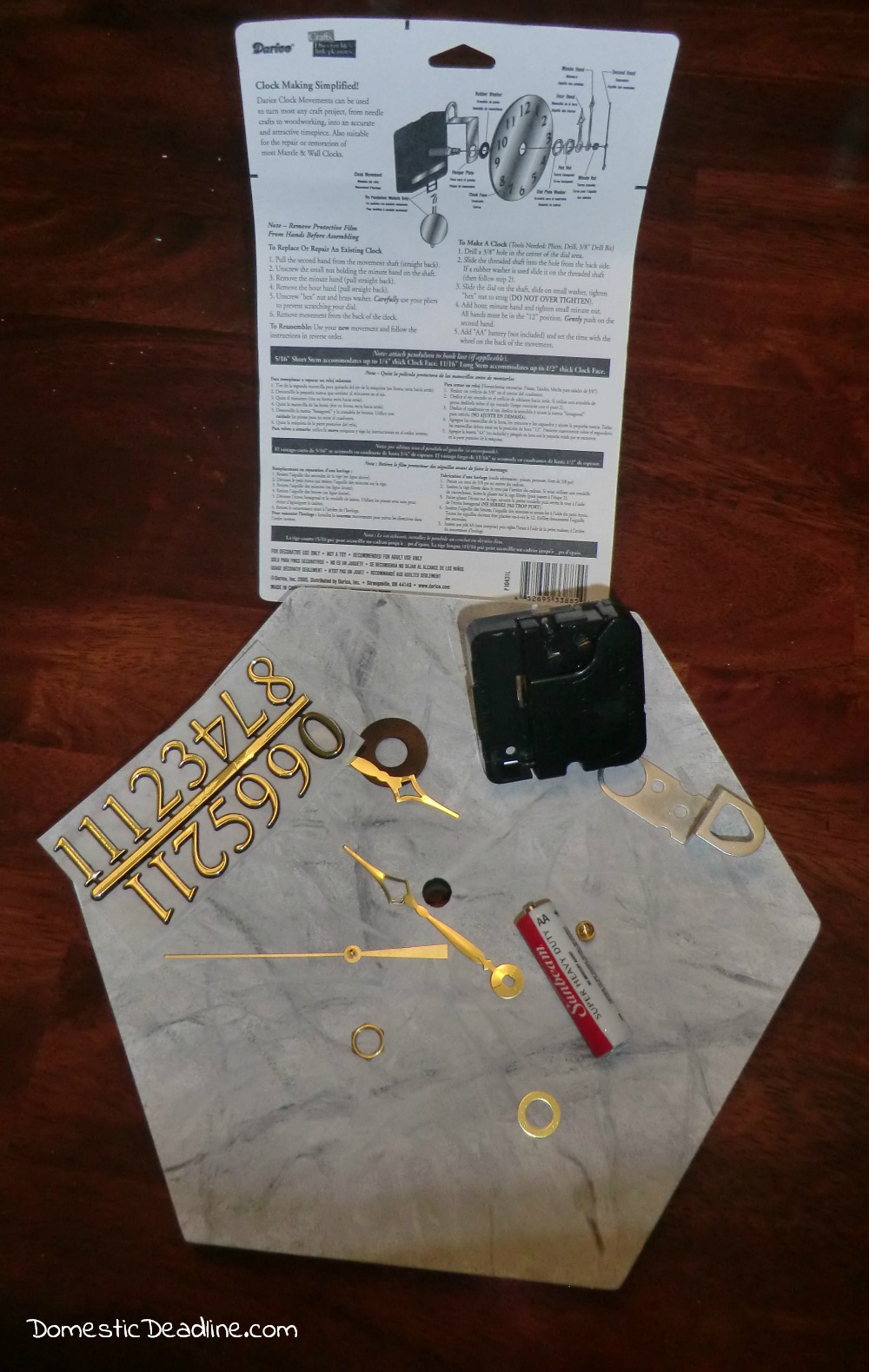 Yes, pun intended!
Despite the trend in gold tones, I'm still a brushed nickel and silver fan. But, I'm also not afraid to mix metals. And, a little gold can add a nice layer to a decor.
I opted to use 3, 6, 9 and 12 only on my clock. But, I have the other numbers if I change my mind later!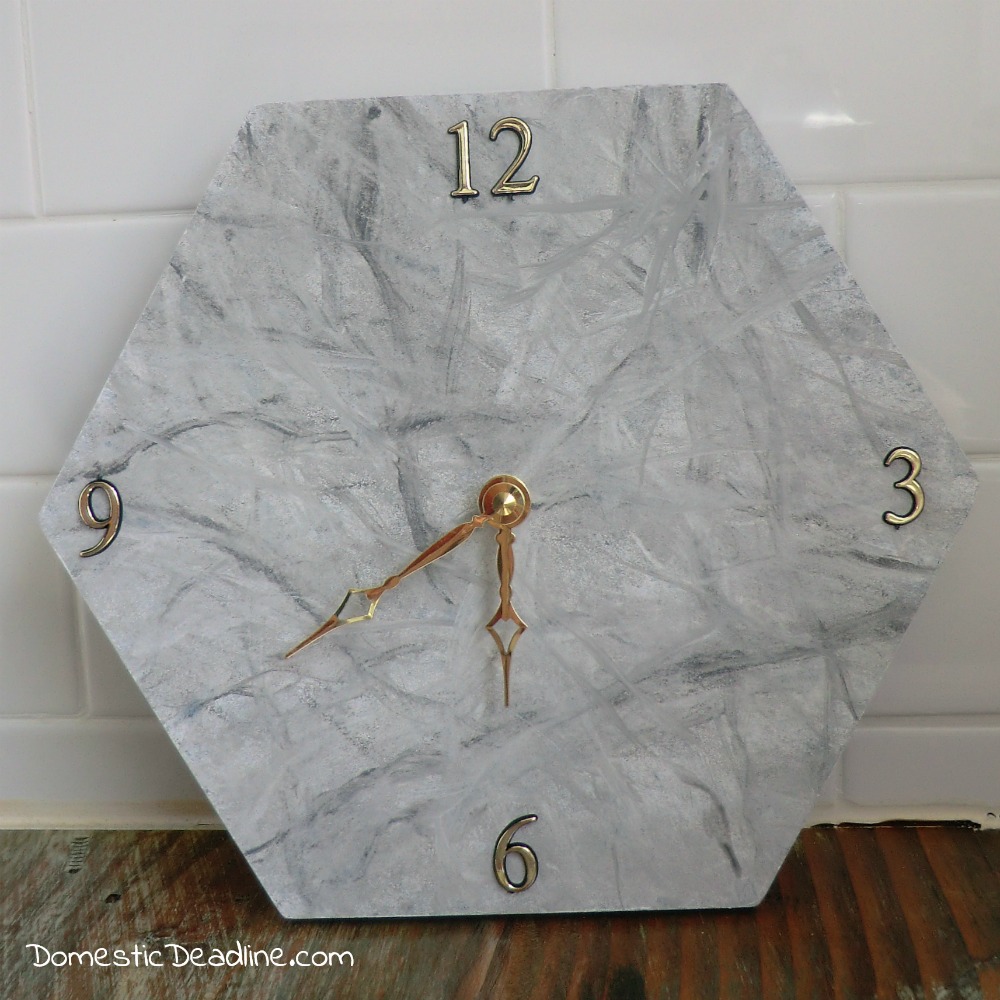 Home Made Luxe
Despite the quantity of craft supplies I have, they can actually overwhelm me!
Many months I've been participating in a #CraftRoomDestashChallenge with a group of bloggers. I like this challenge because it makes me go into my craft room and come up with a project to make with what I already have on hand.
It's often therapeutic to me. Like solving a puzzle; making pieces fit together.

Because a little too often, I'm just overwhelmed with the supplies I have and all the intentions I had when I acquired them.
With Home Made Luxe, everything I needed was included in one neatly packaged box.
I was able to sit down and in about a half hour, have a completed project. And a feeling of accomplishment!
The motto of Home Made Luxe is right up my alley. "Create a beautiful home one project at a time."
Home Made Luxe has a variety of options such as:
If you haven't heard of Home Made Luxe, you should check them out!
Pin for Later
As always, feel free to pin and share!