Most of my blog posts lately have been all about my kitchen. That's pretty much going to continue for a few more weeks. It's been an enormous undertaking. I knew it would be my biggest DIY project ever. I've been trying to squeeze in writing a few posts each week as it has progressed. Many things are just on the cusp of being finished, the finished project is so close I can taste it. But I'm also exhausted! Every time I walk into the kitchen and switch on the lights, I get giddy! And then I want to cry because all the little loose ends seem to take forever. In a fit of giddiness, I grabbed my camera and took a few pictures of the lights to share with you today.
Please note: I received product in exchange for posting, but the opinions are all mine!
Planning
You may remember I shared the behind the scenes of planning the lighting layout. My friends at Denney Electric are amazing. With their help, IronFish and I knew where to put holes in the ceiling for the recessed and pendant lights.
Tons of electrical work was done for our kitchen and IronFish climbed around in the attic on hot days so we could reduce the drywall work on the ceiling.
But, planning was a bit more than knowing where the holes in the ceiling would go and the number of kelvins.
In all my years of dreaming of this kitchen, I envisioned beautiful pendant lights accenting everything perfectly.
The problem? I knew I'd find the perfect lights for the kitchen, I just hadn't found them yet.
Katie, at Denney Electric, listened to my description of my dream kitchen and helped me find the lights that made me say, "Yes, that's exactly what I want!"
Selection
The showroom in Ambler, PA is just a sampling of the amazing products they offer.
Just walking around the showroom was a treat.
Katie found these amazing Savoy House pendants for over my island.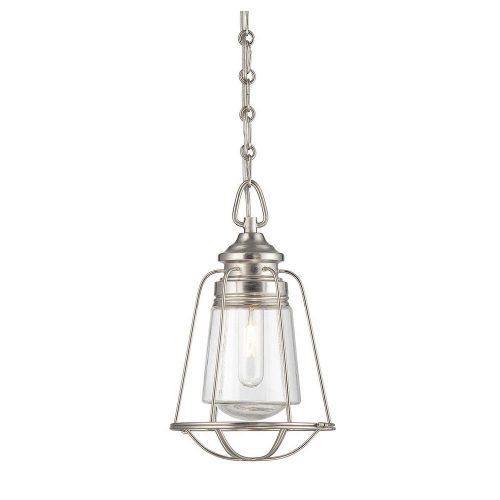 One of the things we did when we first moved in to give the house a cohesive look, was to change all the doors to a classic Craftsman style and the knobs to brushed nickel. I love how this pendant plays off that.
My style, in general, is eclectic. I love vintage, farmhouse, industrial, craftsman… you get the point.
So, of course, I couldn't have everything too matchy-matchy. The sink pendant needed to be something coordinating but different.
Katie suggested this Feiss pendant light with seeded glass.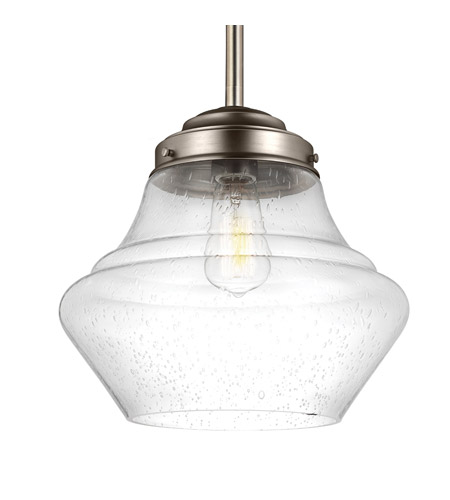 Both lights come in other options (like aged brass or oil rubbed bronze) but to me, brushed nickel is classic and timeless (too much brass from the 80s and 90s!).
Installed
It has amazed me how long some of the smaller projects have taken. But, the kids are home and I'm working more. It's kinda like getting dressed for a big event and then agonizing over the jewelry. Sometimes those finishing touches can take the longest.
And, I want to preface this with, I'm still learning how to use my new camera! Because isn't the middle of a kitchen renovation the perfect time to buy a new toy?!?!?
I find myself standing happily at my kitchen island now, tools meals cast in the perfect light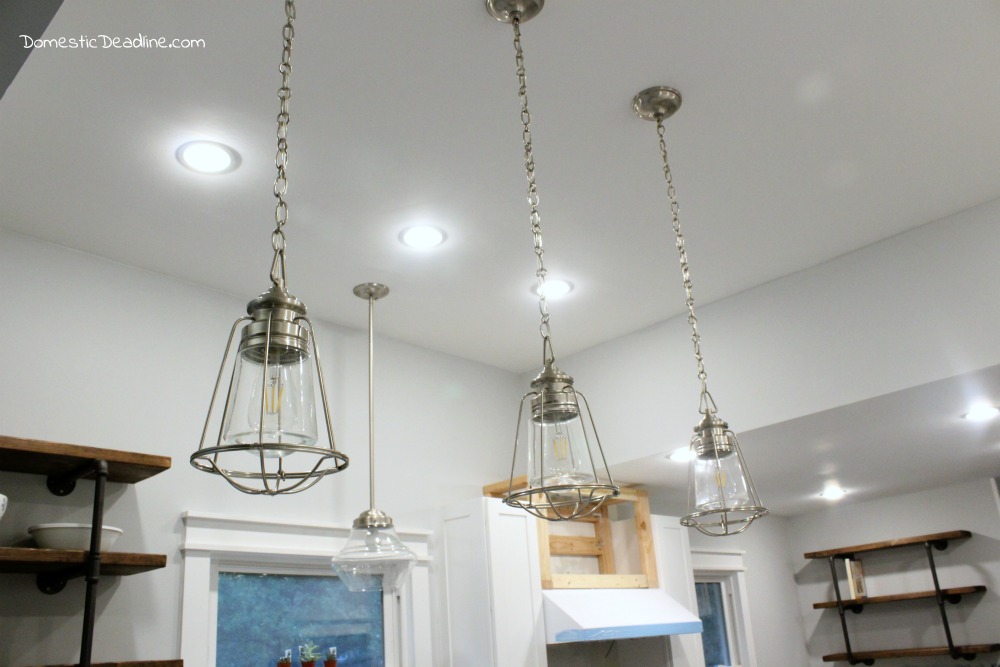 Or washing paint brushes dishes under a beautiful pendant.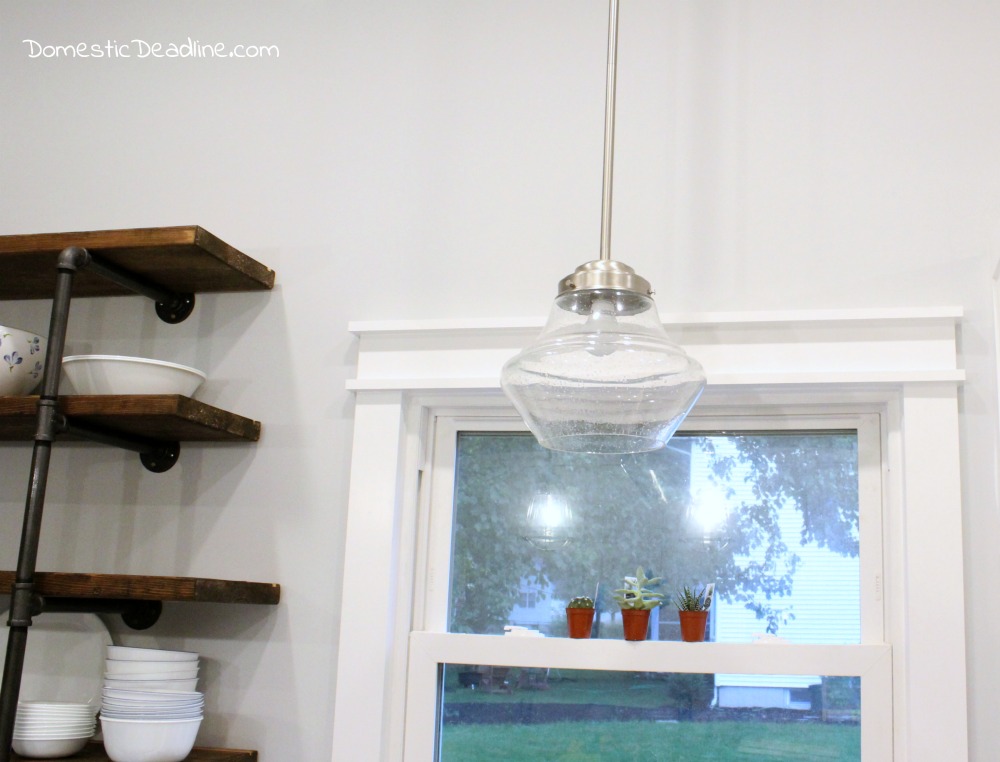 Yes, with the lights all in, I had to go back and touch up some drywall and paint. Errors I picked up in the better light!
I've had my dining room light since our old house and I love how it coordinates nicely with the pendant lights.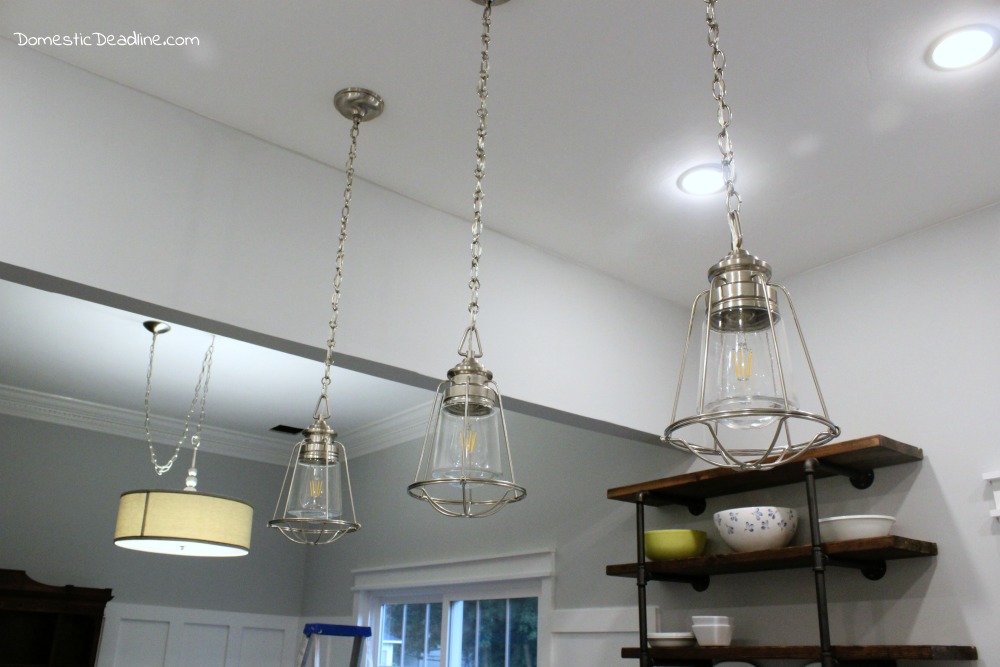 And, while not as exciting, the recessed lights are all lined up accenting the Calcutta Quartz counters perfectly.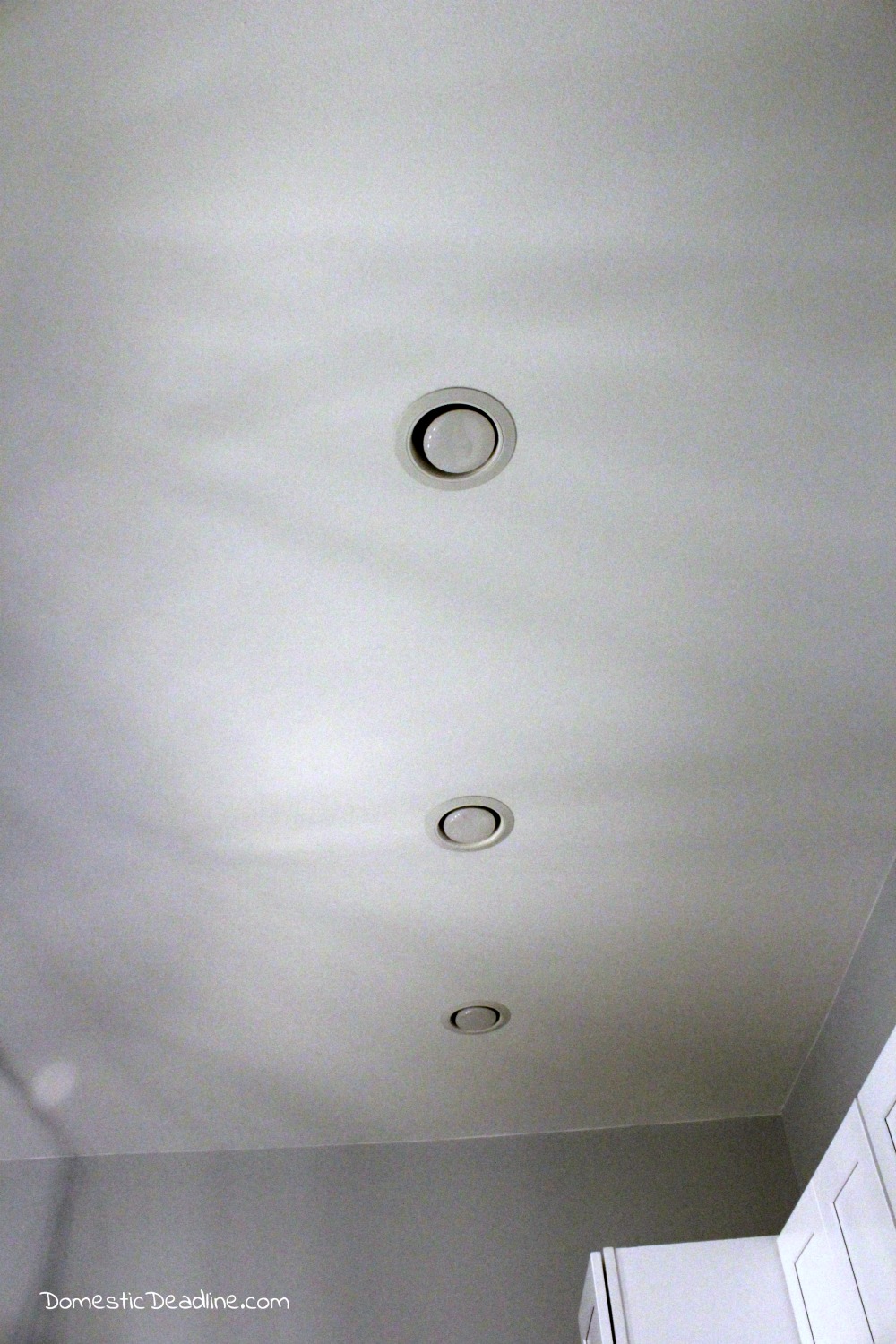 And yes, you did spy my unfinished custom range hood and industrial pipe shelves. Don't worry, those posts are coming!
Pin and Share!
As always, feel free!