I'm really excited to share my first blog income report! You may wonder why I'm publicly posting this information? Well because I was inspired by other bloggers who shared how they had turned their blog into a business.
It really wasn't much, and it's just a perk of being a blogger. My real reason for blogging is a creative outlet for all the projects swirling around in my brain. When I blog, I push myself to keep working on my to-do list. I keep myself going. And, honestly, it helps me to stay positive in gloomy weather.
Even though I blogged a few years ago, I still consider myself a newbie. I'm learning the ins and outs of blogging as a business, thanks to some amazing bloggers. But, we all have to start somewhere!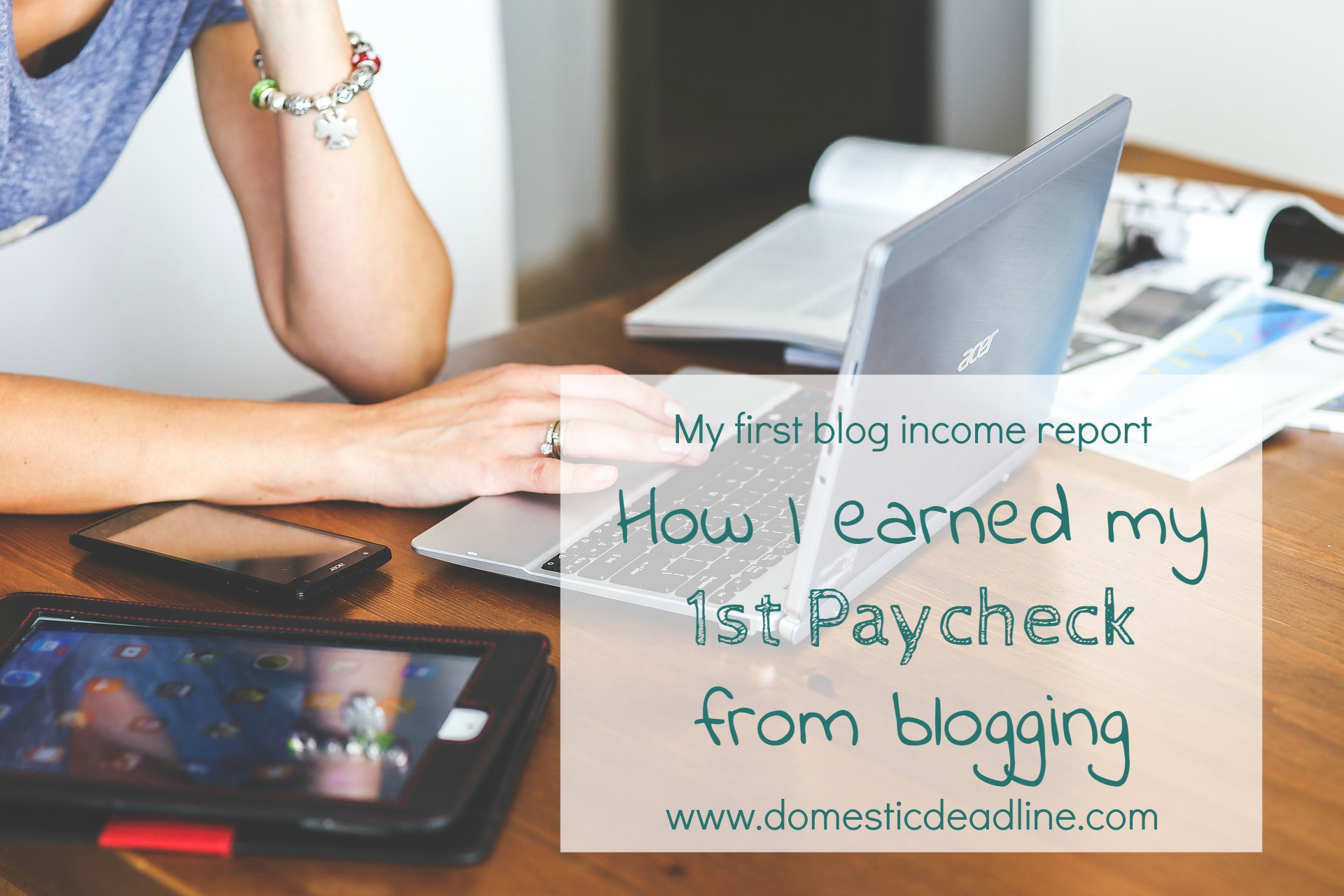 This post may contain affiliate links. Which means, if you click the link and buy something, I may receive a percentage of sales at no additional cost to you. Thank you for supporting Domestic Deadline.

Blog Along with Me
Two months ago I started a little series I like to call Blog Along with Me. Since I know there are other out there who, like me, wondered how to make a go at this blogging thing. When I relaunched, I decided on posting 3 times a week, so I don't overwhelm myself. After all, I also work part-time while the kids are in school (doing kitchen and bathroom remodels) and I have a growing Rodan+Fields business. Right now, posting 3 times a week enables me also handle the social media and other things that make a blog a business.
You can get my free printable tracking tool here!
If you are thinking of starting a blog, Blue Host is a great way to get set up in just a few minutes.


My First Income Report
When I relaunched, I went for self-hosted instead of a free service. This way I was able to have advertisements in my sidebar. Right now I've only earned a few dollars from these ads, not enough to reach the payout thresholds, but since the world is so used to seeing ads alongside everything on the internet, it doesn't hurt.
Affiliate programs are another way bloggers make money. I have been setting up some partnerships with a few. But, I'm not just willing to associate myself with anything. I'm looking to align myself with products or companies I already use, have a positive history with a positive opinion of.
When I recommend a product as a link on this blog, there is no additional charge to you. The affiliate company simply gives me a percentage of the sale for my recommendation. This can be anywhere from 1% to as much as 40% depending on the program (most are under 10%). Also, while I may see the percentage earned in my affiliate report, it doesn't usually go into my account until 30-90 days after the original sale date. And much like ad companies, most affiliate programs have a minimum payout.
So, for my reporting purposes, I'm only counting it as earned once it has been deposited into my PayPal or bank account.
Income
January 2017
Amazon – $33.38 (this was from sales in October and November, the minimum payout is $25)
Ultimate Bundles – $7.50 (Occasionally I offer bundles like this, I personally have several from this company and I find them to be great resources!)
Total – $40.88
Expenses
For the purpose of my blog income reports, I'll also be reporting any expenses I have in the month I incur them. Because I paid for my blog hosting up front in the fall for a year, this doesn't come up each month.
I didn't actually have any blog related expenses in the month of January. In the fall I did also invest in some blog business classes which will be starting soon, but again, I paid for it then. If you're interested in some of the free blog resources I started with, I highly recommend this download:
This video course which you can register for now, and it will be emailed to you when it's available again later this month:
And this webinar, also to be available later this month (but go ahead and get on the email for it now):
I could talk (or type) until I'm blue in the face, but I'll never explain the ins and outs of blogging that I've learned (and am still learning) as well as these resources.  Since they are free, even if you are only slightly interested, go ahead and take advantage of them!
Other Income
Blogging isn't the only income I earn online. I also have been steadily earning at least $25 a month from Swagbucks. They basically give me points for things I do online already and I turn them into either PayPal or Amazon gift cards.
None of this holds a candle to my Rodan+Fields business. I'm not at liberty to share those numbers publicly, however, you can check out the discloser statement at the bottom of this page. This is an opportunity that has blessed my family and so many others. I'd love to share it with you (send me an email or comment below if you want more info).
That's basically it! I love that I'm not tied to an office. I'm available for my family when they need me. The freedom and flexibility I've set up for myself has helped my family to thrive. As my blog and R+F business continue to grow, I hope to be able to give back more but also to be able to send my kids off to college or the higher education of their choice and get them through debt free.
Oh, and create my dream kitchen!
Do you blog? Have you started a blog? What's holding you back?